Many banks have been active acquirers. Because of this, the goodwill figures on their balance sheets have grown large, and are often high relative to stated book value. The chart below shows goodwill as a percentage of common equity for the 20 largest US banks by market cap (blue bars) and the percentage by which goodwill has fallen from its peak (red bars). Data is provided by SNL Financial LC as of Q1 2013. I exclude the trust/processing banks: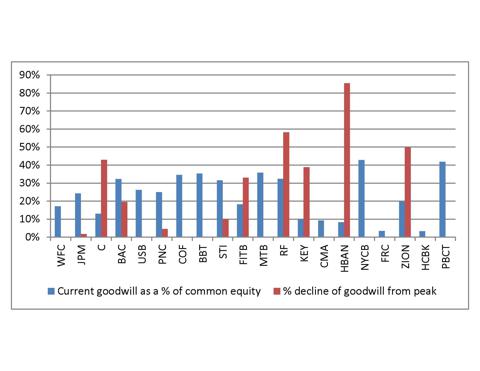 On average, goodwill currently equates to 23% of stated book value for these 20 institutions, but individual figures range from 3% to 43%. Many of these banks/thrifts had higher goodwill to common equity ratios in the past. The highest? New York Community Bancorp's (NYSE:NYCB) figure was 67% in Q4 2003, Bank of America's (NYSE:BAC) figure reached 60% in Q3 2008, and PNC Financial's (NYSE:PNC) reached 64%, also in Q3 2008. The average maximum was 41%. Of these three institutions, only NYCB's ratio is still an outlier at 43%, just a bit above People's United's (NASDAQ:PBCT) 42%.
Banks get this ratio down in three ways: they grow earnings and book value organically (the good way) or they raise additional common equity or write down the goodwill (the bad ways). Goodwill no longer needs to be amortized, but it does need to be tested for impairment and written down when auditors deem it appropriate. When a bank writes down goodwill, that's an admission that a deal didn't go as planned. Sometimes this writedown occurs only a few quarters after a deal closes. This was true in Fifth Third's (NASDAQ:FITB) acquisition of First Charter, for example.
Which institutions had the most severe writedowns? In percentage terms, Huntington Bankshares (NASDAQ:HBAN) and Regions Financial (NYSE:RF) did, with Zions Bancorporation (NASDAQ:ZION) and Citigroup (NYSE:C) close behind. But many institutions have had material writedowns. The strongest-performing institutions, including Wells Fargo (NYSE:WFC) and JPMorgan Chase (NYSE:JPM) haven't had any.
If a bank/thrift's goodwill/common equity ratio remains stubbornly high, might that imply that a goodwill writedown is coming, or at least necessary?
Disclosure: I have no positions in any stocks mentioned, and no plans to initiate any positions within the next 72 hours. I wrote this article myself, and it expresses my own opinions. I am not receiving compensation for it (other than from Seeking Alpha). I have no business relationship with any company whose stock is mentioned in this article.