Biota Pharmaceuticals (BOTA) was originally an Australian company developing anti-viral medications. Subsequently it has moved to the NASDAQ, raising $27m through its reverse takeover of Nabi Pharmaceuticals.
Biota currently has two products in the market, Relenza (Zanamivir) and Inavir (Laninamivir) approved in Japan. They are both neuraminidase inhibitors used for the treatment of the influenza virus.
Laninamivir is currently funded to market in the USA by a $231m grant. This was awarded to Biota by the Biomedical Advanced Research and Development Authority (BARDA). Biota is progressing Laninamivir through the FDA approval process and recently commenced its phase 2 IGLOO trial with results due in late 2014.
Biota has recently entered into an uptrend but its current market cap is still only $122.7m at a share price of $4.32. Cash on hand at the 31st of March 2013 was $70.3m giving it an enterprise value of only $52.4m. This leaves Biota with ample room for price appreciation with multiple near term price catalysts.
Laninamivir the game changer
Laninamivir is the only 2nd generation neuramindase inhibitor approved for the treatment of the influenza virus. Its key competitors are Biota's own product Relenza and Tamiflu (Oseltamivir) developed by Gilead Sciences (NASDAQ:GILD).
Tamiflu has traditionally had a higher market share due to it being orally administered whereas Relenza is inhaled. Laninamivir is also an inhaled product but due to its better pharmacokinetic profile, it only requires one dose for treatment. This is Laninamivir's critical feature as its competitors Tamiflu and Relenza both require 2 doses a day for 5 days.
Laninamivir was approved by Japan in 2010 for the treatment of influenza. It is the market leader there due to resistance concerns with Tamiflu and its ease of use. To date no major concerns have been raised regarding its safety profile.
In fact, the FDA has given guidance to Biota to test a higher dose of Laninamivir (80mg), than used in Japan (40mg), in its phase 2 IGLOO trial. This is due to its safety profile and the appearance of a dose response in Laninamivir's successful phase 3 non-inferiority trial. Time to alleviation of influenza symptoms was 73.0 hours for 40mg and 85.8 hours for 20mg of Laninamivir compared with 73.6 hours for 75mg/BD for 5 days of Oseltamivir.
Inavir was co-developed with Daiichi Sankyo (OTCPK:DSKYF) a Japanese pharmaceutical company. This was due to Daiichi Sankyo's molecule Laninamivir (CS-8598) infringing on patents held by Biota from its development of Relenza. In that agreement Daiichi Sankyo obtained the rights to develop Laninamivir in Japan and Biota in the rest of the world.
Daiichi Sankyo has funded the progression of Laninamivir through the Japanese approval process and currently has a treatment indication there. It also has an application to the Japanese regulators for a prophylaxis indication, crucial for the governmental stockpiling market. Biota currently receives a 4% royalty for Inavir increasing to 6% when Laninamivir is approved in the rest of the world.
Despite being approved for use in Japan the FDA requested new clinical trials to prove that Laninamivir was an effective treatment. Biota as a micro-cap pharmaceutical company simply did not have the funds to do this. BARDA recognised the importance of Laninamivir as a potential treatment in a future pandemic flu scenario and hence granted it $231m to speed up its development.
Crucially for Biota this money from BARDA does not need to be repaid. In fact any expenditure made through this program is reimbursed with a 7% administrative margin. The grant is sufficient to bring the product to market, with a phase 3 trial of similar size to the IGLOO trial anticipated to commence in 2015.
A slide form Biota's recent presentation shows the size of the opportunity in the seasonal influenza treatment market is approximately $750m with $400m in the USA. Over the last 10 years the average market has been $1.4 billion but this revenue has been very lumpy. This lumpiness is due to governmental stockpiling, an area Biota has indicated it would be able to market Laninamivir by itself.
The stockpiling market has traditionally seen an 85:15 split between Tamiflu and Relenza but is expected to move to 50:50 in the future due to concerns with Tamiflu's resistance profile. Government stockpiles are mostly due to be replaced by the end of FY 2014 as expiry dates have already been reached and extended.
The UK government alone spent £424m on stockpiles of neuraminidase inhibitors and Laninamivir's once and done dosing would be ideal for use in the outbreak of a pandemic flu. Laninamivir would not be available for sale in the current round of stockpiling but the FDA has set precedent in the past for the use of non-approved medications in a pandemic flu event.
Peramivir developed by BioCryst Pharmaceuticals (NASDAQ:BCRX) an intravenous neuraminidase inhibitor was approved for use during the 2009 H1N1 pandemic by the FDA.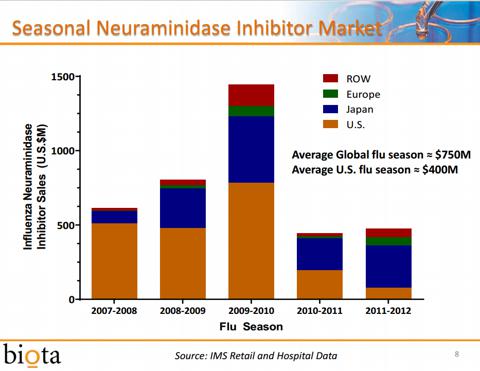 Other products
Relenza never lived up to its potential when it was licensed to GlaxoSmithKline (NYSE:GSK) for a royalty rate of 7% of net sales, 10% in Australia and New Zealand. Biota successfully sued GSK for $20m for failing to adequately market the product but reportedly had turned down a much higher offer earlier.
Despite its failings, Relenza along with Inavir in Japan still generate millions in revenue for Biota each year. There is the prospect of even more revenue with the replenishment of government stockpiles and a re-balancing between Relenza and Tamiflu.
Vapendavir a broad spectrum antiviral against enteroviruses is the most advanced of Biota's other molecules. It has had a positive phase 2B trial in asthmatics against the human rhinovirus (an enterovirus) but the company is still deciding how best to progress this molecule.
Its preclinical programs includes molecules targeting respiratory syncytial viruses (RSV fusion inhibitors) and an antimicrobial program against gram negative bacteria (gyrase inhibitors).
Risks
The main game for Biota is to get FDA approval for Laninamivir and failure there would be a disaster for Biota. There is no guarantee that this will happen but Laninamivir is about the most de-risked drug you will find that has not already been approved.
This is because it has already been approved for use in Japan and has a good safety profile there. It is also a derivative of Relenza with an improved pharmacokinetic profile, a product already approved by the FDA.
There is also a risk that it will not sell, given its main rival Oseltamivir and Zanamivir will soon lose patent protection. Laninamivir however has already reached >40% market share in Japan after 2 flu seasons due to its once and done dosing.
There is also a risk that the royalty rate paid to Daiichi Sankyo for revenue in the rest of the world will not be comparable to what Biota receives in Japan. Management has indicated in the past that this would be the case but even with a worst case scenario of a 50:50 split there is still a lot of revenue on the cards.
Conclusion
Since the appointment of Russel Plumb as CEO of previous Inhibitex fame, there been a reduction in expenses with management rightly focused on Laninamivir. This reduced expenditure and ongoing royalty revenue means Biota's cash burn is low enough to bring Laninamivir to market without raising further capital.
The small market cap and smaller enterprise value means that Biota is leveraged to any success in its Laninamivir rest of the world program. It has downside protection with 2 revenue producing products and its $231m BARDA grant.
Catalysts for price appreciation in the near future are resolution of the royalty rate for Laninamivir in the rest of the world with Daiichi Sankyo. Success in its phase 2 IGLOO trial with results expected at the end of 2014. Japanese approval of Laninamivir for a prophylaxis indication with Biota and Daiichi Sankyo having filed a JNDA in November 2012.
A pandemic flu whilst an unfortunate event could also see the share price appreciate. In the words of the previous CEO Peter Cook, "when we went through the avian influenza event four years ago, every time there was a report of a goose or a duck dying in Europe our stock price went up."
Biota is thus worthy for consideration by any pharmaceutical investor and one would want to be invested before the next chicken or goose starts dying.
Disclosure: I am long BOTA. I wrote this article myself, and it expresses my own opinions. I am not receiving compensation for it (other than from Seeking Alpha). I have no business relationship with any company whose stock is mentioned in this article.