Investment theme:
High risk low return.
Avoid for now.
IXYS Corporation (NASDAQ:IXYS) is an integrated semiconductor company (power semiconductors, ICs, RF). It is specialized in the development, manufacture and marketing of power semiconductors. The company focuses on the market for power semiconductors that are capable of processing greater than 200 watts of power. Its power semiconductors are sold as individual units and are also packaged in high-power modules.
The company is currently trading at $11.11 with market cap of around $360 million. At $11.11, the company is available at P/E of about 95 ("TTM").
Power semiconductor device:
A power semiconductor device is a semiconductor device used as a switch or rectifier in power electronics; a switch-mode power supply is an example. Such a device is also called a power device or, when used in an integrated circuit, a power IC. (for details click here)
Competitors:
Its primary power semiconductor competitors include Fairchild Semiconductor (NYSE:FCS), Fuji, Hitachi, Infineon, Microsemi (NASDAQ:MSCC), Mitsubishi, On Semiconductor, Powerex, Semikron International, STMicroelectronics (NYSE:STM), Toshiba and Vishay Intertechnology (NYSE:VSH).
Its IC products compete principally with those of Atmel (NASDAQ:ATML), Cypress Semiconductor (NASDAQ:CY), Freescale Semiconductor (NYSE:FSL), Microchip (NASDAQ:MCHP), NEC, etc.
Its RF power semiconductor competitors include Microsemi and RF Micro Devices (RFMD).
Source of the revenue:
The company represents its revenue (dollars in thousands) under three product groups. (see the table below)

Click to enlarge
Financial highlights:
Its revenues grew at a compounded annual growth rate ("CAGR") of just about 0.5%, from about $273 million in FY 2009 to about $280 million in FY 2013.
Its gross profit grew at a CAGR of about 6.5%, from about $65.7 million in FY 2009 to about $84.8 million in FY 2013.
Its revenues declined by 24%; gross profit declined by 29% and operating profit declined by 61% in FY 2013 (year on year, or "YoY").
Interest expenses show a consistent decline during the last three years.
Balance sheet is healthy with the good amount of cash and cash equivalents.
The inventory levels are at about 30% of its revenues (FY 2013) (not a good thing).
Its revenues declined by about 12%; gross profit declined by about 23% and operating profit declined by about 63.7% during quarter ended June 30, 2013 (quarter on quarter).
Recent event: (source: form 10-K FY 2013; page 32)
On May 24, 2013, we signed an agreement to acquire the 4-bit and 8-bit microcontroller business of the System LSI Division of Samsung Electronics Co., Ltd. If the transaction closes, we expect our revenues and the related operating expenses, including acquisition expenses such as amortization of acquired intangible assets, to increase substantially.
The impact of the acquisition is expected to reflect in the results of fiscal year ending March 31, 2014.
Key positives:
1. Healthy balance sheet.
2. The company is a dividend-paying entity.
3. Geographic Footprint:
The company generates its revenue from over 12 countries. This geographic reach, to some extent, saves it from any country/region-specific slowdown or from any adverse changes in the regulations.
Why to avoid:
Company specific reasons:
1. Declining revenues:
Its revenues decline by 24% in FY 2013 (YoY). The overall worldwide revenues of the semiconductor industry fall by about 2.2% in the recent past, but the fall in the revenue of the company is much more than the industry average (in percentage).
2. Declining sales in the key markets:
Its sales have being declining in some big markets (China, Japan, Singapore, etc) for last two years and almost in all markets for last one year (YoY; FY 2013). (see the table below)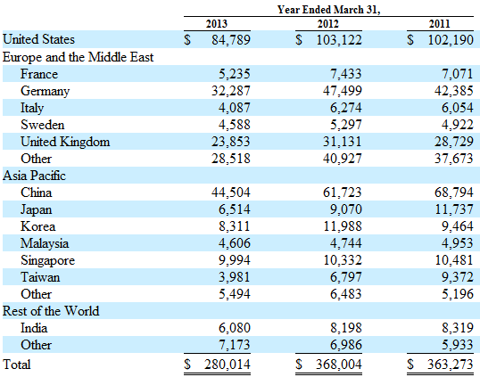 Click to enlarge
3. Declining margins:
Its margins have been declining since last two years. The table below shows the decline in its margins.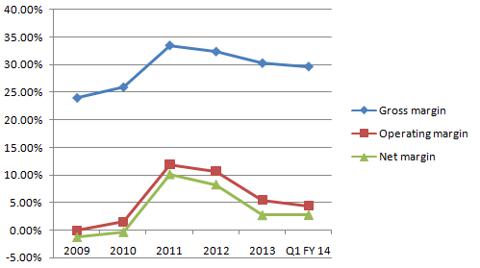 Click to enlarge
4. High fixed cost: (source: form 10-K FY 2013; page 12)
Large portions of our costs are fixed, due in part to our significant sales, research and development and manufacturing costs. Thus, small declines in revenues could seriously negatively affect our operating results in any given quarter. Our operating results may fluctuate significantly from quarter-to-quarter and year-to-year.
Industry specific reasons:
1. Negative growth in industrialized economies:
The industrial production in industrialized economies is consistently falling since the last few quarters. The company generates over 60% of its revenues from these markets. The more worrying factor is the North America, the only geography with positive growth rate, has shown a sequential decline, in the growth rate, in Q1 2013 (see the chart below).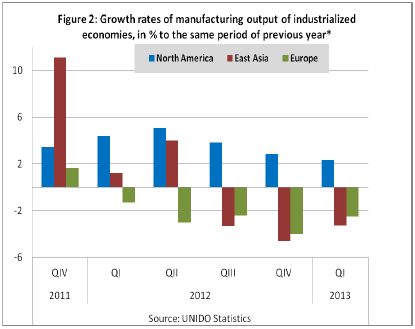 2. Stagnant growth in developing and emerging industrial economies:
Most of the developing and emerging industrial economies are showing stagnant economic growth rate since last few quarters. This declining growth rate is not only affecting the present business of the company, but could also affect the future growth prospectus of the company, in a negative way (see the chart below).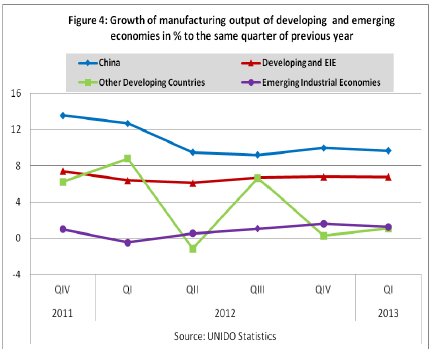 3. Strengthening dollar:
The US dollar is getting stronger. This strength in dollar will make imports cheap and exports expensive, which will lead to more competition in the U.S. market, the biggest market for the company.
4. Growing competition from the low cost manufactures:
With the decline in domestic growth rate, the manufacturers from the cost-effective locations, particularly from China, are likely to sell their products more aggressively in other markets that typically leads to margin erosion.
Stock performance:
The chart below shows its share price movement in the recent times. Despite the dismal performance of the company in recent times, its share price has risen by about 22% during last twelve months.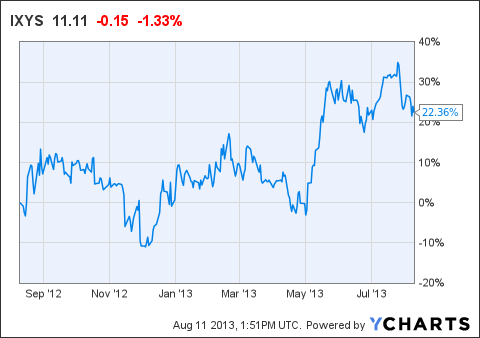 Conclusion:
The company operates in an industry which is mature, and the main growth is likely to come from the innovative products that can replace the existing products/technologies. The company designs most of its products for industrial and business applications and sells its products all over the world, so the company depends heavily on global economic growth. I will not enter the company until the macroeconomic outlook for the company improves, and it shows at-least one quarter with significantly improved operating performance.
Disclaimer: Investments in stock markets carry significant risk, stock prices can rise or fall without any understandable or fundamental reasons. Enter only if one has the appetite to take risk and heart to withstand the volatile nature of the stock markets.
This article reflects the personal views of the author about the company and one must read offer prospectus and consult its financial adviser before making any decision.
Disclosure: I have no positions in any stocks mentioned, and no plans to initiate any positions within the next 72 hours. I wrote this article myself, and it expresses my own opinions. I am not receiving compensation for it (other than from Seeking Alpha). I have no business relationship with any company whose stock is mentioned in this article.