Wells Fargo (NYSE:WFC), a company founded 1852, is currently one of the largest banks in America, as it has over $1.4 trillion dollars in assets, and routinely brings in many billions of dollars each year. The company is well established and has some of the strongest fundamentals in its industry, and also has potential to grow in the future.
According to the company's presentation from the Morgan Stanley Financials Conference [pdf] in June, Wells Fargo is the No. 1 small business lender, No. 1 auto lender, No. 1 mortgage originator, and No. 1 commercial real estate originator. With these massive amounts of customers, Wells Fargo has been able to consistently outperform other banks and bring in larger and larger sums of money. As a matter of fact, the company has increased EPS in each of the last 14 quarters. One of the strengths of the company is its diversified sources of non-interest income (which makes up 51% of total income), shown by the chart below (taken from the presentation). The advantage of this is if one service has a bad year or quarter, the company has many other revenue streams to fall back on. As a result, it is able to consistently raise revenues and earnings even if some areas in banking are struggling.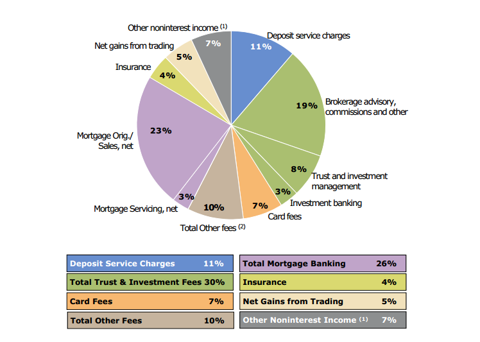 Wells Fargo has great opportunities to grow in each of its three segments. One segment is community banking. There is huge room for growth in this segment as online banking continues to take the country by storm. According to the investor presentation, customers use online or mobile banking an average of 5.7 times per month. Despite the fact that 80% of interactions are self service, though, 76% of deposit still interact with a teller at least once every six months. So what does all this mean? Overall, it means that Wells Fargo is providing citizens with what they need in terms of banking. That is why we see mobile/online services being used so often. And with this frequent and still growing use, Wells Fargo will be able to derive even more income from online banking in the future.
There is also room to grow in wholesale banking. From the first quarter of 2011 to the first quarter of 2013, wholesale banking saw very impressive gains. Total wholesale banking increased 21%, commercial real estate divisions increased 11%, and commercial lending divisions increased 25%. Clearly, growth at Wells Fargo is not decelerating. Wells Fargo can look toward its investment banking services for growth in this segment. As you can see based on the chart below, investment banking fees have increased in each of the last two years, with the most recent increase being even greater.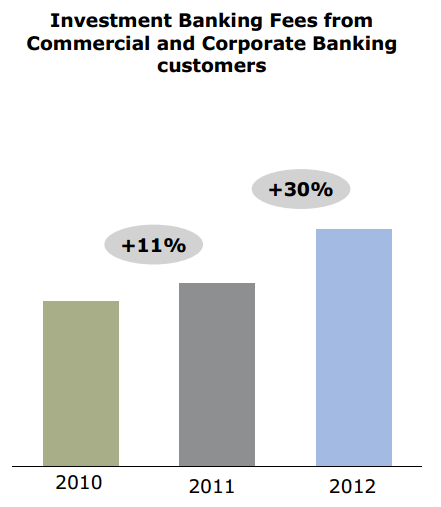 Wells Fargo has a bright future when it comes to investment banking, and this is an encouraging sign for the company for two reasons. One of the reasons is that investment banking relationships are long lasting. In 2012, the customer relationships has an average tenure of 15 years. This is significant in that it provides Wells Fargo with a chance to gain new customers while they are able to maintain current customers for a lengthy period of time. Secondly, these relationships help the company profit in other areas. As a matter of fact, 73% of total revenues from investment banking relationships in 2012 came from non investment banking products. When a corporation is exposed to Wells Fargo's high-quality investment banking services, it gives all of Wells Fargo's other services great exposure as well.
Finally, the wealth, brokerage, and retirement segment has experienced growth as well. In 2011, managed account assets were at $254 billion. They rose to $304 billion in 2012, and $325 billion in the first quarter of 2013. With Wells Fargo's high-quality services, it has continually brought in new customers and thus more revenue. There are no signs of this trend declining in the near future. In fact, this segment is likely to experience growth in the near future as baby boomers head into retirement.
So how does Wells Fargo stack up against other major banks? Some of the primary competitors with the company are Bank of America (NYSE:BAC), JP Morgan (NYSE:JPM), and Citigroup (NYSE:C). Let's compare them:
| | | | | |
| --- | --- | --- | --- | --- |
| | WFC | BAC | C | JPM |
| Revenue | $81.09 billion | $78.11 billion | $63.67 billion | $94.04 billion |
| Net Income | $19.78 billion | $5.01 billion | $9.60 billion | $22.90 billion |
| Operating Margin | 41% | 17% | 19% | 37% |
As you can see, Wells Fargo is at or near the top when it comes to both size and efficiency. All of these major banks compete closely in nearly all of their services, and Wells Fargo has earned an edge over the competition. The two charts below from the investor presentation show how Wells Fargo has truly been excelling in the banking industry. It has been growing steadily while maintaining efficiency, productivity and high quality.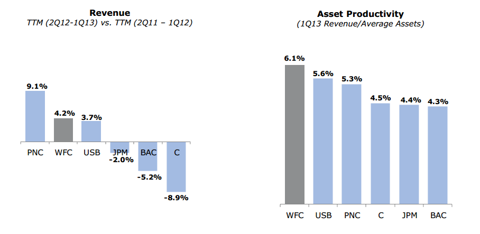 Wells Fargo is currently available at a very fair price. The stock is trading at 11.74 times earnings, has a price/book of 1.53, and a price/sales of 2.83. If these low numbers aren't convincing enough, the company did a great job of showing that it is available at quite a discount. Take a look at another slide from the presentation: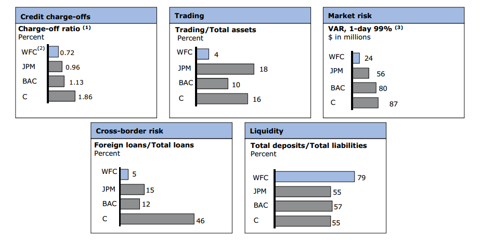 The stock market is a game of risks and rewards. As you can see, the risks of investing in Wells Fargo are clearly quite small in comparison to an investment in one of its peers. With this attractive price and the strong opportunities for growth, an investment in Wells Fargo is likely to pay off in a big way.
Disclosure: I have no positions in any stocks mentioned, and no plans to initiate any positions within the next 72 hours. I wrote this article myself, and it expresses my own opinions. I am not receiving compensation for it (other than from Seeking Alpha). I have no business relationship with any company whose stock is mentioned in this article.