Overview
Lowe's Inc. (NYSE:LOW) is the second largest home improvement retail chain within the United States, with over 1,755 stores within the U.S., Canada and Mexico and annual sales of over $50 billion. The company offers a whole line of products and services for home decorating, maintenance, repair, remodeling and property maintenance. The company conjointly offers its products through on-ine sites, like Lowes.com, Lowes.ca and ATGstores.com. Lowe's Companies, Inc. incorporated in 1946 and went public in 1961.
Such a large footprint, coupled with improving economic macro data, would seem to indicate that Lowe's has great growth potential and, from the chart below, you can see that the share price has done well over the past 12 months.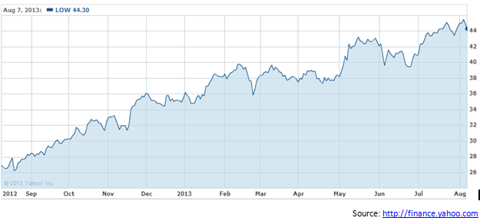 The downside is, of course, that Lowe's operates in an extremely competitive environment. Lowe's splits market share between its #1 rival, The Home Depot, Inc. (NYSE:HD), along with smaller competitors such as Menard, Inc., Sears (NASDAQ:SHLD), and Ace Hardware. Home Depot has historically outpaced Lowe's in many key financial metrics, such as year-over-year same store sales. However, as indicated below, Lowe's has been steadily increasing in terms of customer preference - a key indicator to future performance.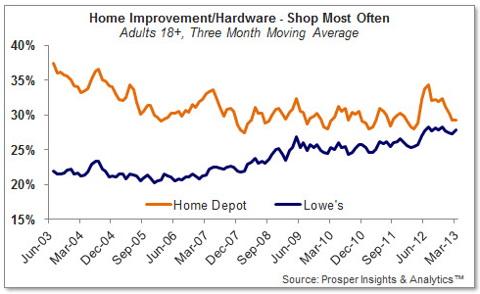 Upside
The result of this turn in customer preference has been significant for Lowe's. Not only is it outpacing the S&P 500 on a rolling 12-month basis (that would be expected) it is also outpacing Home Depot. Lowe's share price recently closed at $45.68 while, over the last twelve months, it has floated between $26.91 and $46.04. As you would expect, Lowe's current value is highly reflective of the state of recovery of the housing market as well as improving consumer confidence. This growth looks like it will hold steady as the key housing market indicator, the S&P Case-Shiller Composite-10 Home price index, has indicated improvements in the housing market will continue.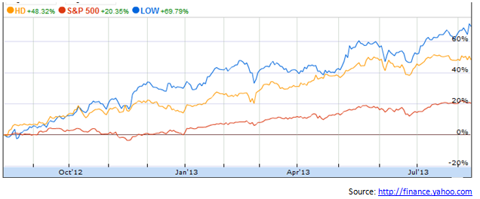 On the wake of a solid rebound in home related spending, JPMorgan has upgraded its rating for Lowe's Companies, Inc. and has increased the price target by almost 12% from $44 to $52. JPMorgan expects a 20% EPS growth in 2013, and 25% in 2014. These are staggering growth numbers. And, despite huge recent growth in the share price, it does not yet appear that these revenue growth projections are fully priced-in.
Concerns
Unfortunately, nothing is ever quite that straight forward. According to its most recent report declared on May 22, 2013, Lowe's experienced underperforming sales and profit figures during the first quarter (resulting in the slight drop in share price through June). Meanwhile, Home Depot hit its sales figures and, therefore, saw much less volatility in share price. Among the two key home improvement stocks, a recent market analysis from Forbes identified more weaknesses in Lowe's, specifically in customer demographics which are much less diversified than Home Depot.
This kind of back-and-forth between these two major companies makes it extremely difficult for Lowe's, or Home Depot, to break away (in terms of performance) in the near future. However, in recent months Lowe's had been actively seeking a new direction. While low prices are a logical driver to inspire shoppers to tackle home improvement projects, it is in doubtful that this strategy alone will be enough. After all, Home Depot, which has the the tag line "More Saving - More Doing," has built its strategy around the same premise of low prices - identical to Lowe's. This has led to Lowe's making rumblings about "value improvement" and "product differentiation" as a new direction for the company. How this will come to fruition is still, largely, up in the air. However, Lowe's has been very proactive and has made great strides in trying to reach "creators" - the company's term for customers who are seeking ideas for new home improvement projects. Lowe's has spent a great deal of time in identifying the purchasing process, from idea creation to project completion. Initiatives such as online tools and monthly project-idea focused pamphlets seem to have had an impact on "creators." Lowe's aggressive marketing to this demographic has helped take the lead over Home Depot in, what can only be considered, a vital part of any long-term growth strategy.
Conclusion
Despite these concerns and the occasional financial hiccup, the overall outlook for Lowe's continues to look promising. Revised growth estimates do not appear to be fully priced-in at the current share price level. So, while Lowe's will almost certainly remain more volatile than Home Depot, the potential upside appears to be greater.
Disclosure: I have no positions in any stocks mentioned, and no plans to initiate any positions within the next 72 hours. I wrote this article myself, and it expresses my own opinions. I am not receiving compensation for it (other than from Seeking Alpha). I have no business relationship with any company whose stock is mentioned in this article.