MagicJack (NASDAQ:CALL) recently received the 2013 Frost and Sullivan award for the Best Consumer VOIP Service, scoring high in all five categories. With 3.36 Million active subscribers, the news is not only good for consumers but also for investors. With the improvement in voice quality, as well as the reduced costs and new CFO, Jose Gordo, MagicJack is in a strong position to grow in the coming months. Currently they are the largest growing home and small business telecom company in the US, they have announced plans not only for new products but also international expansion.
Jose Gordo has a history of acquisitions of both private and public companies, as well as developing liquidity strategies -- both of which can be applied to MagicJack which is now sitting on more than $40 Million. In the most recent quarter ending on June 30, 2013, MagicJack had roughly $43 Million in cash compared to just $19 Million as of 6 months prior. Though MagicJack still currently holds a weak balance sheet, with just $130 Million in assets while having $142 Million in liabilities. Even with the negative shareholder equity, the market still values the company at $262 Million... and that may be a steal.
As of July 31, 2013 4.17 Million shares were held short, or 22.5% of the shares outstanding. On the other hand, 40% of shares outstanding are held by institutions (while more than 10% of the total company is owned by BlackRock alone as of July 31, 2013). MagicJack is also trading at a (TTM) P/E of 4.77 and a forward P/E of just 8.42. I would like to discuss the current numbers, as well as what MagicJack is doing to increase revenue and profitability and how it can help.
MagicJack is currently a leader in the voice over Internet Protocol (VoIP), competing with those like:
1) netTALK (OTCPK:NTLK) is a VoIP provider using either WIFI or phone cable to a device similar to MagicJack. A small competitor with around $3 million in sales, for $2.50 - $5.85 a month (after the purchase of the device for $64.95), or as low as $10 a month for an international calling option. There is also a $29.95 option that includes free SMS texting from a mobile device using their app. The business plan is similar to that of MagicJack (Magicjack has even sued them this year for patent infringement), though they are operating at a loss on minimal revenue (though have some cool features).
2) Vonage (NYSE:VG) is a well known VoIP provider, selling their "unlimited international calling to more than 60 countries" at $26.99 a month. Operators of the BasicTalk brand, a VoIP service with unlimited calling to the USA and Canada for $9.99 a month, is directly competing with MagicJack.
3) Ooma offers free calling within the USA with the purchase of their VoIP device starting at $149.99. There is also an option to upgrade to 'premier' for free Canadian calling as well as multiple bells and whistles for $9.99 a month.
MagicJack currently lacks live customer support (with an investment in over the phone live support, MagicJack could easily gain customer satisfaction and extend their customer base) unlike its competitors, and is not fax friendly. The other category in which MagicJack is truly lacking is business, giving way to both Ooma and Vonage. All of the above including MagicJack currently offer free calling to the USA, with only several differentiators:
1) Vonage and Ooma can both be used for business
2) Vonage offers FREE international calling (for $26.99 a month)
3) Price is the biggest differentiator (after the purchase of device):
| | |
| --- | --- |
| Service | Cost/Year |
| MagicJack | As low as $19.95 |
| netTALK | $29.95 ($120 for International) |
| BasicTalk | $120 |
| Ooma | $120 Premium Service |
| Vonage | $320 (Including International) |
Currently, someone can take a MagicJack device outside of the United States and still use it to call the US for free from anywhere. For business, Ooma and Vonage stand out, while for consumers MagicJack seems the likely choice. MagicJack has several plans to help increase profitability and revenue in the near future.
Just in the last quarter, MagicJack has expanded on profitability generating more than $1 Million in EBITDA per week so far this year. Results are helped by the release of the new 2014 MagicJack PLUS, having sold 204,000 units (103,000 through retail partners and 101,000 through the MagicJack website) in 9,000 stores in just seven weeks. Initial sales are spectacular, and they still have more than 20,000 stores waiting to receive the new device. Not only will this help their hardware revenue, but also their perpetual access right renewals.
In the last quarter they made roughly $14,149,000 in software revenue (up 33% from $10,653,000 in the previous year). MagicJack is improving quality, as well as lowering network and carrier charges which were just $5.3 Million in the last quarter. MagicJack is zoning in on profitability, increasing their cash position which will allow them to expand in the near future. With the network in place, MagicJack can now expand their business model to increase shareholder equity.
"Expanding our international distribution channels and enhancing our mobile offers are two areas in which we intent to allocate resources going forward to generate double digit growth."
-Gerald Vento
On the conference call MagicJack announced plans to go international and monetize its APP within the next six months (Q4). These programs should allow MagicJack to far outperform analysts' $2.04 EPS target for next year (compared to $1.87 for this year).
1) MagicJack APP - Allows users to make and receive calls for FREE to the US or Canada (or any MagicJack number). It uses WIFI or 4G to make calls, allowing users to call anyone (also connects to your phone's contacts). If you already have a MagicJack account you can use your number to make and receive calls on your cell. They currently have 4.37 Million active users, with untapped potential.
MagicJack plans on monetizing the APP by the end of the year. The cost per thousand impressions (CPM) is roughly .75 on mobile devices (MagicJack already has banner space on its APP). If every user views just five advertisements a day, that would be more than $16,000 a day or $6,000,000 a year (with very high margins of upwards of 90%).
2) International expansion not only expands its user base but will also allow the company to stand out among competitors. MagicJack can help connect the world with minimal effort: only 25% of the VoIP users are located in the United States, with 69% being located in Europe and Asia alone. If MagicJack captures the same share of the market, they would add roughly 9 Million users. With the international network MagicJack can raise prices as well as gain an edge over competitors:
| | | |
| --- | --- | --- |
| Users | Price | Revenue |
| 3.36M | $19.95 | $67M |
| 5M | $19.95 | $100M |
| 9M | $19.95 | $180M |
| 12M | $19.95 | $240M |
| 12M | $29.95 | $360M |
*Considering all users renewed in a year, at the same price
Above is the potential revenue (per year) depending on the number of users and price. If margins drop (due to an international network), consider 50% (from the current 65%) MagicJack can easily beat the $2.04 EPS analyst estimates. Also, MagicJack can increase its price once it begins offering international calling, an advantage over it competitors (Vonage charges $360 a year for International calling). Considering MagicJack increased its prices to start at $29.95 a year, margins would increase to 80% (currently) and a hypothetical 70%.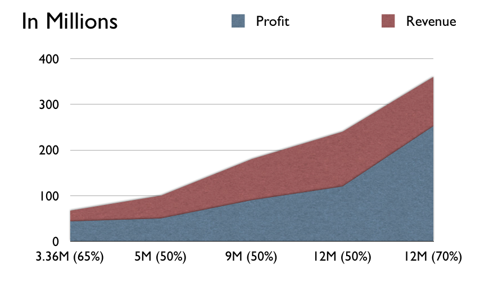 In fact, if MagicJack captures just 2M International users (at $29.95), as well as revenue from the APP, they will generate an extra $66M in revenue, or roughly $35M in gross profit ($2.00 per share). MagicJack can easily earn double their projected amount next year, once they have their growth strategy in place.
Jose Gordo has stated that MagicJack already has a plan in place for International expansion by the end of this year. Once more, MagicJack already has the network to offer International calling as part of its service, allowing it to increase prices by as much as 1000% to match that of Vonage ($29.95 a month). The great thing about MagicJack's business plan is that users pay for the subscription at the beginning (instead of month by month), meaning MagicJack gets the cash immediately and can help it expand its businesses.
With nearly $50 Million in cash, MagicJack is in a special position to gain users and increase profitability in the coming months. Though their current expansion plan does not require much cash, MagicJack can begin acquiring special technology as well as customers and competitors (like netTALK). With the networks in place, MagicJack can also expand to offer business solutions and compete with those like 8x8 (NASDAQ:EGHT) in the fast growing business VoIP industry. Led by Jose Gordo, MagicJack can help increase shareholder equity through both expansion and efficiency by expanding across the world and through sectors. MagicJack is already a step ahead of competitors, and is about to take a leap into a whole different game.
Disclosure: I am long CALL. I wrote this article myself, and it expresses my own opinions. I am not receiving compensation for it (other than from Seeking Alpha). I have no business relationship with any company whose stock is mentioned in this article.