The market has a date with destiny with respect to Dow 10,000, but blue chip stocks aren't the most compelling stuff these days. Technically, penny stocks are rocking the most (penny stocks are stocks have a share price less than $5). Of course, these are stocks that once stood as tall as redwood trees and as proud as sequoias, and are now trying to lift off the forest floor after being trampled when the entire world was burning. This isn't to say that most, if not all, of these names didn't deserve their falls from grace, but the recent action suggests the punishment maybe didn't fit the crimes.
One company that fits the bill is property manager Grubb & Ellis (GBE). The company has had a series of news releases on personnel. Some of the new folks are associated with past success and others come with reputations as winners. Along with industry consolidation it's a great anecdotal sign when companies expand and fill important positions with great talent.
We had Grubb & Ellis on our Swing Strategies service as a long idea, and think it has more room on the upside. But, I had to make tough decisions on stocks up 25.0%, 40.0%, and even 78.0% (we sent an alert to take that one). The thing is that so many stocks look extended on a one-year chart but pulled back further and virtually all have a ton of room to the upside.
In fact, some of the most impressive corporate news yesterday was corporate earnings results for companies whose shares were already up huge like CarMax (NYSE:KMX), which saw its stock up about 250.0% before releasing results that sent the share price up another 10.0%.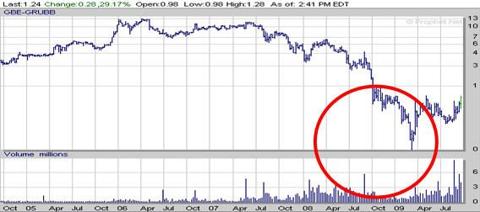 Click to enlarge
Just a couple days ahead of the latest G20 gathering and Russian stocks are on fire. The thing is that there is no rhyme or reason for it other than some of the names being truly oversold. While Russia doesn't have to be a one-trick pony, the communist tendencies of Putin have seen squandered opportunities.
Still the nation, like China, has taken a bite of the capitalism apple and it tastes good. Getting a true free market going will be difficult, but I think a lesson has been learned with respect to simply snatching companies that look irresistible.
On Monday, President Dmitry Medvedev penned an article in the Moscow Times entitled "Go Russia." I'm not sure that piece is what got their market moving, although it could be the reason. In the article, one respondent said that if Russia would take a page from the Chinese and begin executing corrupt officials the country could live up to its potential.
I will not go that far but for sure China has a serious game plan, and is sticking to it hard and fast. In America, we let politicians and corrupt officials sweet talk us or get into permanent jobs where they gum up the works forever.
That is why we can't cut any waste, fraud, and abuse out of entitlement programs because it's the very people sitting around collecting redundant checks that we'd have to remove. Even though our market is up this could be the week when America passes the economic baton over to the Chinese. Maybe Russia's market was up because America is prepared to wave the white flag of defeat. We are a nation on the cusp of a new normal. I hope that's not the case. But, to get China to play in the one-world government it has to have a big seat at the table.
As the scuttlebutt grew louder yesterday that private banks may be on the verge of making a loan to the FDIC I kept thinking about how few loans are being made to Main Street these days. According to the Fed, bank loans to Main Street are down five weeks straight.
In the meantime, China has been pressuring banks to extend loans even as it grapples with the possibility of its economy overheating. It is one sad thing for government to crowd out private investment but now the FDIC will get money before depositors.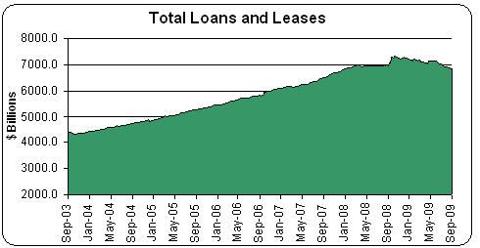 Click to enlarge
SEC to the Rescue
The SEC says that it will "aggressively" review sales of bonds based on life insurance policies with an eye on multiple sales practices. You know, it's like re-selling subprime loans over and over again. This industry isn't new; it actually dates back to 1911. The practice perked up in the 1980s with the explosion of the AIDS epidemic.
Essentially, seniors sell their policies for a fraction of what it's worth, but they get cash in return, which sounds good these days. According to the Life Insurance Settlement Association, the industry pays seniors $7.0 million a day, and according to the Economist this is a $19.0 billion market. What has arisen on the radar screen at the SEC is the entry of major Wall Street players into the space. Right now, there are some rules and regulations in 34 states but none of the insurance policies sold have been registered with the SEC.
In the afternoon report we'll look at the latest developments on the consumer protection front; it's getting tense and the president is getting pushback from the usual source - democrats.
Today's Session
There is a bunch of stuff going on today including a FOMC gathering and Tim Geithner testimony. There could be explosive comments from the Treasury Secretary or a change in interest rates from the Federal Reserve but it's unlikely. It will be interesting to watch Ben Bernanke pull off his best Sybil act.
"The economic is fine; jump in because I did a great job."
"The economic is murky and I don't know what's in the water so I need to continue printing money."
Moving the needle a little before the open is the earnings release from General Mills (NYSE:GIS). The company that makes Cheerios among a litany of other food products posted earnings ex-items of $1.28 per share on $3.52 billion in revenue. The Street was looking for $1.03 and $3.49 billion respectively. The stock is up $3.00 ahead of the start of trading.
Although buy and hold investing seems to be outdated, if someone bought this stock in January 1985 the position would be up 1,488% not including the move expected today.
Written by Charles Payne, CEO and Principal Analyst of Wall Street Strategies (wstreet.com) providing independent stock market research to over 30,000 subscribers, in more than 60 countries. Mr. Payne is a regular contributor to the Fox Business and Fox News Networks. For more information about Mr. Payne, please refer to the company's website www.wstreet.com.