By: Todd McDonald, Analyst
Overview
Deere & Co. (NYSE:DE) is slated to report 3Q 2013 earnings before the opening bell on Wednesday, August 14. Results are typically available at 7 a.m. EST with a conference call scheduled to follow at 10 a.m. EST. Given Deere's size and influence as an industrial bellwether, the results have the potential to impact the broader market gauges, including the S&P futures, particularly if results are significantly outside the range of current Street estimates.

Outliers & Strategy
Earnings Per Share: The current consensus estimates is $2.17, with a range of $2.08 to $2.26.
Revenues: The current Street estimate is $9.28 bln, with a range of $9.07 bln to $10.38 bln. (Source: Yahoo! Finance)
Equipment Sales (3Q2013): According to Zack's Investment Research, estimates are for $9.147 bln.
Net Income Guidance (FY2013): In the 1Q2013 report, Deere gave net income guidance for FY2013 of $3.3 bln. The Street consensus estimate for FY2013 is slightly lower, looking for net income of $3.277 bln.
Equipment Sales Guidance (FY2013): Given as a percentage, analysts are expecting an increase of 4.8% for FY2013. The company previously issued guidance of 5% for the same period. Any change could impact the ensuing trading.
Corn Prices, which tend to correlate closely with Deere, have slid about 14.5% since Deere's 2Q 2013 release, using the Teucrium Corn Fund ETF (NYSEARCA:CORN). However, prices surged on the back of a USDA Crop Report on August 12 (See Recent News Below).
Sympathy Plays: Caterpillar (NYSE:CAT), Joy Global (NYSE:JOY), Monsanto (NYSE:MON), Titan International (NYSE:TWI), Stoneridge Inc. (NYSE:SRI)
Implied Volatility: The average move after earnings over the past eight quarters has been 3.94%. Options premiums are pricing in an absolute move of about 3.4%.
Recent News
08/12: The USDA lowered its output forecasts for corn due to heavy rains, which will produce smaller harvests this month. The report indicates that US farmers will collect about 13.8 bln bushels, versus 13.95 bln expected. The report instantly sent corn prices, as well as Deere's share prices, higher on the news.
08/09: According to a post on Benzinga.com, UBS downgraded Deere on falling corn prices, which would decrease demand for agricultural equipment in the next year. The firm took their rating from Neutral to Sell, while lowering the price target to $72, from $95. The same post notes that ISI Group lowered their rating from Buy to Neutral, with a price target of $85.
07/24: Caterpillar, one of Deere's most comparable peers, reported disappointing earnings results, with earnings per share of $1.45 (vs. $1.71 expected) and revenues of $14.62 bln (vs. $15.03 bln). The firm also lowered guidance for FY2013.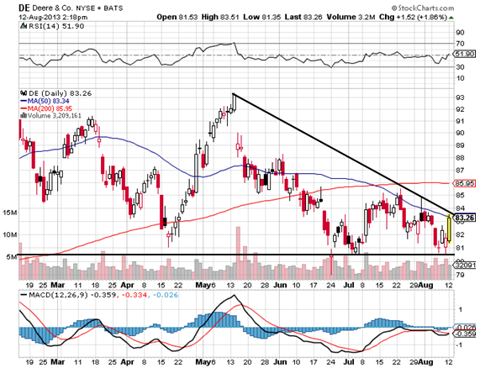 Technical Review
Deere shares have underperformed the broader market, losing 4.26% YTD, while the S&P 500 is up nearly 20%. After consolidating for the past month, shares have formed a solid base near the $80.50 level, suggesting a potential upside break of a descending trend-line. If results are positive, look for initial resistance near $85 and the 200-day SMA near $86, followed by $88. Should earnings disappoint, the aforementioned $80.50 could act as support, with $74 the next meaningful area for buyers. (Chart courtesy of StockCharts.com)
Summary
Deere shares have lagged the broader indices, due to decreasing agricultural prices, concerns over international growth, and delayed crop planting in the United States. However, many of these concerns may be priced in at current levels. Therefore, even a small surprise should be enough to lift Deere to higher prices. This is especially true if the company surprises with higher guidance for net income and equipment sales.
DISCLAIMER: By using this report, you acknowledge that Selerity, Inc. is in no way liable for losses or gains arising out of commentary, analysis, and or data in this report. Your investment decisions and recommendations are made entirely at your discretion. Selerity does not own securities in companies that they write about, is not an investment adviser, and the content contained herein is not an endorsement to buy or sell any securities. No content published as part of this report constitutes a recommendation that any particular investment, security, portfolio of securities, transaction or investment strategy is suitable for any specific person.
Disclosure: I have no positions in any stocks mentioned, and no plans to initiate any positions within the next 72 hours. I wrote this article myself, and it expresses my own opinions. I am not receiving compensation for it (other than from Seeking Alpha). I have no business relationship with any company whose stock is mentioned in this article.