Corporate Overview
Helix Energy Solutions Group (NYSE:HLX) provides specialty services to the offshore energy industry. The company has two segments: Contracting Services and Production Facilities. The Contracting Services segment provides services required in the development of offshore energy field in the Gulf of Mexico, the North Sea, and the Asia Pacific and West Africa regions. The Production Facilities segment consists of the ownership of dynamically positioned floating hub production facilities. The segment of the business is located solely in the Gulf of Mexico.
Operations
Helix provides services to clients in the oil and gas industry in the fields of production, reclamation and development. Production consists of inspection, repair, and maintenance of offshore drilling rigs as well as support and engineering. The services included in reclamation include plugging of obsolete wells, pipeline abandonment services, and site inspections. With regard to development, Helix installs subsea pipelines, flowlines, control umbilicals, manifold assemblies and risers. The company also provides pipelay and burial services. As of year-end 2012, backlog for services stood at $829.6 million, an increase from the 2011 year-end backlog of $539.6 million. By the end of the third quarter, this backlog has swelled to $1.8 billion, with $317.7 million expected to be completed over the remainder of this year. These growing numbers clearly indicate strong and increasing demand for Helix's services, and are a reflection of the overall condition of the oil and gas services industries, especially in the deepwater sector.
Helix has positioned itself quite well as drilling activity resumes in the Gulf of Mexico. In the aftermath of the 2010 blowout of the Deepwater Horizon rig, President Obama placed a 6-month moratorium on deepwater drilling on the outer continental shelf. In addition, stringent restrictions were placed on permit issuances, requiring drillers to prove their capability of containing a spill. The moratorium and new restrictions have only affected new drilling applications and therefore, have had a lagging effect on the service providers operating in the region. By July 2011, deepwater drilling permits had seen a 71% drop from their prior levels.
By October 2012, the permitting activity had exceeded the pre-spill levels. Once again, the actual drilling activity, which lags permitting activity, should really begin to pick up over the next few months. As oil prices trend higher, there has been a significant surge in deepwater drilling activity, something that should translate into higher revenues and profits for Helix. In the table below, the dramatic increase in activity is visible, and 2013 is on track to far exceed 2012. The greatest increases are visible in the deepwater drilling where there remains significant opportunities for development.
Approved
Permits
By Water Depth
For All Types

Shallow Water (< 500 ft)

Deep Water (> 500 ft)

New Well

Revised New Well

Bypass

Revised Bypass

Sidetrack

Revised Sidetrack

New Well

Revised New Well

Bypass

Revised Bypass

Sidetrack

Revised Sidetrack

Total for 2013

39

60

30

23

58

55

23

190

19

16

16

31

Total for 2012

67

104

42

41

108

84

112

283

25

41

23

36

Total for 2011

71

99

40

33

87

88

38

127

19

26

22

42

Total for 2010

28

67

13

6

53

62

2

3

0

1

3

5
Financials
Earlier this year, Helix divested its oil and gas segment in order to reduce debt and refocus the business on the services side. Although this may appear the be a drag on revenues, the reduction in leverage allows for more financial flexibility. The company, which had a debt-to-capital rate of 55% in 2008, has lowered that metric to 24% and likewise, increased liquidity.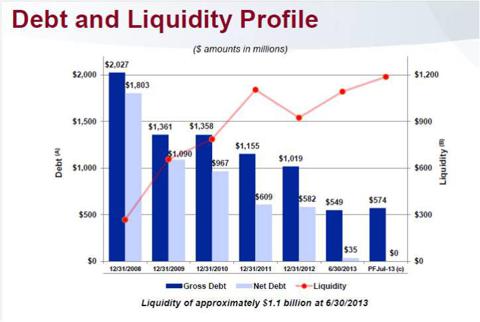 Cash flows have been positive for the past decade, to the exclusion of 2008. Revenues from ongoing operations are expected to rise dramatically to $833 million from $654 million the prior year. Total revenues will decrease due to the divestment of the oil and gas sector to $951 million from $1.4 billion. At the close of the quarter ending 6/30/2013, gross profit margins were a healthy 29%, up 16% year-over-year. Breaking down revenues, there has been improvement across the board from 2012.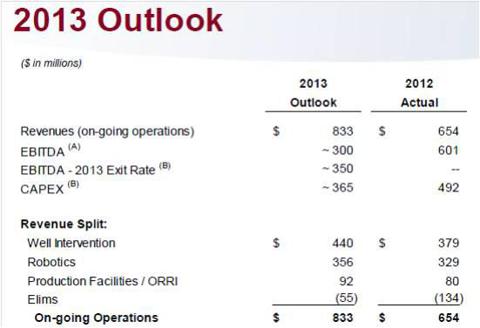 Future Deployment
Currently, Helix's well intervention vessels are seeing 93% percent utilization, and robotics vessels see 98% utilization. In the Gulf of Mexico, Q4000 saw 86% utilization, with downtime related to inspections and maintenance. Negotiations over the vessel are in progress and there is talk of extending commitments into 2018. Express saw 100% utilization in this quarter as well.
For the three vessels in the North Sea, Helix has achieved a 95% utilization rate. All vessels in the region are fully booked through 2014 and there are commitments extending into 2015 as well. Grand Canyon achieved 97% utilization in performance of trenching services. Olympic Triton was awarded an 18-month contract extension for service in India. REM Installer also entered a three-year charter as recently as July of this year.
Overall, most vessels appear to be in consistent operation. Backlog at Helix is limited by the term during which customers are willing to wait for service, and may have reached a ceiling. The expansion of Helix's fleet should allow for significant growth in revenues, and in backlogs as well. Helix has allocated significant capital expenditures to expansion of its fleet of service ships.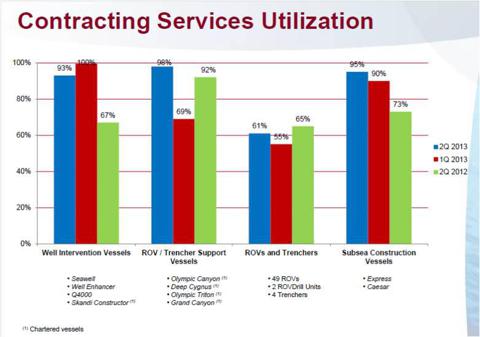 On April 1st of this year, the Skandi Constructor was delivered on a charter contract for well intervention operations in the North Sea.
Additionally, Helix anticipates entry of Helix 534, a ship acquired from Transocean (NYSE:RIG), in the current quarter for operations in the Gulf of Mexico. The ship will enter will full backlog for both 2013 and 2014, with contracts extending into 2017. The entry of this vessel should provide a large boost to revenues and profits over the long term.
Another vessel, the Q5000, is currently under construction in Singapore. This submersible well intervention vessel will have been mostly paid for by the end of this year, and should enter service in 2015.
In addition to the aforementioned opportunities for growth, Helix has developed the "Helix Fast Response System." These centers, which operate on existing vessels are retained by a non-profit industry group and allow availability of these vessels in accordance with the terms of the retainers.
Conclusion
Deepsea drilling and operations has grown significantly, and the sector should experience further growth with the high prices for oil. In the case of Helix, the company is largely limited only by the size of its fleet. Management has successfully divested the oil and gas segment in order to focus the company, pay down debt, and allow for significant capital expenditures for new vessels. Helix has even been able to contract these vessels for years of service before their actual completion. When you have a company whose growth is bound not by its market but by its ability to increase operation equipment, you can expect sustainable and market-beating returns for years into the future. Helix will remain an opportunity for as long as deepsea drilling is economic.
Disclosure: I have no positions in any stocks mentioned, and no plans to initiate any positions within the next 72 hours. I wrote this article myself, and it expresses my own opinions. I am not receiving compensation for it (other than from Seeking Alpha). I have no business relationship with any company whose stock is mentioned in this article.