Introduction
If you're looking for growth in the semiconductor equipment industry, should you invest in ASM International (ASMI) right now to reap solid benefits in the future? In this article, I will deliver a clearer picture on where ASM International stands to help you see possible potential and risks you may face in the future. Our argument makes a fundamental case for suggesting whether or not this stock is a good choice for your portfolio.
Deep Financial Expertise
We will offer some perspective on the valuable role past performance of ASMI can play when used in conjunction with a deeper analysis of various quantitative and qualitative factors.

Data taken from Morningstar
In terms of the company's liquidity, the current ratio tells us about how much of its current assets are available to pay for its currently maturing obligations. On the average, ASMI has around $2.66 of assets to pay for each dollar of its current obligations. We are not going to use a quick acid ratio here since the available data is incomplete, specifically on its marketable securities.
When it comes to its profitability, ASMI was quite profitable during the 2010-2011 years, but has been on the downside since 2012, with at least 0.5% net profit margins at the end of 2012. The return on assets was also trending the same way since 2012, with almost a 0.46% figure at the end of 2012. It only shows that the company has been quite inefficient in 2012 when it comes to using its assets for its operations.
For its solvency, debt ratios show that the company has been performing less aggressively in funding its operations through debt for the last four years, with an average annual decrease of 11% in its total liabilities since 2009. That trend strengthens the company's financial stability and is a good reason to be optimistic about the company's future.
The company's efficiency ratio in managing its assets also shows a picture similar to its profitability. Evaluating how well the company utilizes its assets to produce revenue, the asset turnover ratio had been decreasing over the 2010-2012 periods, from a skyrocketing 1.18 high in 2010 to only 0.92 at the end of 2012. As a matter of fact, ASMI's efficiency has already dropped to almost the 2008 level.
What is ASMI stock currently worth?
Here I'm going to use the "Stock Valuation Model" to find out what the ASMI stock is currently worth.
The stock valuation model rates stocks from 1 to 10, with 10 being the best using a system of advanced mathematics to determine a stock's expected risk and return. I am using different fundamental and technical factors in order to rank a stock.
1- Value Test
The bars below the metric indicate which value test components the company falls into when compared to the whole market. For example, if a stock has 4 bars colored for Earnings Yield, the company's earnings yield is between 60% and 80% of the market.

Based on data from YCharts on 12 August, 2013
We can see that ASMI has a pretty good value score (9/10). It is likely selling at a low price given its performance. If the future looks like the past, this stock has promise and might become a profitable bargain in the future.
2 - Fundamentals Test
The fundamentals test allows us to look at the company's business at the fundamental financial level. This type of analysis examines key ratios of a company to determine its financial health and gives us an idea of the value stock. In addition, the fundamental analysis helps investors expose positive and negative factors that potentially generate future gains and losses for the company, respectively.
Let's look closely if ASMl fails any of ten tests shown below.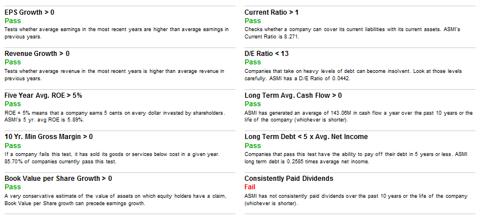 Based on data from YCharts on 12 August, 2013
ASMI currently has a strong fundamental score (9/10). Evidently, the company looks strong, but investors should keep a close eye on the failed test carefully for possible weakness.
3 - PS Valuation Method
The PS Valuation technique estimates stocks by applying a historical average of median Price to Sales Ratios to the current trailing 12 months sales numbers. Investors should always check to ensure that they are comfortable with the estimated historical Price to Sales Ratio information before investing based on this valuation.
Many investors prefer to use sales numbers to estimate stocks since they are slightly more difficult than earnings to correct using accounting practices. This technique tends to overvalue companies (growth firms) that have historically traded at very high PS ratios, and also tends to undervalue companies that historically traded at low PS ratios.
In order to help investors avoid unreasonable valuations, there is a set of maximum Price to Sales multiple at 10, even if the company historically has traded at higher values. If the intelligent investor has good reason to apply a higher multiple, they may choose to do so, but we will not publish numbers that high because they are rarely sustained.
Formula: Value = Price/Sales3yr x SalesTTM
Where:
Price/Sales3yr = 3 year historical average of annual median Price/Sales Ratios, maximum of 10
SalesTTM = The trailing twelve month sales per share
PS Method Valuation = $31.24
Based on ASMI's financial data, calculation of the company's value according to the PS Valuation Method leads us to suggest that a current fair value for ASMI stands at $31.24. This stock looks slightly overvalued and has at least a 2.31% premium over its fair value.
What's In the Cards for the Company's Future?
Based on the recent Q2 2013 results, the bleak expectations for ASMI third-quarter revenue have led the stock price to fall down by over 15%, since 24 July, 2013. However, there are some key reasons to anticipate upward ascent of the stock price in the coming future.
Despite tight competition from the company's major competitors will continue, vast spending on R&D should allow ASMI to reach a competitive advantage over the next few years. Analysts expect ASMI to outperform the sector's EPS performance in the long-term, mainly on the back of its cutting-edge front-end tools business.
The progressive migration of its front-end manufacturing business operations to Singapore (a lower-cost market) will help ASMI increase its returns. The company's back-end segment, with low cost operations in Asia, looks like a hidden trump card in the hands of ASMI, which remains consistently profitable, reporting industry leading results.
Make or Break for Investors
According to Macroaxis, given investment horizon of 30 days, ASM International will under-perform the SP 500.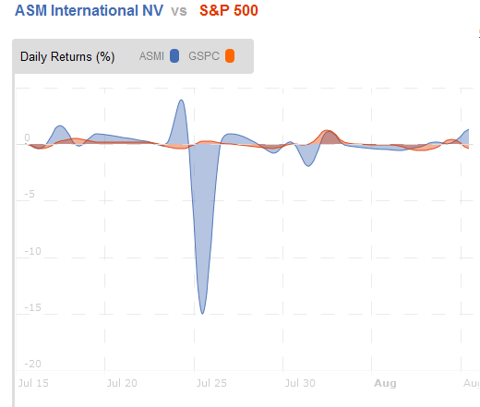 ASMI is 8.71 times more volatile than S&P 500. the company trades about -0.14 of its total potential returns per unit of risk. S&P 500 is currently generating about 0.07 per unit of volatility. If you would invest 167,626 in S&P 500 on July 13, 2013 and sell it today you would earn a total of 1,516 from holding S&P 500 or generate 0.9% return on investment over 30 days.
As returns on market increase, returns on owning ASMI are expected to decrease at a much smaller rate. During bear market, ASM Internat is likely to outperform the market.
The company expects scaling to increasingly be enabled by New Materials and 3D Technologies.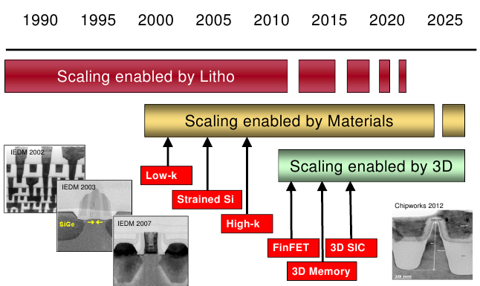 Source: ASMI website
The key advantages of ASMI to outperform the competition arise from the following points:
- Scaling is increasingly enabled by new materials and 3D technologies
- Atomic layer deposition (NYSEARCA:ALD) enables new materials and 3D
- The ALD market offers strong growth opportunities
- Adoption of more ALD and PEALD applications in HVM continues
- ASMI #1 position in ALD for High-k gate
- 3D FinFET's drive adoption of ALD, not only for the dielectric, but also for metals
- Strengthening inroads with PEALD on XP8, high productivity system for PEALD and PECVD applications
- Intrepid® XP, system with 4 Epi reactors, targeting strained Epi layers for CMOS
- ASM's Vertical Furnace is providing low CoO and footprint per reactor.
Summary
ASM International is a strong company with its sights firmly set toward the solid future. The company currently is experiencing strong financial health and there are no obvious red flags in its performance that could imply any risk for investment. However, if the company generates net income in the future equal to results from the past three years, an investment will make yield-hungry investors bored and feel hungry again.
ASMI will take full advantage of scaling increasingly enabled by new materials and 3D technologies over the next 10 years. Obviously, the ALD market provides the company with strong growth opportunities.
However, awaiting the ASMI stock to lose more value over this month is a prudent option before buying into the stock. The next must-know point is that once someone decides to add ASMI stock to his/her portfolio, it would be useful to track any developments and see whether the market remains optimistic.
Disclosure: I have no positions in any stocks mentioned, and no plans to initiate any positions within the next 72 hours. I wrote this article myself, and it expresses my own opinions. I am not receiving compensation for it (other than from Seeking Alpha). I have no business relationship with any company whose stock is mentioned in this article.