Procter & Gamble (NYSE:PG) is the world's leading retail goods company. PG has a diverse geographical revenue and earnings base, and the company has been aggressively working to deliver strong top and bottom line growths for the future. Productivity gains, product innovation and significant emerging market exposure are likely to fuel growth for the company. However, based on my price target of $81, I see a limited upside stock price potential. Therefore, I recommend investors to wait for a pullback before taking a buy position in the stock.
Financial Performance
PG reported healthy financial results for FY'13 Q4, beating analyst consensus estimates for both revenues and earnings. Reported revenues for FY'13 Q4 came out to be $20.7 billion, representing an organic revenues growth of 4%. The organic revenue growth for the recent quarter was better than the average growth rate of 3% over the previous five quarters. Revenues for the recent quarter were primarily driven by strong product innovation initiatives and increased marketing spending that led to higher volumes. Volumes for the quarter grew by 5% YoY.
PG posted quarterly adjusted earnings per share of $0.79, beating analyst consensus estimates of $0.77, down almost 4% YoY. Adjusted EPS for the recent quarter were also ahead of the earnings guidance range of $0.69-$0.77 for FY'13 Q4. Better than anticipated productivity and cost savings drove the earnings beat for the quarter.
Structural Changes and Other Stock Price Catalysts
With CEO A.G Lafley's return, PG seems back on track to delivering a strong performance. The recent earnings release was the first under Lafley's reign. A.G Lafley replaced Bob McDonald as the CEO of PG in May earlier this year. Lafley had previously been CEO as well from 2000-2009. Organization structure changes and the appointment of the new CEO were largely anticipated, as the company was facing intense pressure from stakeholders due to a disappointing financial performance in the last 3-4 years. I believe the new CEO brings in the leadership and execution qualities that are required for PG to strengthen its performance.
A positive take-away from the recent earnings release was that Lafley indicated that the company will continue to push for productivity improvement initiatives at an accelerated rate and target new areas to pull out incremental savings. The company has been working to improve upon its productivity, which is expected to result in cost savings of almost $10 billion by 2016. Under the ongoing restructuring plan, PG is focusing on its 40 biggest business units, 20 new products and 10 top emerging markets. Productivity savings are being used by the company to reinvest in product innovation, core business products and key emerging markets.
Also, I believe the cost savings will enhance financial flexibility, which will enable PG to focus on marketing activities and product innovation in slower economic conditions, while supporting its bottom line. PG has been pumping up its advertisement spending to build on consumer loyalty and grow its top line. The following graph shows the increasing trend of advertisement spending over the recent years.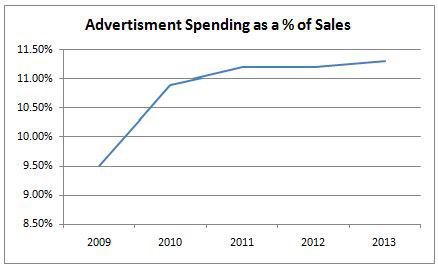 Source: Company Reports
The company has been aggressively allocating cash to repurchase portions of its shares outstanding, which is likely to boost its future EPS. In FY'13, the company repurchased almost $6 billion worth of common share; approximately 3% of PG's current market capitalization. PG anticipates spending a further $5-$7 billion to repurchase shares in FY'14. The company also offers a decent dividend yield of 3%, which is backed by a solid free cash flow yield of 3.8%. Attractive ongoing share purchases and a strong dividend yield of 3% remain among the important stock price catalysts.
Outlook
PG expects organic sales growth to be between 3%-4%, in line with the market growth. Foreign currency exposure is likely to shave away 2% of total revenues in the upcoming year. The company also projects its core EPS to increase by 5%-7% in FY'14. As opposed to PG's earnings growth estimates, analysts forecast an attractive average growth rate of 8.05% for the next five years.
Risks
Since the company offers premium pricing products, its growth prospects are at risk of exposure to the changing economic conditions around the globe. A decrease in the purchasing power of consumers could lead to slower than anticipated growth for PG. Also, as the company generates approximately 65% of its total sales from markets outside of the U.S., a strengthening of the dollar remains a headwind for the company. It is expected that foreign currency will negatively impact the company's revenues and earnings by 2% and 6% respectively in FY'14.
Conclusion
I believe PG is on track to delivering a strong financial performance in the future. Productivity gains, product innovation, significant emerging market exposure and share repurchases are likely to boost EPS in the upcoming years.
However, at current valuations, I believe the stock is fairly valued and there is a limited upside potential. Using the stock's historical five-year average P/E of 17.2x and FY'15 EPS forecast of $4.66, I have calculated a price target of $81. I recommend investors to wait for a pullback before initiating a position in the stock.
Disclosure: I have no positions in any stocks mentioned, and no plans to initiate any positions within the next 72 hours. I wrote this article myself, and it expresses my own opinions. I am not receiving compensation for it (other than from Seeking Alpha). I have no business relationship with any company whose stock is mentioned in this article.