As many of my readers know, I tend to focus on dividend growth companies as the primary thesis for my articles. And the reasoning is relatively straightforward: I happen to have a goal of eventually living off the income that my wonderful partnerships produce. It follows that I am chiefly concerned with corporations which not only pay but also regularly increase their payouts. In tandem, this also means that I take little stock (pardon the pun) in following short-term price fluctuations.
So it might surprise you, but I recently happened upon a mid-cap bank in a situation largely dependent on short-term price movements. Specifically, I ran into Hudson City Bancorp (NASDAQ:HCBK) which announced on August 27th of 2012 that it would merge with M&T Bank Corporation (NYSE:MTB). Now I'd like to preface this article by explicitly indicating that these types of situations are usually not in my "investing arena" or perhaps even within my dividend forte. However, after doing a touch of work it seemed that I had a bit of insight, so I figured I'd give it go. By no means will it be comprehensive, but perhaps the readers can add some insight as well.
Originally the merger was planned for later this month, but has since hit a regulatory snag such that it's been postponed until January of next year. However, the particulars of the deal - pending approval - have remained the same: Hudson City shareholders will receive compensation for each HCBK ownership claim in an amount valued at 0.08403 per share of MTB stock in either cash or stock. In addition, the total offering is limited to 60% MTB stock and 40% cash. In other words, if everyone wants MTB stock only 60% could or if everyone wanted cash, only 40% would be allowed. Granted one could simply buy or sell the MTB shares after the merger as they so desired, but that was my understanding of the deal.
What's interesting to me is that you really don't need too many more facts to develop a rational decision tree. Specifically, let's imagine that you currently hold HCBK shares and you are deciding what to do. The way I see it, there are three basic outcomes: the merger fails, the merger goes through and you take cash or the merger goes through and you take MTB stock. So let's run through the possibilities to see if we can find some insight.
1. Failed Merger
Based on the information I have been reading, it seems unlikely that the merger would fail. However, if the merger is not successful this seems especially disconcerting for the current HCBK shareholder. According to Value Line analyst Robert Mitkowski Jr. the delay in the merger took Hudson City by surprise such that the bank had already begun to "close up shop," allowing the business to go lax and taking down signs. In addition, the company has seen its earnings drop and cut its dividend twice since 2011. Although it's certainly probable that HCBK could find another merger partner - whatever the likelihood of a failed merger - I would imagine that one would want to think carefully about owning HCBK without MTB at its side.
2. Successful Merger - Take Cash
The second possibility is that the merger goes through in January of next year and HCBK shareholders elect to take cash in the amount equal to 0.08403 of whatever MTB shares are trading. Presently, at the time of this writing - with MTB trading just under $118 a share - that would mean a cash value of $9.90. HCBK stock is trading at $9.60, representing a roughly 3% discount to what MTB might buy the HCBK shares for in the future. This discount represents the possibility of a failed merger, along with the future fluctuations of M&T Bank's stock. One might think that the time value of money would also be a discount factor, but with the future value pegged to MTB stock's future price and not a set cash value, this factor likely takes care of itself.
But of course the future is foggy, such that if the merger passes one would only be guaranteed the equivalent to 0.08403 of whatever MTB shares are trading next year - whether up, down or sideways. Further, even if you believed that MTB shares were trading at a discount to what they might be worth, you would also have to feel overly confident that the market would agree with you in six months time.
3. Successful Merger - Take MTB Stock
The third outcome that I see is that if the merger is approved, you could elect to take 0.08403 shares of MTB stock. Now it should be noted that both this selection and the cash selection are subject to the 60% stock / 40% cash limits set by the merger agreement. In the same manner as the second option, each share of HCBK would be worth roughly $9.90 upon a successful merger and today's prices. The only difference is that you would receive MTB stock, which would theoretically be the same as buying MTB stock at a 3% discount.
Interestingly, all three options are based on your perceived likelihood of a successful merger. So for example, if you thought that HCBK shares would drop, say 6%, on the news of a failed merger, you would need to be twice as certain that the merger would go through in order for the small discounts to apply.
Moving to the price movement of HCBK, you could observe that future premiums from a successful merger are likely limited. Prior to the merger announcement in 2012, HCBK fluctuated between a 0% and a 20% discount to the value that MTB offered; with an average discount of about 6%. Once the merger was announced, HCBK quickly rose to just a 0.7% discount. Since that time, Hudson City has fluctuated from there to about a 3% discount, but remained steady. In other words, the bump in price due to the merger has already been taken into account and the remaining discount is related to future uncertainty.
Finally, I believe it's prudent to consider whether or not you believe MTB is a wonderful company. If you did not want to own MTB, I think the choice is relatively simple for a conservative investor: cash out of HCBK stock today. The price pop due to the merger announcement occurred some time ago and at current levels you're risking a possible 3% additional gain for a larger loss. More specifically, a hold today without any interest in MTB reflects trading a small gain for a likely larger and unknown loss. Not only that, but you're future cash out value is solely reliant on what happens to the price - not the business - of M&T Bank in the next 6 months.
If you did want to own MTB, the decision becomes slightly more difficult but is still reliant on your analysis of the probability of a successful merger. Personally, I don't have much color in this area, but once again you would be hoping for a small discount whilst simultaneously exposing yourself to a larger unknown.
In viewing these companies through the F.A.S.T. Graphs fundamental analyzer tool, you might very well believe that MTB is a solid company: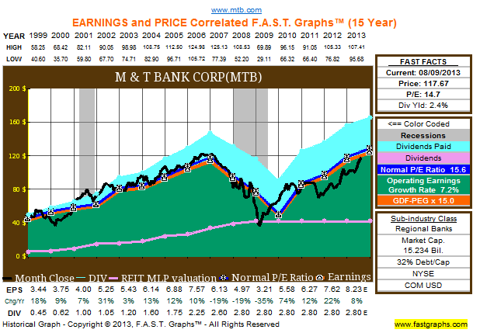 True the financial induced recession wasn't especially kind to M&T Bank, but otherwise there is a semblance of strength: over the last 15 years operating earnings grew at 7.2%, the market placed a "normal" price-to-earnings ratio of 15.6 on MTB earnings, the shares currently have a 2.4% yield and today it trades at a P/E of just under 15.
In addition, MTB pays out about 37% of its profits in the form of a dividend and 14 analysts reporting to S&P Capital IQ come to a consensus 5-year expected growth rate of 10%. In turn a P/E of 15 with dividends growing at the rate of expected earnings growth in 5 years time would equate to a 12% annualized total return. Overall, MTB appears to be a reasonable bank despite the recession and looks poised to reward shareholders in the intermediate term.
However, if we compare MTB to say Wells Fargo (NYSE:WFC) - which I've previously written an article about - the analysis of whether or not MTB is a great opportunity isn't quite as clear.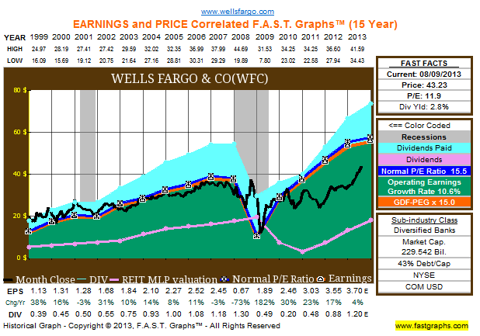 Here we see the same dip during the most recent recession, but otherwise strong results. Operating earnings have grown by 10.6% a year, the market attributed a very similar 15.5 "normal" P/E ratio, the shares currently have a 2.8% dividend yield and today shares trade at a P/E of just under 12. Said differently, WFC has traded near the same historical valuation as MTB, had greater operating earnings growth, a higher current yield and trades at a lower discount today.
Looking forward, Wells Fargo pays out about 34% of its profits and is expected to grow by about 6.5% a year according to the consensus analysts estimates reporting to S&P Capital IQ. In turn this leads to estimated 5-year annualized return of about 12.9% given a future P/E of 15 and a dividend that grows with expected earnings. In other words, WFC pays out less of its profits and is expected to grow at a slowly rate than MTB, but still could provide a higher return given similar assumptions. That's the Warren Buffett "I don't try to jump over 7-foot bars, I look around for 1-foot bars that I can step over" ideology at work. In addition, Wells Fargo has also reiterated its commitment to returning shareholder value.
Thus, while MTB might be a fine bank, the point of that exercise was to indicate that it certainly isn't the only opportunity out there. In fact US Bancorp (NYSE:USB) or J.P. Morgan Chase (NYSE:JPM), for example, would currently provide a similar comparison as Wells Fargo.
Coming back to the original question at hand - what to do with Hudson City Bancorp shares - I think it might be sensible to at least consider cashing out of HCBK and buying what you believe to be a wonderful company at a reasonable price. Whether that's MTB, WFC or something completely different is for you to decide. However, with the upcoming merger there are only two outcomes: either it goes through or it doesn't. Correct me if I'm wrong, but I believe a failed merger would be burdensome for HCBK shareholders. If the merger is successful, the additional upside compared to a like alternative appears quite limited. Perhaps I'm too used to investing small ball, but personally I'd take owning a wonderful company over a small gain any day.
Disclosure: I am long WFC. I wrote this article myself, and it expresses my own opinions. I am not receiving compensation for it (other than from Seeking Alpha). I have no business relationship with any company whose stock is mentioned in this article.