Kraft Foods Group (KRFT) is among the leading consumer packaged food and beverage companies of North America and has delivered solid financial performance in the recent past. I remain bullish on the stock, as the company offers a solid dividend yield of 3.5%, has the potential to improve its margins, and owns a strong product portfolio. Also, analysts are expecting an attractive growth rate of 6.2% for each of the next five years.
Financial Highlights
KRFT reported a healthy financial performance for 2Q'13. KRFT posted adjusted earnings per share of $0.76, beating analyst consensus estimates by $0.1. Adjusted earnings for the quarter were positively affected by productivity gains and overhead cost savings. However, increased marketing spending and lower volumes negatively affected the quarterly adjusted earnings. Organic net revenues declined by 1.2% to $4.7 billion in 2Q'13. The drop in revenues for the quarter was primarily due to a drop in sales volume and lower pricing, which had a negative impact on quarterly revenues of 0.9% and 0.3%, respectively. Due to intense competition in the industry and the sluggish economic activity, KRFT was unable to grow its sales volume and increase pricing. The following table shows the performance of different reporting segments for 2Q'13.
| | | | | | | |
| --- | --- | --- | --- | --- | --- | --- |
| | Beverages | Cheese | Refrigerated Meals | Grocery | International & Food Services | Total |
| Q22013 Revenues ($ mn) | 753 | 925 | 897 | 1,135 | 992 | 4,702 |
| YoY Change | -3.2% | 2.8% | -0.7% | -6.7% | 3.1% | -1.2% |
Source: Quarterly Report
Key Stock Price Drivers
An important stock price driver for KRFT is its potential for margin expansion. In comparison with other companies in the industry, KRFT has lower operating and net margins. The company has been working to improve upon its operational efficiency and reduce overhead costs, and it is expected that KRFT will enjoy industry level margins by 2016-2017. The following chart shows that KRFT has lower margins than General Mills (NYSE:GIS) and The Hershey Company (NYSE:HSY).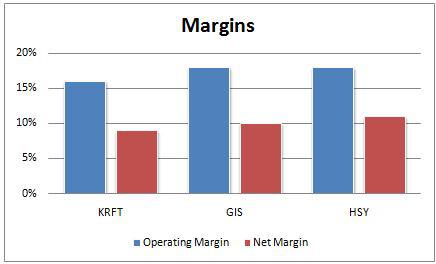 Source: Companies Reports
The company operates in an industry that presently faces high competition and rising input costs. I believe that in order to address the issue of intense competition, KRFT can increase advertisement spending to build on consumer loyalty and increase its market share. Currently, the company has lower advertisement spending as compared to its peers. The chart below shows KRFT's lower advertisement spending as a percentage of total revenues in comparison to GIS, Kellogg Company (NYSE:K) and HSY.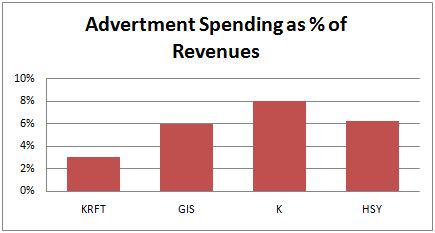 Source: Companies Reports
Another important stock price driver for KRFT is its attractive dividend yield of 3.5%. KRFT's high dividend yield of 3.5% and a payout ratio of almost 75% remain attractive within the U.S. food and beverage industry. Dividends offered by the company are sustainable as they are backed by its strong operating and free cash flow yields of 9.8% and 7.7%, respectively.
| | | | | | |
| --- | --- | --- | --- | --- | --- |
| | KRFT | GIS | K | HSY | Average |
| Dividend Yield | 3.5% | 3% | 2.6% | 1.8% | 2.70% |
Source: Yahoo finance
Guidance
KRFT is expecting organic revenue growth for 2013 to be in line with or slightly below the growth of the North American food and beverage market. The company raised its EPS guidance by $0.65 to $3.4 for the full year 2013; the post-employment benefit plan is likely to have a positive impact of $0.62 per share on 2013 earnings. The company also increased its free cash flow forecast to $1.2 billion for 2013, representing an increase of 20% as compared to the previous estimate.
Analysts are anticipating earnings per share of $2.78 for 2013 and a decent growth rate of 6.3% for the next five years.
Final Words
KRFT has lower margins as compared to its peers, but going forward I believe KRFT will be able to improve upon its operational efficiency, which will lead to margin expansion. Also, the company has one of the lowest advertisement spending budgets in terms of total revenue among its peers, which can be increased to build its brand power and consumer loyalty. Moreover, KRFT provides a high dividend yield of 3.5%; one of the highest in the industry. Due to the aforementioned factors, I remain bullish on the stock.
Disclosure: I have no positions in any stocks mentioned, and no plans to initiate any positions within the next 72 hours. I wrote this article myself, and it expresses my own opinions. I am not receiving compensation for it (other than from Seeking Alpha). I have no business relationship with any company whose stock is mentioned in this article.