Petrobras (NYSE:PBR) has been out of favor over the last couple of years, due to its weak share performance. Despite the company's strong long-term growth prospects, it has failed to deliver value to its shareholders mainly because of two factors: lower oil production growth than expected, and state-fixed fuel retail prices leading to losses. However, these two factors seem to be largely over, given its recent data regarding oil production growth and gasoline/diesel price increases. Therefore, Petrobras may now offer a good value proposition, taking into account its long-term growth prospects, cheap valuation, and a good dividend yield of 3.7%. This yield is not among the highest in the oil majors industry, but is attractive for income investors due to the company's strong expected growth over the coming years, which should lead to higher dividends over the long-term.
Company Background
Petrobras is a Brazilian state-owned company operating in the oil & gas industry. It is the biggest company in Brazil and was founded in 1953. The Brazilian government is the main shareholder and, by law, must maintain control of the company. Currently, it does so with 61% of voting shares. Petrobras has a market capitalization of about $90 billion, and is traded in the US as American Depositary Receipts [ADR] with each ADR representing two ordinary shares. Its free-float is about 51% of its capital.
Despite being present internationally, Petrobras is mainly a domestic company given that more than 90% of its revenues and oil reserves are based in Brazil. It is an integrated company with operations in oil and gas upstream, downstream, trade, transportation, petrochemicals, beyond other activities. It has upwards of 100 production platforms, 16 refineries, 30,000 kilometers of pipelines, and more than 6,000 retail stations. Its proved reserves are above 15 billion barrels of oil, a figure expected to double in the next few years. The vast majority of its reserves are located in deep water and ultra deep-water.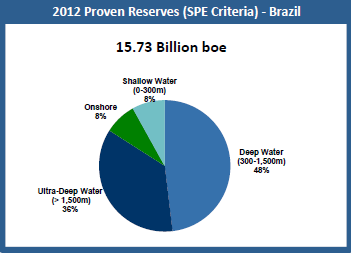 Brazil has discovered a lot of oil over the last few years, holding the world's biggest discoveries since the year 2000. In 2007, it discovered the world's largest oil well in the last 30 years, with the Tupi well discovery in the pre-salt region. Recoverable volumes are confirmed to range between 5 and 8 billion barrels of oil and natural gas. Petrobras is the block operator with a 65% stake, with BG Group (OTCQX:BRGYY) holding 25% and Galp Energia (OTCPK:GLPEY) the remaining 15%. In the last 14 months, the company has made 53 discoveries, from which 25 were off-shore. With the discovery of oil and gas in the pre-salt region, Brazil may become the world's fourth biggest oil producer in 2030.
Therefore, Petrobras is passing through a transformational cycle and offers investors a unique growth opportunity within the major global oil companies over the long-term. The company recently released its business plan for the period 2013-2017, expecting total investments of $236 billion or about $60 billion per year. The vast majority of this investment program will be funded from operating cash flow. Naturally, to reach its production growth targets, the company will deploy 62% of its planned investments in its E&P operations. Given this huge investment program expected over the next few years, Petrobras should be able to achieve much higher oil production, revenues, and earnings growth rates than its major global peers. Moreover, the company does not expect any equity issuance during this year, so current shareholders will benefit greatly from its growth prospects without the risk of being diluted.
In 2012, Petrobras achieved more than $124 billion in revenues, an increase of 15% from the previous year. However, its net income stood at $11 billion, a big drop from the $20 billion achieved in 2011 due to losses in its downstream operations. Over the next few years, the company's revenues should continue to increase due to an increase in the consumption of oil derivatives in Brazil and higher fuel prices.
Dividends
Petrobras offers an interesting income stream given the current dividend yield of about 3.7%, based on its ADR dividend history. Petrobras distributes cash flow to its shareholders from two ways: dividends and interest on capital. For simplicity, I consider both cash payments as dividends. In 2012, the company distributed $0.53 per share.
Petrobras' by-laws stipulate the company has to pay dividends which must not be less than 25% of its profits for preferred shares (NYSE:PBR.A). If the total amount distributed to preferred shares is higher than 25% of net income, the dividends for ordinary shares may be zero. However, management has stated that the ordinary shares will continue to receive 25% of net income. In 2012, the dividend payout ratio was 25% and should not increase in the short-term due to the company's high cash needs.
Since 2008, the company's operating cash flow was not enough to fund its capital expenditures. Petrobras' cash flow should continue to be under pressure over the next few years, due to the company's aggressive capex plan. It should return to be free cash flow positive, before dividends, only in 2015. However, as the company achieves higher oil production it will generate additional operating cash flow and could achieve its targets sooner than expected.
The company's indebtedness has been increasing consistently over the last few years, a trend that should continue over the coming years due to its huge investment plans. At the end of 2012 the company's net debt was $72.3 billion, an increase of more than $15 billion in one year. Petrobras expects new debt issuance of about $12.3 billion per year from 2013 to 2017, to finance capex and dividends during this period. Petrobras wants to maintain its investment-grade credit status, and in order to meet this target it has to maintain its net-debt-to-EBITDA ratio below 2.5x ratio. This ratio should be surpassed in 2013 but will fall below 2x in 2015. Therefore, even tough the company's leverage is relatively higher than desirable, its dividend does not appear to be at risk.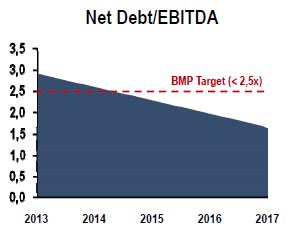 Major Weak Points
Despite the company's huge long-term potential, its share price has declined over the past couple of years. It has been mainly penalized by two factors: slower growth oil production than expected; and, fuel retail prices set by the government imposing losses on its downstream operations. However, both issues seem to be correcting and the recent poor share performance may have created a buying opportunity.
Along the way from transforming itself from being a small operator to becoming the largest deepwater oil producer in the world, Petrobras has delivered historically consistent oil production growth. However, and despite its huge long-term potential, more recently Petrobras' oil production was growing at the slowest pace since 2007 as new fields in the pre-salt region failed to counter declines at deposits where it has been pumping for decades. However, in June production increased 5.5% from the previous month, and further growth is expected over the coming months as more wells initiate oil production.
Regarding fuel prices, the government's interference in the company by setting fuel prices has harmed its financial performance. Due to Brazil's efforts to slow inflation through fixed gasoline prices, it has imposed losses in the company's downstream operations since the beginning of 2011. In the last 9 months, the Brazilian government has corrected part of this situation with 4 diesel price readjustments and 2 gasoline readjustments. The company is still operating at a loss, but it is seeking convergence with to international prices and its losses may continue for some years but should be lower than in the past two years.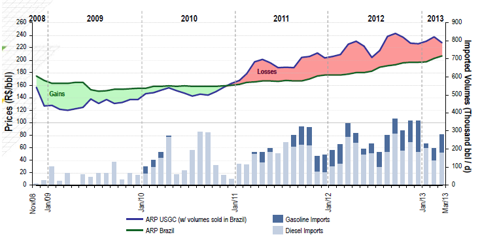 Another issue that can hurt Petrobras' oil production growth in the long-term is the local content requirements. All concession contracts signed in Brazil require that a minimum level of goods and services from Brazilian providers are used in the exploration, development and production phases. In the medium to long term, the Brazilian oil equipment industry can have difficulties supplying Petrobras, resulting on project delays that will slowdown production growth. This can put pressure on Petrobras' cash flow generation and its ability to pay dividends.
Conclusion
Petrobras offers an interesting proposition in the oil industry, given its size and unique strong long-term growth prospects. For income investors the current dividend yield is not the highest within the sector, but its long-term growth potential is certainly brighter than for its closest peers. Moreover, the issues that negatively affected its share price are being corrected and at current levels Petrobras seems to be a buying opportunity, given that is trading below 7x its forward earnings.
Disclosure: I have no positions in any stocks mentioned, but may initiate a long position in PBR over the next 72 hours. I wrote this article myself, and it expresses my own opinions. I am not receiving compensation for it (other than from Seeking Alpha). I have no business relationship with any company whose stock is mentioned in this article.