This is a follow up to "BDC Earnings Summary Q2 2013: Part 1" where I covered the first 9 BDCs to report Q2 earnings and have included 14 additional BDCs that reported financial results last week with my updated rankings for all 25 that I follow. In this article I will discuss the dividend coverage from net investment income ("NII"), changes in net asset value ("NAV") per share and portfolio investment classes for each relative to each other.
The two BDCs that have not reported results are Prospect Capital (NASDAQ:PSEC) and Full Circle Capital (NASDAQ:FULL) but I have included them in the rankings using last quarter's results. These are the five general criteria I use to evaluate BDCs:
Profitability (EPS to cover dividends, NAV and EPS growth)
Risk (rate sensitivity, diversification, portfolio quality, volatility)
Payout (sustainable, consistent, growing)
Analyst Opinions
Valuation (NAV, P/E, PEG)
The table below does not actually contain whole numbers and the totals might be different (by 1) due to rounding: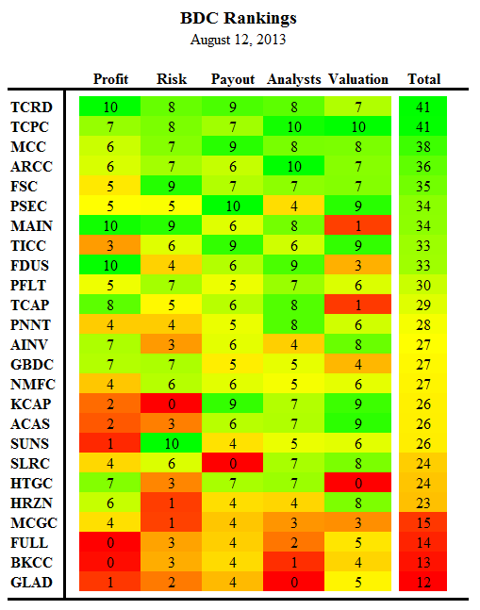 Click to enlarge
(Click to enlarge)
Dividend Coverage
There were seven BDCs that covered dividends by almost 110% but THL Credit (NASDAQ:TCRD) was the leader with over $13 million in NII to cover $9 million in dividends paid, beating projections by 30% as I had predicted in "THL Credit: Another Overlooked BDC". TCRD topped my projections as well and pushed it to the top of the list over TCP Capital (NASDAQ:TCPC) that did not cover dividends this quarter but is projected to in Q3.
The other six BDCs with the best dividend coverage were:
There were six BDCs that did not cover dividends by more than 10% including MCG Capital (NASDAQ:MCGC) and KCAP Financial (NASDAQ:KCAP) that both have a recent history of not producing enough NII to cover distributions. Solar Capital (NASDAQ:SLRC), Solar Senior Capital (NASDAQ:SUNS), TCP Capital, and Fifth Street Finance (NYSE:FSC), also did not cover dividends by 10% or more but are growing much faster and the NII from new investments will come in the following quarter and will hopefully be enough to cover and grow dividends in the future.
Net Asset Values
NAV growth per share (or at least NAV stability) is an important indicator for many reasons, including the demonstration of growth or preservation of investors' capital through appreciation of assets and/or the reduction of liabilities. BDCs are usually priced based on NAV multiples, so a growing NAV per share usually leads to incremental capital gains for investors. Four BDCs actually grew NAV per share by 2% or more including TCRD, TCAP, Golub Capital BDC (NASDAQ:GBDC) and Fidus Investment (NASDAQ:FDUS).
Out of the 23 BDCs that have reported so far only a handful lost more than 1% in NAV per share values including KCAP, SLRC, SUNS, Apollo Investment, Horizon Technology Finance and Gladstone Capital (NASDAQ:GLAD).
Portfolio Investment Classes
As discussed in "BDC Risk Profiles: Part 1", BDCs invest in a variety of asset types to maximize return on investment. Investments range from safer senior secured loans, such as term loans and revolvers to riskier subordinated unsecured loans or even riskier, preferred or common equity and warrants. There were four BDCs that made considerable changes for the positive to their portfolios including TCRD, KCAP, MCGC, and PennantPark Investment (NASDAQ:PNNT). However, all of these companies had below average amounts of senior type loans with room for improvement compared to BDCs like TCPC, PFLT, SUNS, HRZN, NMFC and Medley Capital (NYSE:MCC), with 90% or more of investments in senior loans.
There were a few BDCs that positioned their portfolios toward higher risk investments most likely for higher returns including BKCC and American Capital (NASDAQ:ACAS).
In the remainder of this series I will cover PSEC and FULL as well as some of the other criteria I use for my rankings including debt to equity levels, interest coverage, portfolio yields, and non-accruals. I will also cover overall risk levels and profitability as well as revised analyst EPS expectations and target pricing for each BDC.
Investors should only use this information as a starting point for due diligence. See the following for more information:
Disclosure: I am long MAIN, TCRD, TCPC, PFLT. I wrote this article myself, and it expresses my own opinions. I am not receiving compensation for it (other than from Seeking Alpha). I have no business relationship with any company whose stock is mentioned in this article.