Recent quarterly and 8-K disclosures from movie theater operator and real estate developer, Reading International (NASDAQ:RDI), illustrate the company's continued operational growth and movement toward redeveloping and monetizing some of the company's substantially undervalued real estate. Despite this progress, and the resulting substantial reduction of Reading's net debt, RDI shares have appreciated only modestly over the past year. Thus, the disconnection between Reading's stock price and the company's increasing cash flows and lower net debt levels has widened. This disconnection provides an inexpensive entry point for investment into Reading and its $258MM of LTM revenues plus 330.5-acres or almost 14MM sq ft of developable real estate that has not yet generated any revenue or sales proceeds.
Despite the company's fairly consistent delivery of operating performance, its large cinema market shares in Australia (#4), New Zealand (#3) and the United States (#11), and its stock, a Russell 2000 Index component for over a year, Reading International lacks research coverage from any sell-side entertainment, consumer non-durable, or real estate industry analyst.
Reading's business activities extend over three countries and two separate (but synergistic) industry sectors, cinema exhibition and real estate. This diversification often creates analytical complexity too daunting for many analysts. However, for a diligent and skilled analyst, Reading's extensive SEC disclosures, combined with information available from resourceful Internet research, provide a value creation roadmap that I believe Reading has not strayed from. Perhaps Reading's recent plans to present its story for the first time (Reading did make a "trial" presentation at a very small conference in 2011) at this month's Midwest IDEAS conference in Chicago on August 27, 2013 and roll-out of new investor web pages may attract some initial coverage.
Reading trades at a substantial discount to the company's intrinsic asset value and at a far lower multiple of stated book value/share than any of the three larger US publicly-traded theater exhibitors; Regal Cinemas (NYSE:RGC), Cinemark Holdings (NYSE:CNK) and Carmike Cinemas (NASDAQ:CKEC). As Reading continues to grow its sustainable cash flows and unlock the appreciated value in its geographically diversified real estate holdings, investors will eventually narrow the substantial "value gap" that presently exists in RDI shares.
Good Introduction - 2013 Annual Meeting Slide Presentation
The first place to begin analyzing and seeing the enormous hard asset value embedded in Reading International's balance sheet is the company's elaborate 2013 Annual Meeting slide presentation, filed as a May 17, 2013, 8-K exhibit here. This presentation illustrates, with charts, tables, and pictures, that Reading is loaded with hard assets, not just in the United States (see also slide 65 for additional detail of major US assets) but also in Australia (see also slide 51) and New Zealand (see also slide 42.) In addition, this past Just One Stock interview and my other Seeking Alpha articles on Reading provide readers historical background on the company and a roadmap of the progress made on its many cinema and real estate development projects.
June, 2013 10-Q: Strong Results And Valuable Disclosures
Reading's recent June Q2 2013 10-Q can be found here and certain salient findings from this quarter's filing are discussed, below.
Q2 Revenues, Operating Income and adjusted Operating EBITDA (Op Income + Dptn/Amort) were all up sizably y/y vs. 2012, despite foreign currency headwinds. Total Q2 revenues were up 10.6% from prior year, led by an 11.5% y/y revenue jump in Reading's larger Cinema segment, coupled with a 0.5% increase in revenues in its smaller Real Estate segment. The sizable Cinema segment revenue increases were primarily the result of increases in attendance in each of Reading's US, Australia, and New Zealand markets, fed by higher quality film product vs. prior year, which exceeded revenue impacts from weakness in both the Australian and New Zealand currencies vs. the US Dollar. Real Estate segment revenue growth resulted from higher y/y rents and increased occupancy in Australia, offset by the above-mentioned currency impact and lower live theater revenue in the US.
It's worthwhile to note that Reading's 17% y/y domestic cinema revenue growth exceeded the domestic y/y revenue growth of cinema exhibitors, Cinemark and Regal, even with their inclusion of sizable cinema chain acquisitions made over the past year. Similarly Carmike's pro-forma revenue growth ex its Q2 acquisition of Rave Cinemas was reported to be 7.2%.
Reading's quarterly cash flow was higher than the prior year, driven by y/y increases in its Cinema segment. Cinema segment margin expansion vs. prior year came from favorable operating leverage of higher attendance yields in relatively fixed-cost facilities and accompanying increased sales of high-margin concessions more than offsetting incremental net costs of recently installed digital projection equipment. Real Estate cash flow was down vs. prior year as modest revenue growth was more than offset by incremental costs associated with the start of development work on the Courtenay Central Entertainment Center expansion in Wellington, NZ, discussed, below.
Q2 2013 Net Interest expense was substantially lower (down 54% or $3MM) than 2012. This sizable decline was primarily the result of a lower mark-to-market interest rate swaps liability vs. a prior-year quarterly increase. Additionally, lower overall debt balances and interest rates contributed to lower interest expense.
Reading Finished Q2 With Greatly Reduced Debt & Substantial Liquidity. At June 30, 2013, Reading had cash and marketable securities of $43.2MM plus a combined $23.5MM of undrawn availability on its several lines of credit. As a result of strong LTM cash flow generation and the sale of non-core real estate assets, Reading's 6/30/13 debt, net of the above-mentioned cash was $131.5MM; $39MM (or 23%) lower than prior year. Reading continues to optimize its various debt instruments, which often are non-recourse to the public company and "fenced in" to a specific property or country. During the quarter, using accumulated cash that presently earns little interest, Reading paid off its most expensive loan, $9MM costing 8.25%/yr, six months before maturity. Reading also replaced its maturing Liberty Theaters loan with a new 5-year $7.5MM loan at a substantially lower rate. Reading is negotiating renewals/extensions with existing lenders or replacement by another lender(s) of both its $15MM Cinema 1, 2 & 3 and $68MM Australian NAB term loans.
Q2's Net Income of $4.1MM was substantially higher than prior year's $0.2MM as a result of both increased Operating Income and lower Interest Expense.
Q2 and June 2013 10-Q Disclosures Of Note
May 8, 2013 - Announced entering into a 20+ year lease with the Progressive subsidiary of Woolworths Ltd for a Countdown Supermarket to anchor a major expansion of Reading's Courtenay Central Entertainment Center in downtown Wellington, New Zealand. Reading will also reconfigure and upgrade about 10,000 sq ft. of existing space in the current center for higher-end tenants, taking advantage of the new entrances created by this 42,000 sq ft. supermarket.
An overhead depiction of this proposed expansion is illustrated here.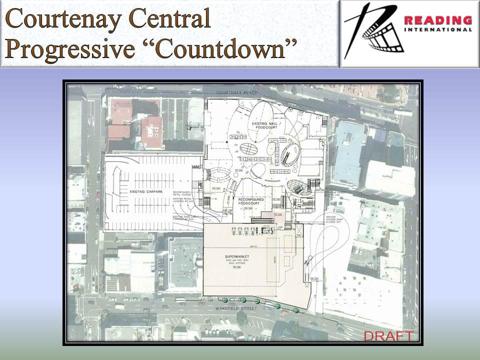 Click to enlarge
Reading is also exploring retail and other options to activate the potential rental space that will be created on top of the supermarket. It is expected that the supermarket and overall project will open in June 2015.
May 16, 2013 - At Reading's 2013 Annual Meeting, management presented its plans for each of Reading's large development parcels, including slides illustrating the preliminary development plans for the Cinema 1, 2 & 3 (Third Avenue) and Union Square parcels in New York City, and also discussed new unsolicited interest in portions of Reading's large Burwood Square development parcel in Melbourne.
May 24, 2013 - Reading disclosed its intent to sell and begin actively marketing its 3.3-acre Moonee Ponds (Melbourne, Aus) development site. Recently up-zoned to allow an increase in height limits from 10-stories to 16-stories, this property is booked on Reading's June 30, 2013 balance sheet at $11.3MM (AUD $12.4MM.)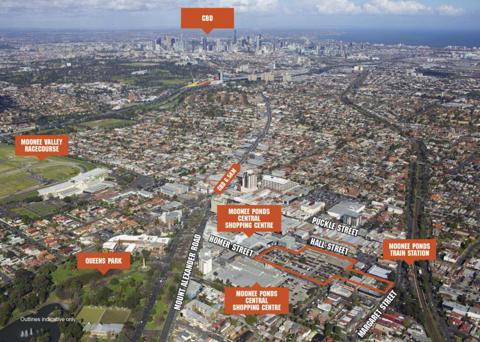 Click to enlarge
Colliers International and CBRE have been retained to market the property, and anticipate that it will attract offers in the low- to mid- AUD$20MM range. Here is link to the Collier's International offering summary on the parcel, stating 1st round bids were recently due on July 11, 2013.
July 24, 2013 - Reading announces a contract to purchase digital projection equipment for its Australia and New Zealand cinema chains during Third Quarter 2013 for approximately $11.1MM with cash on hand.
August 8, 2013 10-Q Filing - On June 28, 2013 Reading re-acquired the 50% interest in New York's Angelika Film Center (AFC) that it did not already own by foreclosing on a defaulted note it purchased last year from the prior owner's creditor. While Reading purchased the note at the substantially discounted price of only $1.8MM, in 2000, Reading sold this same 50% interest in AFC for approximately $9MM.
Reading's Hard Asset Balance Sheet - More Compelling Than Peers
Reading's current Price/Book value of 1.2X remains cheaper than all of its public cinema peers. In fact, as of June 30, 2013, Regal has a negative book value from sizable past losses, restructurings and distributions in excess of income. In addition, the table, below, updated for Q2 results, illustrates that Reading's Net Debt to Total Assets ratio is now the industry's most conservative.
Q2- July 2013

RDI

CNK

RGC

CKEC

Balance Sheet Comparison

Price*

$6.27

$31.21

$18.91

$17.98

P/B Ratio

1.3

3.4

Negative

2.1

Net Debt ($mm)

$131.5

$1,540.2

$2,023.2

$349.3

Total Assets ($mm)

$387.0

$4,111.6

$2,608.4

$719.9

Net Debt/Total Assets %

34%

37%

78%

49%

* Closing prices as of 08/12/13, all balance sheet items from 6/30/13 10-Q.
Reading's Balance Sheet - Contains Substantial Embedded Unrealized Gains
What makes the table, above, so compelling is that Reading's true asset and book values are higher than presented in Reading's financial statements as they greatly understate the current fair market value of Reading's Australian, New Zealand, New York and Chicago real estate. Much of this real estate has appreciated in value (over the course of more than 15 years of inflation on some parcels) from population growth, up-zoning to expanded/more-valuable allowed uses, and, in some instances, completed development into rent-generating parcels.
In addition to stated book value and the substantial amount of unrealized gain embedded in Reading's long-held real estate, the footnotes of Reading's 2012 10-K, disclose that Reading had $83.9MM in tax NOLs at December 31, 2012 ($45.9MM and $16.3 MM of Australian and New Zealand tax NOLs, without any expiration date, respectively, and $21.7MM of US NOLs not expiring until at least 2025.) These tax carry-forwards should shield future unlocking of embedded real estate gains as well as pre-tax income growth from taxation for several years.
Almost $3/Sh Of Embedded Gains in Two New York Development Parcels
My May 2012 Seeking Alpha article, entitled "$100MM Bid For Reading's NY City Crown Jewels Dominates 2012 Annual Meeting," details calculations of around $67MM (almost $3/share) of embedded unrealized gain in just two of Reading's many New York City parcels, the Cinemas 1, 2 & 3 property on Third Avenue and Reading's live theater property on Union Square. These calculations are based on bid levels Reading disclosed at Reading's 2012 Annual meeting. [See Reading's 2012 Annual Meeting press release] An August 13, 2012 Barron's article, entitled "Popcorn and Property" [found here if their free access is still operable], speculated as to the sizable impact on Reading's share price if these parcels were sold. While a sale would be reflected more immediately in the stock price, over the past year since I last wrote on Reading in an August 17, 2012 Seeking Alpha article, the company commissioned consulting and other professional studies that show redevelopment of both parcels creates greater value long-term.
Reading's Business Plan: Adding Value To Hard Assets
The business plan set forth on page 44 of Reading's 2012 10-K describes a unique strategy amongst public companies of blending the cash-generating capabilities of a cinema operation with the investment and development opportunities of a real estate developer. Several of Reading's parcels have already been or are planned to be developed into entertainment-themed retail centers (ETRCs) where a large Reading multiplex serves as anchor tenant and Reading remains a synergistic landlord.
Investment Thesis - A Very Telling Picture Of 12-Years Of Growth
There is probably no better illustration of the progress Reading has made at growing its Revenues, Adjusted EBITDA and Assets, while steadily paying down debt than this slide 32 from Reading's 2013 Annual Meeting presentation.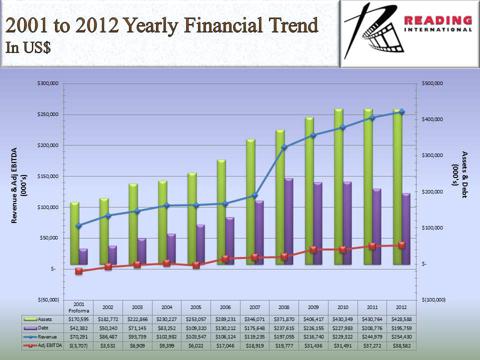 Click to enlarge
Normally growing fundamental operating performance, combined with lower debt levels, as the chart, above, clearly illustrates, translates enterprise value into a higher equity valuation. Recent RDI price increases only partially correct for this discontinuity and clearly ignore Reading's embedded real estate value. Reading's stock price remains down 37% (or 59% away) from the beginning of 2008's $10/share level, just before operating performance substantially accelerated.
Still trading at a substantial discount, Reading International's favorable internationally diversified movie exhibition growth profile and conservative balance sheet make for a compelling risk/reward investment.
Disclosure: Funds I manage are long RDI and RDIB and also short CNK, CNK 08/17/13 30 Calls, CKEC 09/21/13 17.5 Calls and CKEC 9/21/13 20 Puts. These funds or its affiliates may buy or sell securities of these issuers at any time.
Disclosure: I am long RDI, RDIB. I wrote this article myself, and it expresses my own opinions. I am not receiving compensation for it. I have no business relationship with any company whose stock is mentioned in this article.
Additional disclosure: Funds I manage are long RDI and RDIB and also short CNK, CNK 08/17/13 30 Calls, CKEC 09/21/13 17.5 Calls and CKEC 9/21/13 20 Puts. These funds or its affiliates may buy or sell securities of these issuers at any time.