As someone who covers a lot of dividend ideas on this site, I always do a bunch of dividend previews when it comes time for certain names to raise their dividends. About a month ago, I looked at Philip Morris (NYSE:PM) and its expected upcoming dividend raise. Today, I'm looking at a name many also think of when it comes to Philip Morris, and that is Altria (NYSE:MO). Altria has always had one of the highest yields in the cigarette space. According to the company's dividend page, it is expected to declare its next dividend within the next two weeks. The $0.44 quarterly payout has been paid four times already, and it is usually this dividend declaration where the company raises the dividend. Today, I'll look at the company's financial picture, and try to predict what the next dividend will be. I encourage all readers to leave their predictions in the comment section below as well.
Dividend history:
The following chart shows Altria's recent dividend history, since the Philip Morris spinoff in 2008. The years below represent the rate that year before the raise, so for instance, the 2013 value is the $0.44 rate currently being paid.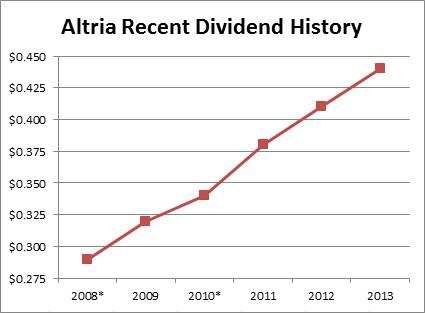 *The first value of $0.29 includes an adjustment for the PM spinoff. Altria paid a $0.29 dividend after the spinoff, but then raised it in the second half of the year to $0.32, the value you see above for 2009. The 2010 value presented is the $0.34 that was paid after the raise, but the first two payments during the 2010 calendar year were $0.35, as the company raised it again. For the second half of calendar 2010 (presented as 2011 above), it raised it to $0.38, and have not had any other non-standard payments since then.
Since the Philip Morris spinoff, Altria's quarterly dividend has gone from $0.29 to $0.44, which is decent dividend growth. Counting the raise from $0.34 to $0.38 as one raise (it went to $0.35 in between), each of these five raises have been at least 6.25%, with the unadjusted average at 8.71%.
Reducing the share count:
Many of the cigarette names are buying back stock, which is a good thing for investors. One of the goals of a buyback is to reduce the share count. The following table shows Altria's weighted average diluted shares outstanding count for its last four Q2 periods.

Why did I show the table? Well, the company reduced the number of Q2 shares by more than one percent over the past year, and even more over the past two years. This allows an increase in dividend payments without increasing the total dollar payout because there are less shares. So for instance, if you have $1,000 to pay out to 50 shares, each share would receive $20. But if you cut that to 40 shares, and you still pay out $1,000, each share gets $25. The math is a little extreme in that case, but you get the point. Reducing the amount of shares helps increase dividends over the long term.
Balance sheet update:
One of the most important items needed for a dividend raise is financial flexibility. If a company does not have a strong balance sheet, it may be unable to sustain its dividend or raise it. As my readers know, I have been slightly critical of Philip Morris in recent quarters as that company's balance sheet has gotten worse as they add on billions and billions in debt. The following table shows some key balance sheet numbers for Altria over the past two years. Dollar values in millions.

*Liabilities to Assets ratio.
The cigarette names generally don't have the prettiest balance sheets. They generally have a low amount of cash and a large amount of debt. These companies send most of the cash generated by their businesses back to shareholders in the form of dividends and buybacks. These companies are not going to have tens of billions in a cash pile like Apple (NASDAQ:AAPL) or other technology giants.
That being said, Altria's balance sheet is in fair shape. You would like to see a current ratio above 1 (positive working capital), but that isn't a huge issue. Altria does have a fair amount of debt, although it hasn't added too much in the past few years, as opposed to Philip Morris. During the first six months of 2013, Altria generated $570 million in cash flow from operations, according to its 10-Q filing. That is a solid improvement over the $85 million in cash used by operating activities in the first six months of 2012. One of my main knocks against Philip Morris is that operating cash flow is declining thanks to lower earnings, primarily from currency issues.
Comparable dividends:
When it comes to this space, Philip Morris and Altria are two of the names I discuss the most. The other two I follow a bit as well are Lorillard (NYSE:LO) and Reynolds American (NYSE:RAI). The following chart shows a comparison of each name's dividend yield, as of Monday's close.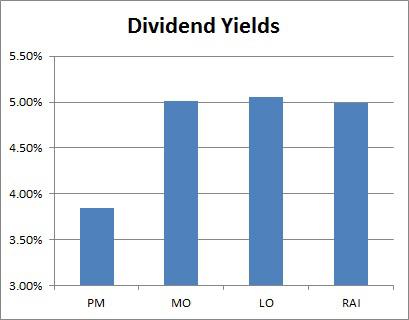 At Monday's close, Altria's yield was a respectable 5.01%. That was slightly ahead of Reynolds' yield, but it trailed Lorillard's leading yield of 5.05%. So far this year, Lorillard announced a 6.5% increase to its dividend. Reynolds announced a 6.8% increase to its dividend. Philip Morris is expected to announce a raise in about a month.
Raise prediction:
In the following table, I provided some details on what a dividend raise could look like. I provided the new quarterly dividend, the cent per quarter raise it would be, the percentage increase of that raise, and the corresponding annual yield (as of Monday's close). Obviously, the yield number is fluid, and will change depending on how the stock moves before the actual raise. In yellow, I highlighted my prediction for the raise, which I'll discuss below.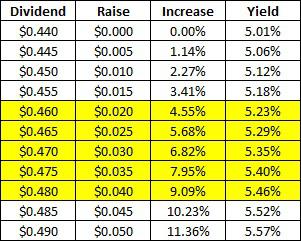 Overall, I expect a two to four cent quarterly raise. The last two raises have been 7.89% and 7.32%, respectively. A three cent raise would equal 6.82%, and that is my best guess for what the company will do. I've gone a penny out in either direction for my range, and I think that is respectable. Depending on where the stock price is, my current prediction targets an annual dividend yield roughly in the 5.25% to 5.50% range.
Final Thoughts:
We could get a dividend raise from Altria in the next two weeks. The cigarette giant has been a dividend favorite for many years, and the current yield of more than 5% is very nice. Like many cigarette names, the balance sheet does not look pretty, but it is effective. My best guess is a 3 cent raise to $0.47 per quarter, which would put the yield back up to 5.35% as of Monday's close. That's my prediction. What is yours?
Disclosure: I have no positions in any stocks mentioned, and no plans to initiate any positions within the next 72 hours. I wrote this article myself, and it expresses my own opinions. I am not receiving compensation for it (other than from Seeking Alpha). I have no business relationship with any company whose stock is mentioned in this article.
Additional disclosure: Investors are always reminded that before making any investment, you should do your own proper due diligence on any name directly or indirectly mentioned in this article. Investors should also consider seeking advice from a broker or financial adviser before making any investment decisions. Any material in this article should be considered general information, and not relied on as a formal investment recommendation.