Opening - The U.S. leads the world in cloud computing and social media. Yet, people over the world are reassessing their internet activity following the recent news about the National Security Agency's surveillance program. The national debate, about right to privacy and mass monitoring of ordinary citizens on the internet, is already quite active on social media sites.
There will continue to be political and economic consequences from revelations about NSA, i.e. the "Snowden Effect". For the cloud computing industry, the "Snowden Effect" will be a colder business climate for U.S companies. By one estimate, global cooling in the U.S. internet industry will become a $22 to $35 billion loss over the next two to three years.
How social media affects cloud computing - To measure signs of consumer confidence in the cloud computing industry, we look at social media for clues. In the little over two months between June 6 and August 9, 2013, Glenn Greenwald published 35 articles for the UK-based Guardian newspaper. His reporting brought attention to NSA's internet data gathering and surveillance.
Post-9/11, the NSA scaled up to gather and monitor data for all internet activity. NSA is leveraging U.S companies to get the job done. Greenwald reported, the secret Foreign Intelligence Surveillance Act (FISA) court ordered Verizon (NYSE:VZ) to provide NSA with its entire record of international and domestic calls in detailed metadata format. Next, Greenwald disclosed NSA's PRISM program, about seven U.S. internet companies providing bulk cloud computing data to the NSA for its intelligence operations. NSA has become Big Brother using Big Data from Microsoft (NASDAQ:MSFT) - including Outlook and Skype, Yahoo (NASDAQ:YHOO), Google (NASDAQ:GOOG) - including YouTube, Facebook (NASDAQ:FB), Paltalk, AOL (NYSE:AOL), and Apple (NASDAQ:AAPL). The scope and scale of PRISM extends to all internet activity (email, chat, videos, photos, VOIP, data storage, and social media).
More disclosures since PRISM - about more U.S. internet companies involved, Boundless Informant, surveillance of foreign countries, and XKeyscore - only deepen and reinforce the sense of loss of privacy across the internet. As details of NSA surveillance unfolded, so too did the fate of Edward Snowden hang in suspense. First in Hong Kong, then in limbo at Moscow's Sheremetyevo International Airport, Snowden received temporary asylum to live in Russia against the request of President Obama to send Snowden home.
Over nine weeks, Greenwald's stories reached every media outlet, spawning more stories and dominating media coverage. Greenwald's 35 articles alone directly received a total of nearly 210,000 "mentions" in social media, in the form of Facebook sharing, Twitter tweets, Google Plus (G+) sharing, and Guardian newspaper comments, with an average 6000 social media mentions per each article. The social media response to Greenwald is summarized in the chart below. Note: This chart measures the social media reaction to Mr. Greenwald's stories only, not the much wider Guardian coverage nor across the news media, where his message was amplified many times over.
Social media mentions at the rate of 6000 per article, not including echo coverage in other media, is super-power, internet gold. Greenwald is "one-hop" or zero degrees of separation from the compelling, principled, if not charismatic, Edward Snowden. While not all opinion is unanimous, it is passionate. The New York Times reported last week, friends in social media influence each other and band together ("herd") to form public opinion. The promise of mass appeal and participation is the basis to estimate the value of social media companies like Facebook, to monetize influence. The opposite holds true as well, negative image lowers projections for future income. Social media is powerful, because aided by a friend of a friend of a friend, your reach can extend worldwide.
Mr. Greenwald possesses some 15,000 documents that Mr. Snowden gave him. More stories are forthcoming.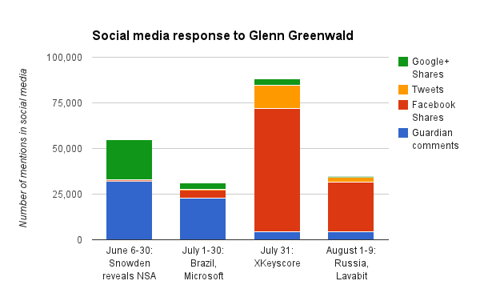 The Snowden Effect on Cloud Computing - American technical innovation established cloud computing. Yet, the forecast is chilly.
Europeans and others who object to U.S. companies providing bulk personal data to NSA, will vote with their feet to find alternative cloud or low-tech/less-intrusive solutions. People are seeking encrypted searching, or are flocking to DuckDuckGo.com, a search engine that does not track search history. On August 9, two U.S. encrypted email providers, Lavabit (used by Snowden) and Silent Circle, voluntarily suspended operations. There is a scramble in Europe to hurry and provide European solutions, physically based in, say, Switzerland, Iceland, Sweden, or Germany.
In 2012, the U.S. and Israeli-developed Stuxnet computer virus briefly disrupted Iran's nuclear program. It was predicted Stuxnet would open a Pandora's Box of cyber warfare. Combined with the Snowden Effect, the result will be gradual Balkanization of the internet. Balkanization of the internet implies a geo-political division of the internet into smaller fragments that are characteristically internally homogeneous. Most likely, the dividing for internet Balkanization will be along national lines, or regional groupings of allies. China's state-controlled internet is one example. In a Balkanized model, a nation would require certain data centers be physically hosted within its borders, rather than trust a data center in a foreign legal jurisdiction.
Balkanization will hamper U.S. internet companies to tap overseas and emerging markets. They stand to lose market share if service providers are state-based. Even if U.S. internet companies were to replicate their solutions in every nation state, to comply with whatever legal conditions, they will lose some economies of scale with regard to virtualization, systems administration, and management.
The U.S. Congress might act - to provide privacy protection or restrict the NSA - or it might not. If not, this industry will either lose their competitive advantage or relocate overseas.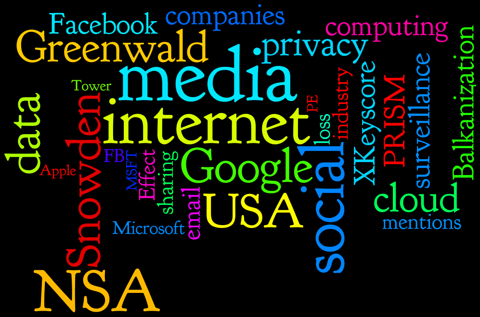 Takeaway on the Cloud Computing Industry - U.S.-based software companies will suffer more financial loss, compared to telecommunications and internet service providers.
Google will bear the most brunt of the Snowden Effect. At 39% up from a year ago, with a modest PE ratio of 27.33, GOOG stock is tempting for profit taking. If Google stock moves in parallel with the dynamic social/political repercussions for privacy concerns, then it's going down. Google Glass is about to come on the market right when people are questioning privacy. Their cloud computing platform, G+, is a social media ecosystem, optimized for information delivery, personal productivity, and social interaction - at low or no cost. It's a remarkable feat of modern man to harness so much data and provide a seamlessly interoperable experience across languages and products. However, if the price of low or no cost is loss of privacy, maybe Google can't even give it away. The European Union has stricter privacy laws than the US, and Google is under increasing scrutiny over privacy. In June, the Swedish government intervened to prevent a contract with a Swedish town after they selected Google Apps for their SaaS, email and office productivity software.
The biblical story of the Tower of Babel is a cautionary tale for Google. Man sought to build a tower that would reach the sky and connect all languages into one tongue. However God did not want the king of the Tower to have so much power. He dashed the Tower of Babel and confounded man into chaos and speaking many languages so they could not understand one another. Google is a tempting target for NSA, which wants their own government Tower. With Google's highly-integrated usability across products, NSA might place high value on Google's user data. It's curious how much the taxpayer pays for it.
Microsoft conducted multiple ongoing negative campaigns with anti-Google pitches to win over converts to the MS cloud. (See example from TNW here.) Microsoft earned a black eye when Snowden disclosed documents describing how Microsoft was the first software company to share user data in PRISM, shared Hotmail and Outlook data, and gave NSA the encryption keys to Skype video chats. Greenwald's article about it had 7600 social media mentions. MSFT stock is up 8% from one year ago, with a PE ratio of 12.75. From damaged credibility in the cloud and struggling in the Windows Surface tablet market, to absence in the smartphone market, long-term expectations are not high. Anticipation is limited to their bread & butter corporate, client-server, and X-Box markets.
Apple will be the least impacted by an anti-cloud backlash, relatively speaking. AAPL weathered its correction, down -26% from one year ago. Apple's PE ratio of 11.35, is now lower than Microsoft's! It seems that any loss for Google is Apple's gain; but not necessarily because there's Samsung (OTC:SSNLF). It remains to be seen, what iPhone, Safari search, and Siri data is Apple giving to NSA. All the while, Apple is a hardware company first, and a cloud computing company later.
Facebook shares are finally back at its IPO cost, after a year in the mobile wilderness. Its PE of 193 is too bullish. Facebook users are somewhat accustomed to the privacy ups and downs of Facebook. Users may see no harm in a little loss of privacy, since they are not doing anything wrong, to turn the phrase by Eric Schmidt. However, the FB community is paying attention to the issues. Out of Greenwald's 210,000 social media mentions for his 35 articles, so far this summer of 2013, over 99,000 were Facebook shares. It should be noted, on July 31, Glenn Greenwald's XKeyscore article got 88,000 social media mentions, of which 67,574 were Facebook shares.
Disclosure: I have no positions in any stocks mentioned, and no plans to initiate any positions within the next 72 hours. I wrote this article myself, and it expresses my own opinions. I am not receiving compensation for it (other than from Seeking Alpha). I have no business relationship with any company whose stock is mentioned in this article.