FDIC Focuses on Assessments
As I said on Wednesday, The FDIC floated a trial balloon on borrowing from "healthy banks", which to me is an oxymoron. I challenged readers to name a healthy bank, and no one responded.
Now the FDIC wants banks to prepay the next two assessments totaling $10 billion or so. As I keep saying, that's a drop in the bucket.
The FDIC should fess up to the problem and tap its $500 billion temporary line of credit with the US Treasury.
Tim Geithner – The Fox in the Hen House
Isn't it amazing, our Treasury Secretary who could have acted prudently as president of the NY Fed a year ago, now wants regulatory reform.
We would not be in this mess if our regulators did their job starting with the turn of the century. Ignoring regulatory guidelines is no excuse for suggesting even stricter regulations, which will be ignored anyway.
Housing is not out of the woods
Because of all the failed programs to keep homeowners in their homes, foreclosures have been put on hold while "help is on the way."
Instead, with FHA broke and Fannie (FNM) and Freddie (FRE) continuing to tap taxpayer money, there is a future increase in the inventory of foreclosed homes.
A neighbor in my new community was renting from the homeowner and is being evicted as the owner has not paid the servicing bank for a year and a half.
Cash for Clunkers and the First Time Homeowner Tax Credits
My Ford (NYSE:F) dealer has not yet received a dime from Uncle Sam for any of the Clunkers he took in. He is cash tapped. My son is a first time homebuyer and he's been waiting for $8,000 since July 20th.
The FOMC – Action Speaks Louder Than Words
The Federal Reserve is telling us that economic activity has picked up following its severe downturn, but conditions remain constrained by ongoing job losses, sluggish income growth, lower housing wealth, and tight credit.
If they were confident with their policy choices as the words suggest, they would not need to extend the $1.25 trillion in GSE mortgages and $200 billion in agency debt through the first quarter 2010.
Another problem with extending support of Fannie and Freddie is that Conservatorship requires the GSEs to reduce portfolios beginning in 2010. What would a new Super Regulator have to say about that?
The daily Chart for the Dow Industrial Average - Courtesy of Thomson / Reuters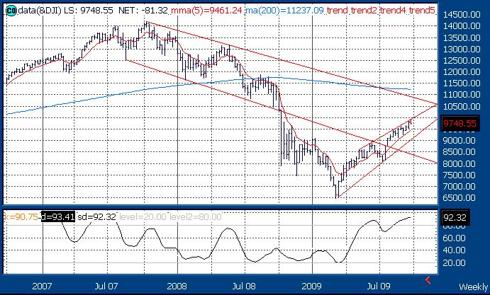 Click to enlarge
The Dow traded to a new high for the move at 9,917.99 then closed below my annual pivot at 9,750. Since this is below Tuesday's low it's a potential key reversal, confirmed by lower closes today and Friday.