Top 50 Properties
In comScore's rankings, Google (NASDAQ:GOOG) Sites once again led as the most visited property in August with 161 million visitors, followed by Yahoo (NASDAQ:YHOO) Sites with 158 million visitors and Microsoft (NASDAQ:MSFT) Sites, with 130 million visitors. Facebook.com held its #5 ranking with 92 million visitors, up 5% from the previous month, comScore said.
click to enlarge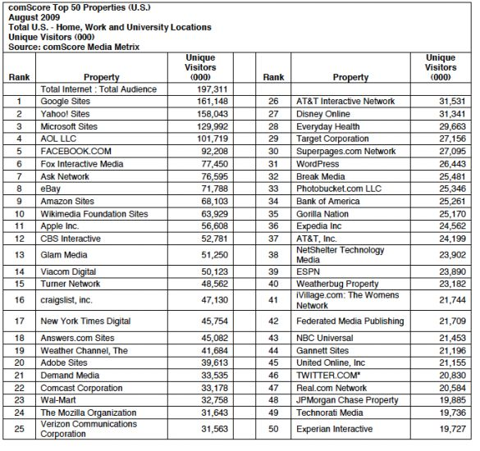 The Mozilla Organization rose 6 positions on the list to #24 with 32 million visitors, while iVillage.com also jumped 6 spots to #41 with more than 21 million visitors, comScore said.
Compete's August analysis similarly ranked Google and Yahoo in the top two spots, but clocked Facebook at #3, MSN at #4 and YouTube at #5.
Top 50 Ad Focus Rankings
AOL Advertising (renamed from Platform-A) led the August Ad Focus ranking, reaching 91% of all Americans online, according to comScore. Yahoo Network ranked second, reaching 88% of the population, while Google jumped one spot to #3 with an 84% reach.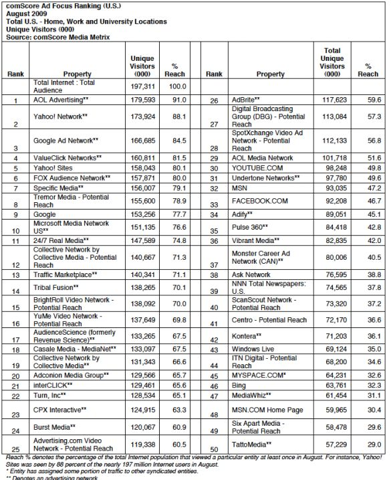 Also notable: Adconion Media Group climbed 5 positions to the #20 spot with 129.6 million unique visitors, reaching nearly 66% of the US internet audience.
About the data: comScore, Inc. and Compete.com use different methodologies to calculate monthly website rankings.