The greatest advantage to preferred stocks is that they truly are for people who want to sleep well at night. The dividends don't change and every investor knows how much money they will make each quarter going forward. As long as the underlying company is profitable, investors don't have to worry about the overall market or analyst expectations.
It's no secret that mREITs have been getting hit pretty hard lately. A concern over a potential rise in interest rates has caused book values to drop and dividends cut. As much as the yields are nice in the mREIT world, there are plenty of risks to justify it.
The preferred market won't get you yields on what the mREIT preferreds offer, but I can guarantee you that investors will be able to relax knowing that they don't have to worry about volatility. This bring me CYS Investments (NYSE:CYS).
CYS invests in residential mortgage backed securities and currently has a market cap of over $1.3 billion. The stock maintains a 17.2% yield, which is very nice, but there are risks associated with this.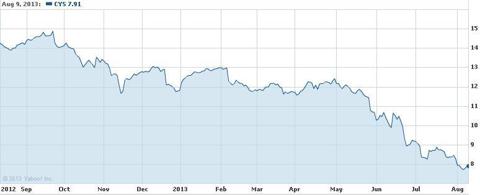 Click to enlarge
In the last year, the stock has fallen more than 44%. So it is pretty clear that achieving such a nice yield comes at massive risk. While the common stock is good for investors willing to take risk, I believe there is another good risk-reward opportunity.
CYS series B preferred is now trading at $22.50. I first wrote an article about it right around its IPO. I even mentioned in it that preferred holders are not likely to take a large hit in a rising rate environment. Since I published that article and with the news of tapering, the preferred has fallen 10% and has stabilized in this area.
The yield on cost is now 8.3%, which is still pretty good. Although, its not the 17% yield the common has, investors can stay calm knowing that a chance of a dividend suspension is very low. Keep in mind that the series B is cumulative so the only way the dividend would be suspended is if the common dividend is eliminated. The risk to your principal is much lower than that of the common as well. The common is valued on cash flow, while the preferred just has to maintain its dividends.
Disclosure: I have no positions in any stocks mentioned, and no plans to initiate any positions within the next 72 hours. I wrote this article myself, and it expresses my own opinions. I am not receiving compensation for it (other than from Seeking Alpha). I have no business relationship with any company whose stock is mentioned in this article.
Additional disclosure: I am long CYS-B.