On Monday August 12th there were a number of steel-related stocks that continued to drive higher on the heels of last week's gains that were due in part to improvements in Chinese industrial production (+9.7% on the year in July vs. +8.9% on the year in June). In the wake of such improvements I wanted to take a closer look at a number of catalysts behind my decision to remain quite bullish on my long-term position in Cliffs Natural Resources Inc. (NYSE:CLF).
Based on Monday's closing price, shares of CLF are trading 25.78% above their 20-day simple moving average, 35.02% above their 50-day simple moving average, and 4.90% below their 200-day simple moving average. These numbers indicate a short-term and mid-term uptrend and a longer-term downtrend for the stock, which generally translates into a near-term buying mode and longer-term selling mode for most traders. Shares of CLF, which currently possess a market cap of $3.74 billion, a P/E a forward P/E ratio of 19.98, and a forward yield of 2.45% ($0.60) settled Monday's trading session at a price of $24.47/share.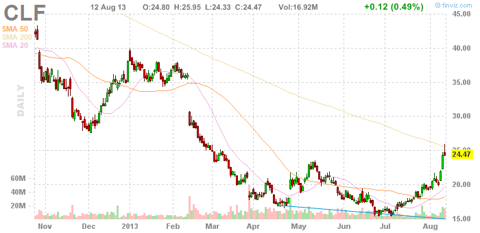 Strong Q2 Results
On July 25th the company reported fairly solid second-quarter earnings of $0.82/share compared with $1.81/share in the same quarter of the previous year with net income declining by 48% to $133 million. By leaving out a number of its exceptional items, Cliff's reported an adjusted EPS of $1.13/share which was much better than the $0.61/share many analysts on the street had been calling for. Quarterly revenues came in at $1.48 billion which surpassed street estimates by a 4% margin although revenues were still down 6% on a year-over-year basis.
From a cash and debt perspective the company showed that it currently possessed $263.3 million in cash and cash equivalents as of June 30, 2013 (versus a year ago figure of $159.2 million) and $3.32 billion in long-term debt (versus a year ago figure of to $3.61 billion). By significantly improving both its cash flows and long-term debt, Cliffs Natural Resources is demonstrating a solid understanding of how important cash management is to a company's ever-improving balance sheet.
Northern American Coal Sales Rise 36%
When it comes to investing, anyone can look at an earnings report or balance sheet and say sure this looks good, or maybe this needs improving on, but when it comes to the metals and mining sector things are a bit different. For example, improved sales at both the Oak Grove and Pinnacle mines played a key role in the company's performance.
According to the company's press release regarding its earnings performance it was noted that, "During the prior year's second quarter, sales volume was unfavorably impacted as the Oak Grove preparation plant only came into full operation during the quarter following repairs needed due to the severe weather damage that occurred in 2011. Consequently, time was needed to rebuild the inventory at the export terminals. Also, Pinnacle Mine's sales and production volume improved year-over-year due to increased production and customer demand".
One of the key catalysts when it comes to any type of improvement in terms of the sale of a particular commodity will clearly be the demand for that commodity. If Cliffs wants to experience a sustainable improvement in its sales growth over the next 5-7 years, especially when it comes to coal, the company will not only need to meet the demand requirements of its customers, but go above and beyond what is expected of them if they plan on retaining their customers in the future.
Conclusion
For those of you who may be interested in establishing a position in Cliffs Natural Resources Inc., there are at least four catalysts I'd keep my eye on over the next 12-24 months. I'd begin by watching the company's earnings a bit closer, as its most recent performance could be a sign of things to come, especially since quarterly estimates were surpassed by about $0.52/share. The second and third catalysts concern the overall production and subsequent sales at both the Oak Grove and Pinnacle mines and company's ability to keep up with rising demand. If at any point Cliffs fails to meet demand requirements, sales could end up taking quite a hit and if Cliffs exceeds expectations shares may very well experience a sustainable boost in trading levels. The last of the four catalysts I'd look a bit closer at is the company's recent dividend behavior. The potential direction of the company's dividend after its most recent dividend cut a few short quarters ago will be a key driver for any income-driven investor who has a knack for the metals and mining sector. In order for income-driven investors to flock back into shares of Cliffs, I strongly believe the company needs reconsider boosting its dividend, if not right now, then at least once in the next 12-18 months.
Disclosure: I am long CLF. I wrote this article myself, and it expresses my own opinions. I am not receiving compensation for it (other than from Seeking Alpha). I have no business relationship with any company whose stock is mentioned in this article.