Thursday I picked up a new position in a small content delivery network provider called Limelight Networks (NASDAQ:LLNW) for less than $2 a share. The company has fallen on hard times and the stock has come down from over $8 a share less than two and a half years ago.
This technology firm recently brought in a new CEO and is making changes to its business model that should bear fruit down the road. These changes could also provide the catalyst for the stock to move much higher over time. As importantly, its current market capitalization is less than the value of its network infrastructure and net cash on the balance sheet. It is exactly the type of low risk/high reward play I like to find before I invest in a turnaround story.
Company Overview:
Limelight Networks offers content delivery services to deliver media files, such as video, music, games, software and related services in North America, Europe, the Middle East, Africa, and the Asia Pacific. It competes with industry giants Akamai (NASDAQ:AKAM), Level 3 Communications (NASDAQ:LVLT) and a variety of other smaller content delivery platforms.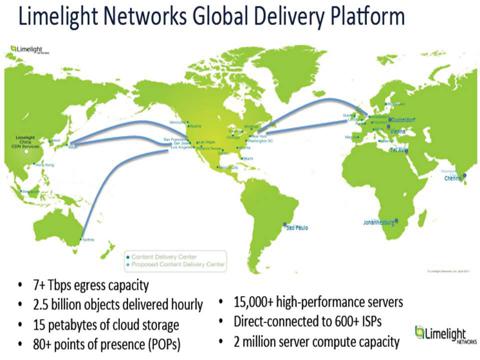 Click to enlarge
Company History:
Limelight has seen impressive traffic and revenue growth throughout its history since coming public in 2007.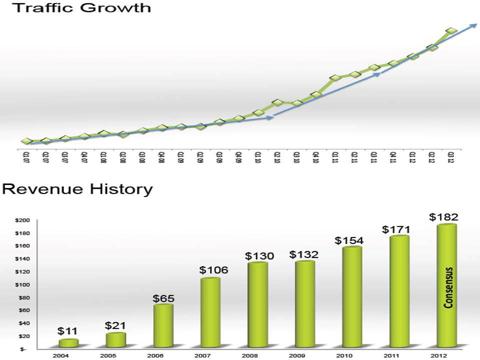 Click to enlarge
This traffic growth is primarily being driven by exploding use of video delivered via the internet as it requires exponentially more bandwidth than other data.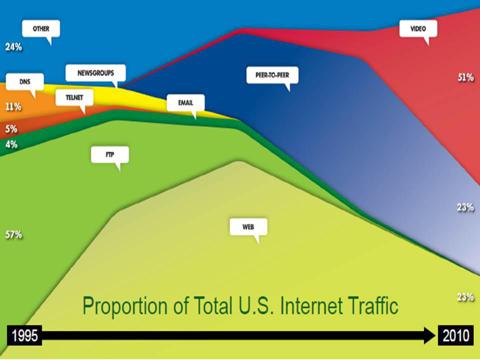 Click to enlarge
Turnaround Effort:
Unfortunately despite growing revenues substantially over its history, the company has been unable to translate this sales growth into consistent earnings. In order to reverse this profitless growth, the company has brought in a new CEO to effect a turnaround.
The company has three major problems. Its main line of business (content delivery) is a cutthroat business with low margins despite the huge growth of demand. Second, its network does not offer the same delivery performance as its larger competitors. Finally, it has numerous customers that are just unprofitable but it has retained them anyway.
The new CEO is addressing all of these core problems. Limelight added 2 terabits per second of incremental capacity last quarter that is now available for consumption by new and existing customers. This in itself is more overall capacity than all but two of the commercial CDN carriers that Limelight competes against have in their entire networks. This should also provide meaningful performance improvements throughout the company's network.
Second, the company dropped several customers last quarter that were simply unprofitable to keep. This will result in some temporary revenue loss but will increase profit margins over time. Finally, the company continues to increase the amount of revenue it gets from higher margin value added services such as its video and online content management tools. As of the close of the second quarter, these revenues now stand at 36% of overall sales.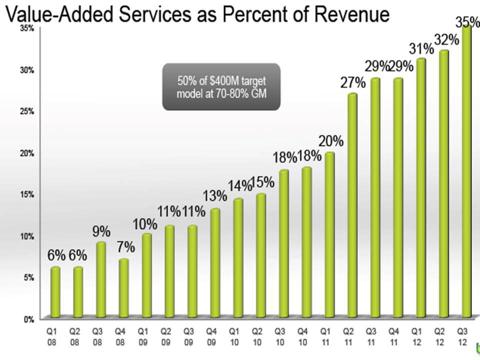 Click to enlarge
Net Asset Value Backstop:
Whether turnarounds will ultimately be successful are always difficult to determine early on in the transformation effort. Fortunately, Limelight offers a great backstop should the effort fail to gain traction. The company has $119mm in net cash currently on the balance sheet. This represents ~60% of the company's overall market capitalization. The company is currently eating through around $1mm in cash per quarter even with the planned temporary sale declines.
The remaining ~$80mm in market capitalization is less than what the company's infrastructure, revenues and existing customer relations are worth to a competitor. Currently at its current stock price, a competitor like Akamai or Level 3 could acquire Limelight's network with 9 terabit per second of capacity, ~$180mm in annual revenues, online/video content management software products and existing customers for roughly $80mm after accounting for cash.
Three Scenarios:
This leads to me to conclude there are three possible scenarios ahead for Limelight. First, the turnaround could be successful and lead to profitable growth. In this scenario, the stock should have considerable upside.
If the turnaround does not ultimately bear fruit, Limelight would make a very attractive acquisition target. A larger competitor could eliminate a competitor, reduce pricing pressure, pick up almost $200mm in annual sales as well as some nice software products on the cheap even with a substantial premium.
The last scenario is one where the company continues to muddle along and does not attract the attention of a larger player in the space. In this case, given the company's assets; the stock should have a nice floor right here around $2 a share. Limelight could also decide in this scenario the best use of its cash is to buy back stock and/or issue a quarterly dividend to reward shareholders which should boost its equity price.
Summary:
Limelight Networks is an example of just the type of out of favor value stock I like to invest in. It has some catalysts that could substantially boost the company's value over time. In addition, it has a significant net tax loss carry forward that could prove to be very valuable should Limelight become profitable. The company also is selling at less than what its net cash and underlying assets are worth which puts a nice floor under the stock. It is exactly the type of low risk/high reward small capitalization stock I like to ferret out and invest in accordingly. BUY.
Disclosure: I am long LLNW. I wrote this article myself, and it expresses my own opinions. I am not receiving compensation for it (other than from Seeking Alpha). I have no business relationship with any company whose stock is mentioned in this article.