The average stock in the S&P 500 Index (NYSEARCA:SPY) yields just over 2%. For many investors, that is just not enough to retire on or keep portfolio returns interesting. A recent pullback in dividend stocks over concerns about tapering by the Federal Reserve has created some new buying opportunities in certain high-yielding stocks. While the auto and housing sector has created growth in the economy this year, the recent rise in rates could have a dampening effect on the economy in the coming weeks and months and that might make it very unlikely for the Federal Reserve to taper or for rates to rise further.
With the average stock yielding just over 2%, many investors consider stocks that pay 5% or more to be high yielders. The stocks below all offer yields of about 5% or more, and now appear undervalued based on either net asset value or analyst price targets:
The Stone Harbor Emerging Markets Income Fund (NYSE:EDF) is a closed-end fund or "CEF" that takes a global approach to investing in bonds, including sovereigns (government) and corporate bonds in both hard and local currency. The shares of this fund have declined due to the sell-off in the bond sector, but this looks like a solid buying opportunity for investors who would like a globally diversified investment that yields 10.5%. In late July, these shares were trading for more than $22.50, but now can be bought for about 10% less.
Because of the generous yield, this CEF has traded for an average premium of about 3% to net asset value or "NAV" for the past year. However, it now trades a 3% discount to NAV, which means investors who buy now can get in for about 6% below its historical premium. However, the main reason to buy this fund is because of the fact it pays a monthly dividend of 18 cents per share, and this yields nearly 10.5%. Over time, there might be volatility in the bond markets as there has been recently, but if you use this to buy on pullbacks and hold for the long term, the compounding effects of this generous yield will be impressive. As of August 12, the net asset value is $21.20, and if the historical premium returns, the share price could go back to around $22, and pay generous monthly dividends while investors wait for a higher price.
This fund invests in sovereign bonds, corporate bonds, other debt securities, cash and cash equivalents. While a CEF that invests in bonds has risks that include foreign exchange, liquidity and leverage risks, interest rate risks, and economic risks, the upside is considerable and investors who have accepted some of these risks have done very well over time.
Stone Harbor might not be as well known as some investment management firms because it focuses on the institutional level, however, it has offices in New York, London, and Singapore, and total assets under management (as of June 30, 2013) of $63.5 billion.
The bond market sell-off has created a buying opportunity in this fund and with global diversification, a yield of 10.5%, and the share price about 6% below the historical average, this is an ideal CEF for the high income and rebound potential it offers. Furthermore, investors who buy this fund soon will be eligible to receive the next dividend. This fund will pay the next monthly dividend of 18 cents per share to shareholders of record on August 19, 2013. The ex-dividend date is August 15, 2013 and the dividend will be paid on August 29.
As I mentioned in another recent article about closed-end funds like the Pioneer Diversified High Income Trust (NYSEMKT:HNW), which yields nearly 10%, even Barron's is taking note of the bargains in this sector. Contrarian investors might find these and other closed end funds to be compelling buys now.
Here are some key points for EDF:
Current share price: $20.75
The 52-week range is $19.49 to $26.54
Earnings estimates for 2014: not applicable
Earnings estimates for 2013: not applicable
Annual dividend: $2.16 per share (or 18 cents per month), which yields 10.5%
Apollo Investment Corporation (NASDAQ:AINV) is a business development company or "BDC" that provides debt and equity capital to a wide range of companies such as restaurants, food distribution, healthcare, technology and other industries. It earns income from fees, interest payments, capital appreciation and other related sources, and it pays a large portion of its income to shareholders in the form of a dividend which yields about 10%.
This company has invested (through debt or equity) in a number of well-known companies which include: Avaya, Inc. (a provider of voice communication systems), Booz Allen Hamilton, (NYSE:BAH), Chesapeake Energy Corporation (NYSE:CHK), Miller Energy Resources (NYSE:MILL), and many others. This diversification across a wide range of industries reduces risk for shareholders. A complete list of companies in the Apollo portfolio can be seen here.
There are some downside risks to consider when investing in business development companies. Firms in this industry typically use leverage and that can increase risks. Another recession is also a risk to consider since bad economic times could impact loan repayments to Apollo or reduce the value of its holdings. However, a recession does not appear likely at this time and there are a few reasons why investors should consider this stock now:
Apollo recently reported strong financial results for the quarter that ended on June 30, 2013. It announced net investment income of 25 cents per share, which was an improvement over the 21 cents per share reported in the prior quarter. Apollo invested $788 million during the quarter, representing the second-highest quarterly level of gross investment activity in the company's history. This increased investment activity could lead to higher profits in the coming quarters.
Insiders have been buying shares of Apollo repeatedly for the past couple of years. A few weeks ago, James Zelter (the CEO) purchased 20,000 shares for $7.96, each in a transaction valued at $159,200. This follows up on a 10,000 share purchase he made earlier this year for $8.35 each, in a transaction worth $83,500. Multiple insiders were also buying shares last year, so there appears to be a pattern of consistent insider accumulation over time. Furthermore, there has been no insider selling reported in the past two years, which is also a positive.
This stock appears undervalued and it trades below book value, which is $8.27 per share. Some analysts see solid upside potential. Earlier this year, analysts at Maxim Group set a buy rating for the shares with a $9.50 price target. This would provide investors with a gain of about 20%, from current levels.
Here are some key points for AINV:
Current share price: $8.07
The 52 week range is $7.21 to $9.08
Earnings estimates for 2014 (fiscal year): 85 cents per share
Earnings estimates for 2015 (fiscal year): 87 cents per share
Annual dividend: 80 cents per share, which yields about 10%
AT&T (NYSE:T) shares were making new 52-week highs in April, at about $38. However, the stock has seen a pullback in the last few weeks to just over $35. There are a few reasons why investors might want to consider this as a buying opportunity now, so let's start by looking at the chart below: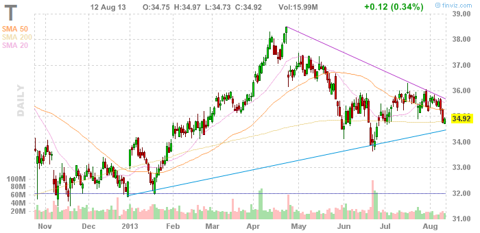 As the chart shows, this stock has been in a general uptrend during 2013. Even though it has experienced a pullback, it remains in a bullish pattern as the stock continues to trade near or above the light blue trendline. Investors who have bought the dips near this blue trendline over the past few months have been rewarded. This trend could be poised to continue and there are also other reasons why the stock appears worth buying now.
This stock offers one of the highest dividends in the telecom sector with a yield of around 5.2%. It's also worth noting that AT&T shares offer a higher yield than Verizon (NYSE:VZ), and trade at a lower PE ratio. AT&T shares trade for about 14 times earnings while Verizon trades for around 18 times earnings and yield just 4.2%. Furthermore, analysts see AT&T earnings jumping from $2.49 per share in 2013, to $2.69 per share in 2014.
AT&T is also a steady dividend growth stock. This company has been consistently raising the payout to shareholders. For example, in 2002, the quarterly dividend was 27 cents per share, but thanks to regular increases, it now pays 45 cents per share on a quarterly basis. This represents an increase of about 65% over the past 11 years.
Analysts at Argus upgraded shares of AT&T to a buy a few weeks ago and set a $42 price target. That implies upside of about 20%, and while investors are waiting for a higher share price, the yield of over 5% adds up as well. AT&T is in a highly competitive industry and that is a significant risk factor for investors to consider; however, its size and financial strength should allow it to remain a dominant player for many years to come.
Here are some key points for AT&T:
Current share price: $34.92
The 52-week range is $32.71 to $39
Earnings estimates for fiscal year 2013: $2.49 per share
Earnings estimates for fiscal year 2014: $2.69 per share
Annual dividend: $1.80 per share, which yields about 5.2%
Here are some key points for Verizon:
Current share price: $49.65
The 52-week range is $40.51 to $54.31
Earnings estimates for fiscal year 2013: $2.80 per share
Earnings estimates for fiscal year 2014: $3.21 per share
Annual dividend: $2.06 per share, which yields about 4.2%
Data sourced from Yahoo Finance. No guarantees or representations are made.

Disclosure: I am long HNW. I wrote this article myself, and it expresses my own opinions. I am not receiving compensation for it (other than from Seeking Alpha). I have no business relationship with any company whose stock is mentioned in this article.
Disclaimer: Hawkinvest is not a registered investment advisor and does not provide specific investment advice. The information is for informational purposes only. You should always consult a financial advisor.