By Todd McDonald, Analyst
Overview
Cisco Systems (NASDAQ:CSCO) is slated to report 4Q 2013 earnings after the close of trading on Wednesday, August 14. The results are typically available at 4:05 p.m. EST and will follow with a conference call at 4:30 p.m. Given its size and influence, Cisco has the potential to impact the broader market gauges, including the index futures and large-scale ETFs.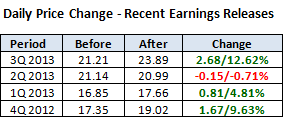 Outliers & Strategy
Cisco typically provides a value for Non-GAAP Earnings Per Share that is comparable to consensus views. In the previous conference call, Cisco said Non-GAAP EPS is expected to range from $0.50 to $0.52 per share. The current consensus is $0.51 (Source: Yahoo! Finance).
Revenues: Cisco previously said it expects 4Q 2013 revenues to increase 4% to 7% year over year. Based on the 4Q 2012 revenue figure of $11.69 bln, the projected range would equate to $12.158 bln to $12.51 bln. The consensus is $12.41 bln.
Note that Cisco typically provides upcoming quarterly guidance in the ensuing conference call following the earnings release. CEO John Chambers tends to be conservative in his outlook, sometimes resulting in a share price reversal. For the 1Q 2014 period, estimates are for Non-GAAP EPS of $0.51 on revenue of $12.45 bln (which would equate to a 4.83% increase over 1Q 2013).
Sympathy Plays: Juniper Networks (NYSE:JNPR), F5 Networks (NASDAQ:FFIV), Riverbed (NASDAQ:RVBD), Citrix (NASDAQ:CTXS) & Cavium (NASDAQ:CAVM).
Implied Volatility: Cisco shares tend to be quite active on earnings. The options market is currently pricing in an 8% reaction to the 4Q results, in line with what the average move has been over the past 2 years.
Recent News
08/12: Goldman Sachs reiterated a Conviction Buy on Cisco ahead of the 4Q earnings release, while also raising their price target to $30 from $28, according to a post on StreetInsider.com. The firm expects improved gross margins to help EPS.
08/12: According to a post on Benzinga.com, Stifel Nicolaus increased their price target on Cisco from $28 to $30. The firm believes that the guidance of 4%-7% was conservative, along with checks indicating improved enterprise spending.
08/09: JPMorgan upgraded Cisco to Neutral from Underweight, with a significantly higher price target to $26 from $18, according to a post on Benzinga.com. The firm noted positive metrics from firms such as F5 Networks, Juniper, and Citrix.
Technical Review
Cisco shares are up about 36% this year, versus the S&P 500's increase of about 20%. The shares are now trading about 23% above the 200-day SMA, with the RSI approaching the overbought 70-level, suggesting the stock may be overextended. However, the recent consolidation has validated the upward trend. If earnings surprise to the upside, look for a move toward $27.75, which is resistance dating back to June 2008 and May 2010, followed by $28.50 (implied upside from options). Should results disappoint, initial support is at the 50-day SMA near $25, followed by the $23.75 area. (Chart courtesy of StockCharts.com)
Summary
Cisco shares are climbing back towards levels not seen since May 2010, benefiting from an improving macroeconomic backdrop, a pickup in enterprise spending, new product offerings, and growth in mobile. At 14.6x trailing earnings, a discount to the 5-year average (16.0x), with a dividend yield of 2.6%, downside appears limited at these levels. Note that, while earnings and revenues for the 4Q period are expected to garner close scrutiny, the outlook for the 1Q2014 period, expected during the ensuing conference call, could heavily influence the market reaction.
Disclosure: I have no positions in any stocks mentioned, and no plans to initiate any positions within the next 72 hours. I wrote this article myself, and it expresses my own opinions. I am not receiving compensation for it (other than from Seeking Alpha). I have no business relationship with any company whose stock is mentioned in this article.
DISCLAIMER: By using this report, you acknowledge that Selerity, Inc. is in no way liable for losses or gains arising out of commentary, analysis, and or data in this report. Your investment decisions and recommendations are made entirely at your discretion. Selerity does not own securities in companies that they write about, is not an investment adviser, and the content contained herein is not an endorsement to buy or sell any securities. No content published as part of this report constitutes a recommendation that any particular investment, security, portfolio of securities, transaction or investment strategy is suitable for any specific person.