Solazyme, Inc. (SZYM) is a rather unique mid-cap company. The company uses proprietary biotechnology techniques that use microalgae to engineer custom tailored industrial and consumer oils that have historically been derived from petroleum, plants, or animal fat.
What took nature millions of years to create can now be produced by Solazyme to specifications in a matter of days and in a controlled environment.
No, Solazyme is not seeking to knock the Organization of the Petroleum Exporting Countries (OPEC) out of its dominance of supplying the world with its oil needs.
What Solazyme wants is a small piece of the cake given that the need for oils is well known, established and vast.
In a world looking to eventually replace petroleum sourced products, one wonders where Solazyme's future fits in. The reality, though, is that oils will always be part of our industrial and consumer use. Since Solazyme's technology is based on a renewable process, this should distinguish it from Crude oil.
Solazyme also differentiates itself because their products are made to client specifications - which means they can manipulate the process to produce just the required number of carbon atoms and double bond chain oils.
Don't think of Solazyme as a company that has to create its own market. The market is already there with deep pocket needs.
Solazyme's website states: "The drop-in nature of our tailored oils enables compatibility with existing production, refining, and distribution infrastructure in each of our target markets. Our oils can be tailored to address key performance properties of petroleum and/or other natural oils."
Watch this video to see an example of how Solazyme's products are compatible with existing oil based products.
It should be noted that as of last quarter Solazyme is not as dependent on the defense sector for future growth as it has been in the past. The current sales from the government declined $4.7 million or 99% versus Q2 last year.
As Jonathan S. Wolfson - Co-Founder, Chief Executive Officer and Director said during the recent earnings call on August 7th, 2013, the company is continuing with research as they dig into potential new applications for their products.
Jonathan also stated during the earnings call that "during the quarter, we successfully launched our new Algenist microalgal oil on QVC. Oils in the beauty space are rapidly growing, and this new launch is, to our knowledge, the first-ever cosmetic product to be based on microalgae oil. Our oil provides unique in vitro demonstrated benefits to skin and is positioned and timed well to meet this consumer market."
Solazyme has also developed microalgae-derived skin care products and signed distribution deals with Sephora International and Sephora USA.
On March 27th, 2013, Forbes named Solazyme's Jonathan S. Wolfson as one of the 12 most disruptive names in business stating in part that; "Wolfson's Solazyme is arguably the leader in turning algae to diesel on an industrial scale. It has fueled jets and Navy destroyers and is now being tested in cars. Solazyme has also discovered other novel uses for algae."
For a young company, it does have a decent amount of big name research firms interested in its growth prospects. The research companies in the most recent earnings conference call include: Goldman Sachs Group Inc. (NYSE:GS), Morgan Stanley (NYSE:MS), Lazard Capital Markets LLC, Raymond James & Associates (NYSE:RJF), Piper Jaffray Companies (NYSE:PJC), Cowen and Company (NASDAQ:COWN), Crédit Suisse AG, Pacific Crest Securities (NYSE:CS) and Jefferies LLC.
SECTOR: Oil & Gas Refining & Marketing.
One can also group Solazyme with other renewable energy companies especially given the recent resurgence of alternative energy resource companies like solar, wind, and uranium in investors' consciousness.
Alternative energy stocks in particular have been on fire lately and hence the resurgence of interest from institutional momentum chasing money managers and retail investors alike.
Below you will find a screen shot of the top performing sectors.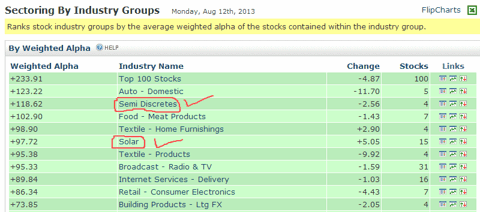 Source: Barchart.com
FUNDAMENTALS:
Source: Zacks Investment Research
As per the recent earnings report, revenue decreased 17% to $11.2 million. The company also reported a loss of $0.28 per share, both of which were ahead of estimates.
Going back to summer 2011, Goldman Sachs still maintains a price target of $31 for Solazyme.
Solazyme has 217 million in cash.
INSIDER OWNERSHIP: Insiders hold about 39% of outstanding shares. This could be motivation enough for management to keep the company on a solid growth path.
INSTITUTIONAL OWNERSHIP:
Source: Yahoo Finance
Investors can take note of the fact that the largest mutual fund holding in Solazyme is Primecap Odyssey Aggressive Growth Fund. The fund is up 44% over the last year while the S&P 500 is up 22.8% over the last 12 months.
It is always a good idea to make sure that at least one of the major mutual funds holding a stock has a precedent of good research and has been outperforming the market over the last year, if not longer.
It does not hurt to know that smart institutions are holding a stock you have interest or ownership in.
TECHNICALS:
Solazyme has a market cap of roughly 792.00M with 61.8 million shares outstanding and a 52-week range of $6.45 - $13.49. Solazyme trades an average of 717,000 shares each day.
Technically speaking, it looks like Wall Street and investors are starting to pay attention as they are paying up for the stock as it nears a critical resistance area, where prices have stumbled in the past. The current highest monthly closing high for Solazyme is at $12.32, which was set in May 2013. The stock is getting ever closer to its current 52-intraday high of 13.49.
If the stock can hold its Cup and Handle base formation breakout above $12.32 it looks like the Goldman Sachs's price target of $31 is attainable in 2014.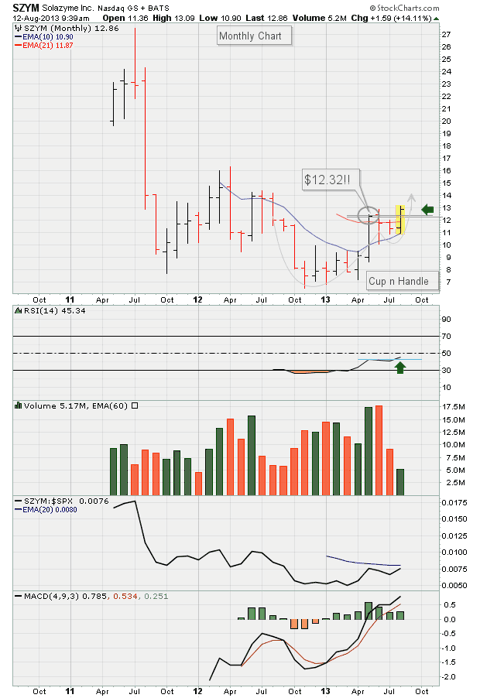 Source: StockCharts.com
CONCLUSION:
Investors looking for sectors that missed the broader market rally seem to be rotating into alternative sectors like solar, wind and uranium.
Over the last 5 months Solar stocks have experienced a strong push higher. The solar ETF Guggenheim Solar (NYSEARCA:TAN) has rallied as much as 89 percent.
Unlike the general market, which is sitting close to all time highs, the alternative energy sector massively underperformed over the last few years. TAN for example, is still down 68 percent since 2010.
One can also loosely see the Elon Musk effect ignite new found love for alternative energy names. The recent explosive moves by Elon Musk's companies Tesla Motors, Inc. (NASDAQ:TSLA) and SolarCity Corporation (NASDAQ:SCTY) has wowed and attracted market participants.
The search is on for the next Tesla.
Additionally, The Light Sweet Crude Oil index has recently seen a sharp move to $106. The index is up 20 percent in just three months. Every move higher by crude oil moves the 'alternative energy' discussion to the front pages of major media outlets.
Solazyme should be a beneficiary of such discussions.
Assuming Solazyme can hold above $12.32 then it should see the 20s and beyond soon. Investors can use $12.32 as their stop price so as to protect their capital.
The biggest threat to the above thesis is a strong general bear market given the lofty levels the market is trading at, relative to March 2009 lows.
Disclosure: I have no positions in any stocks mentioned, and no plans to initiate any positions within the next 72 hours. I wrote this article myself, and it expresses my own opinions. I am not receiving compensation for it. I have no business relationship with any company whose stock is mentioned in this article.