Fifth Third Bancorp (NASDAQ:FITB) is planning to acquire banks with the assistance of the Federal Deposit Insurance Corporation (FDIC). The company intends to expand within its operating footprint instead of venturing beyond that.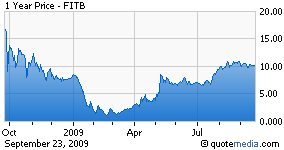 While the company has already evaluated some of the FDIC-assisted purchases, the deposit mix was neither suitable nor large enough. The company intends to acquire such banks with the FDIC's assistance, which would significantly increase its market share in one or more markets.
Fifth Third already has the experience of acquiring such troubled banks. Last year, the company completed the conversion of Bradenton-based Freedom Bank, which bank regulators had declared insolvent on Oct. 31, 2008 and the FDIC was named the receiver.
Fifth Third Bank assumed approximately $250 million in failed Freedom Bank's deposits from the FDIC. The transaction gave Fifth Third approximately $685 million in deposits in the Bradenton-Sarasota-Venice Metropolitan Statistical Area (MSA), and significantly raised Fifth Third's deposit market share in that market.
Deposit growth has consistently been Fifth Third's top priority. The company's expansion strategy has clearly been retail-oriented, involving a combination of de novo branching and acquisitions. In June 2008, Fifth Third completed its acquisition of First Charter Corporation, a regional financial services company with assets of $4.8 billion, 57 operative branches in North Carolina and 2 in Georgia. This marked the company's entry into the North Carolina market and added to its small presence in Georgia, thus diversifying its geographic footprint.
FDIC insures deposits of 8,195 institutions with roughly $13.5 trillion in assets. The organization reimburses customers for deposits of up to $250,000 per account if the bank fails. The turmoil in the financial market and the subsequent failure of more than 90 banks have significantly impacted FDIC's deposit insurance fund. The fund corpus has decreased to $10.4 billion at Jun 30, 2009 from $13.0 billion reported at the end of the prior quarter.
Besides Fifth Third, the other acquirers of failed institutions since 2008 include U.S. Bancorp (USB - Analyst Report), Zions Bancorp (NASDAQ:ZION), Regions Financial (NYSE:RF) and SunTrust Banks (NYSE:STI).