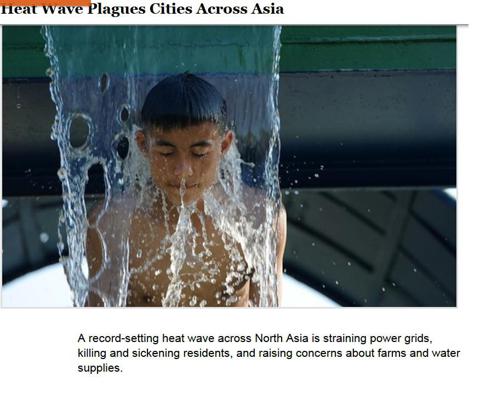 China Bakes, while Grain Market Will Still Follow US Weather
A Red Alert Continues for Parts of China. Call it Global Warming, Climate Change, whatever, but the heat wave in China is shattering records with many regions around Shanghai and the Yangtze River consistently over 100 degrees. The record heat may have some negative implications on certain sectors of the Chinese Economy, this quarter. Power shortages may be more common.
The USDA threw a couple typical "shockers" in their corn, cotton and soybean production and supply/demand estimates on Monday. However, without going into too much detail, the method by which they report crop August 1 production yields is subject to much interpretation and potential revision in the weeks ahead. The key from here on out will of course be the weather, and whether or not there will be warmer weather to mature late developed crops, rains in Iowa and a few areas of central Illinois and N. Missouri (getting way too dry) and a host of other meteorological conditions. The rally in grains prices (after our recent longer term bearish attitude and great profit potential being short most grains the last 3-10 months) is due to a host of weather variables right now and the USDA report. (I cannot comment on these markets or the weather forecast heading into late summer or fall, due to client obligations).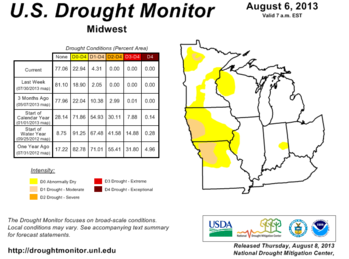 Developing dryness in parts of Iowa, N. Missouri and extending a bit into western Illinois is gaining some market attention in the corn and soybean market. The wet spring and dryness forced the USDA to lower their production estimates for corn and soybeans. Traders will be closely watching forecasts for rain or not in these areas and if the weather will warm up to crops can be free of frost, next month. Rains and warmer weather are bearish if they occur, dryness and cold September weather and frost potential would be bullish for prices. Longer term bearish fundamentals have not really changed, especially for corn. For soybeans, it will be all weather from here on out.
Natural Gas---Cool Late Summer Weather and No Hurricanes Pressure Prices
About 3 weeks ago, with natural gas prices trading in the $3.68-$3.80 area, as the eastern U.S. was sweltering, we mentioned buying puts (going short) natural gas, on our perceived change to a much cooler, mid-late summer weather outlook. Traders who bought the September $3.60-$3.70 put doubled or tripled their money, as natural gas prices fell briefly to $3.12 after the bearish EIA, last week. While a bit warmer weather is likely in about 8 or 9 days (very cool and pleasant with no hurricanes most of this month of August), any sustained rally in prices are unlikely for now. Traders can take profits on these long puts, as they expire shortly. Otherwise, future EIA numbers will likely show a build in stocks, due to the cooler weather and could be bearish again shortly. Any major sustained heat is probably unlikely, due to various teleconnections we look at. But, the big blocking ridge in northern Canada will be breaking down, helping things to warm up a bit, later this month. (UNG) has pretty much fallen to where I predicted based on the cooler late summer and rising stocks,

Many forecasters are still calling for an active hurricane season, but for the month of August, this will likely be one of the most feeble, in at least 10 years. The reason? In part due to African dust (red) that is also causing some havoc with west African cocoa weather and suppressing rainfall there. The dust in the Atlantic, combined with some warming signals along the central and western Tropical Pacific, might suggest this hurricane season, will be much more feeble than many others feel.
Cotton Market Turns Bullish
We began telling clients last week that we felt that the USDA might lower China cotton production, due to a combination of incredible wet early summer weather in the #1 China cotton producing province of Xingjing, but also due to what we believe to be the hottest summer ever, for China's Yangtze River Valley. The USDA also lowered the U.S. crop, as I continue to see wet weather issues for such States as Georgia, where southern crop quality is going down. The good news is that there is some short term relief on the way, in the form of rain, for west Texas farmers.

SOURCE: FAS AND STORM VISTA
The southern 10-20% of China's cotton zone is experiencing stressful conditions. The red line in the middle chart, shows rainfall since June for the southern Yangtze River region. Rainfall is headed south. While to the right, most areas will be drier than normal (red) the next 2 weeks stressing some crops as temperatures top 100 degrees again.
Cotton is often not strictly a weather market, and tied very much to the world demand situation and how quickly the Chinese either increase or decrease their stock-piling and reserved. Nevertheless, both charts and some global weather issues in the past few weeks, have all of a sudden changed the supply/demand picture around for this market, in which the ETF (BAL) likely has little down-side in coming weeks. While a precipitous, major, 2010 type weather inspired move (prices went to $2.00 lb back then due to floods in China, Pakistan and an increase in world demand), is unlikely, the odds of Dec. cotton futures falling anywhere close to 83 cents again for the rest of the summer and fall, is highly unlikely. If China problems continue, Dec. cotton has a chance to go to $1.00 this fall and BAL another 5-10% higher than this.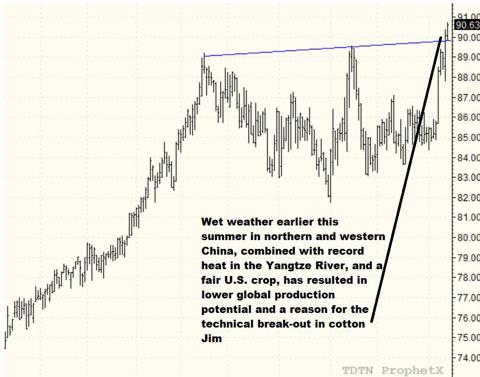 Disclosure: I have no positions in any stocks mentioned, and no plans to initiate any positions within the next 72 hours. I wrote this article myself, and it expresses my own opinions. I am not receiving compensation for it (other than from Seeking Alpha). I have no business relationship with any company whose stock is mentioned in this article.