If you have been following my logic on gold (NYSEARCA:GLD) and silver (SLV) you know I don't consider them an investment proposition. The only reason why investors should be involved with precious metals is for speculative purposes. If however someone thinks they are an investment, that's fine and I don't have a problem with that. The market consists of all opinions.
But while I have been a gold bear for the longest time, I have become short term bullish in the space lately, more specifically on mining stocks.
Please recall my thesis over the past several gold articles. My theory says that if and when gold bottoms, gold stocks will significantly outperform gold itself. But since we do not know for sure when gold will bottom, the more mining stocks outperform gold, the more we can say that the possibility of a bottom in gold is in. In addition, mining stocks (because they are smarter than the metals themselves) act as a leading indicator for gold.
Having said that, we have seen mining stocks significantly outperforming gold by a long shot over the past several of weeks. Below is a chart of the relative performance of top five holdings of the Market Vectors Gold Miners ETF (NYSEARCA:GDX).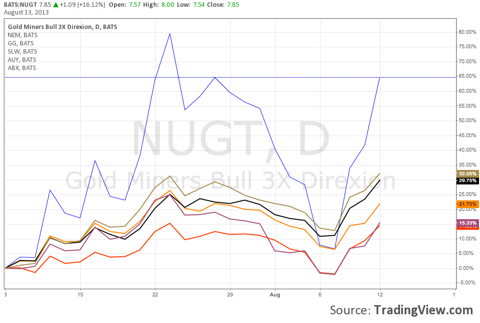 As you can see from the chart above, since July 8, Newmont (NYSE:NEM) has returned 15%, Goldcorp (NYSE:GG) 21.7%, Silver Wheaton (NYSE:SLW) 29.75%, Yamana (NYSE:AUY) about 15% and Barrick (NYSE:ABX) is the top performer with a return of about 32%. Gold on the other hand has rallied about 5%.
And for those with a more speculative frame of mind, the triple-leveraged Direxion Daily Gold Miners Bull 3X Shares (NUGT) has soared 65% over the same period.
Granted the volatility in the space is mindboggling, but then again only a speculator with a stomach for these kind of swings can take this kind of pressure.
The question is, what might be the catalyst for gold and silver to continue to go up (or even stabilize) that might help slingshot mining stocks further north in the process? I think there are several catalysts at the current point in time.
To begin with, back in July 5, I wrote an article hinting (please consider: Gold And Silver Might Bounce On Selling Exhaustion) that gold and silver might rally because of selling exhaustion. Looking back at that call today, while gold and silver have not really rallied, they have at least stabilized. The rally in the mining space however has confirmed my suspicions that if gold were to stabilize, miners would rally.
A second reason is that the dollar has probably reached its limit with the euro. The 1.33 level of the euro to the dollar has repeatedly acted as a top for the euro. If the dollar were to suddenly rally from here, I think that will give gold a boost from these levels, probably further propelling gold stocks. Remember, even though long term I don't see any relationship between gold and the dollar, on a short term basis the dollar does have have an impact on gold.
Another reason to be bullish on mining stocks are the very strong ETF inflows witnessed recently (please consider: Large Inflows In The GDX ETF, What It Means For Miners). While I do not have current data available, I assume those inflows are continuing, based on the rally mining stocks have had.
Just yesterday zerohedge reported the SPDR Gold Trust said its holdings rose 0.2% to 911.13 tons on Friday - the first increase since June 10. These inflows are miniscule, but at least it gives us some indication that the bleeding has stopped.
Another reason has to do with China. As Reuters reported gold rebounded last Thursday on strong economic optimism about China, based on import-export data. While my personal belief is that China's economy has nothing to do with gold prices, nevertheless many people feel that a strong Chinese economy is bullish for gold. Irrespective if this has any merit or not, since that's what the market believes - and acts upon - then it is just another speculative element to take into consideration when speculating on gold and especially gold stocks.
The question is, will this trend in the mining space continue? As far as mining stocks are concerned the answer is probably yes. As long as gold continues to stabilize at these levels, mining stocks should continue to rally.
And for once I will agree with Marc Faber (I unusually disagree with him) when he says that many people in order to get exposure to gold bought the GLD ETF instead of mining stocks as in the past. That might be the reason for the depressed prices of miners today and the fact that over the last five years gold has gone up 50%, but miners have gone down by 30%.
Bottom line
Mining stocks so far have outperformed gold by a long shot. If gold stabilizes and does not correct much, I think that mining stocks have further upside and will also continue to outperform the metal for some time to come. As such, if I were to venture in the space, I would prefer to buy mining stocks than gold itself at the current point in time.
Disclosure: I have no positions in any stocks mentioned, and no plans to initiate any positions within the next 72 hours. I wrote this article myself, and it expresses my own opinions. I am not receiving compensation for it (other than from Seeking Alpha). I have no business relationship with any company whose stock is mentioned in this article.