I love seeing all of the angry fundamental bearish comments and articles about how overvalued Amazon (NASDAQ:AMZN) is, how razor thin its margins are, how its operating costs continue to climb and especially how many multiples of various measures it trades at. I also love Amazon and joke frequently with Trevor, my UPS guy, about how often he is delivering a "smiley box". I also think that the Amazon price chart bears a striking resemblance to the iconic smiling up-arrow, that is their logo. Based on my analysis of investor sentiment and what I would consider an extreme valuation I have a price target of $353 before any more meaningful correction.
Sentiment beats fundamentals. I do not disagree with how ridiculous the price seems compared to almost any data looked at, except maybe its actual revenue and growth, but until broader sentiment of speculators sours, they will continue to ignore it (mostly).
It surely can't ALL be based purely on sentiment though. At the very least, 68% of Amazon shares are owned by institutions. We hope these institutions are making sound buy and sell decisions based on careful analysis of every possible public datum and not just following the herd and trading on their emotions.
Since we lack measures like dividend yield and EPS for Amazon , the investors must be looking at something else. As I mentioned above, Amazon does have nice gross revenue and it has grown fairly consistently at a brisk clip, from $19B in 2008 to $61B in 2012. Net numbers though have been staggeringly abysmal for what many would say constitutes a successful company. Despite this, Amazon share price continues to climb, frustrating the nay-sayers. The phrase "AMZN pass" has even crept into industry jargon, when a company misses on earnings but still climbs higher in the days or weeks following. This is the investment version of the NFL's "Tuck Rule."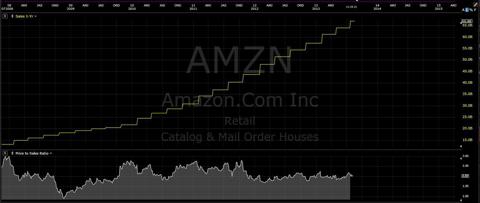 Click to enlarge
I would like to focus on AMZN's gross revenue as a guide for determining a "normal" trading multiple. The Price/Sales ratio is currently 2.09 (NYSE:TTM). Looking back over the past 5 years (2008-2012) it was 1.15, 2.5, 2.45, 1.66 and 1.86 as of each year end (chronologically). However the ratios for 2008 and 2011 may skew the sample set as those coincided with significant lows in the broader stock market that put significant pressure on many stocks. I think allowing for this and looking at a chart of Price/Sales, it seems that a "normal" ratio for AMZN is 1.8-2.25. Furthermore, this does not become "extreme" until 2.80-3.20, based on price peaks Oct '07, Dec '09 & Sept '11. Compare this to levels for Ebay (NASDAQ:EBAY) 4.8, Google (NASDAQ:GOOG) 6, Barnes & Noble (NYSE:BKS) 6, Netflix (NASDAQ:NFLX) 4, and Apple (NASDAQ:AAPL) 2.8 and suddenly Amazon in the 2s does not seem so extreme.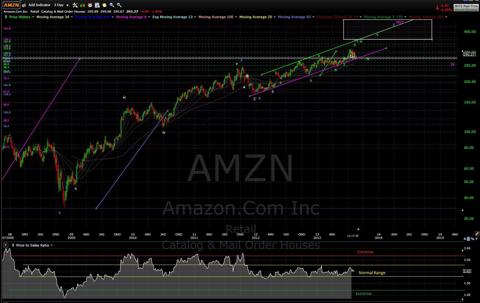 Click to enlarge
We are half-way into 2013 and AMZN already has revenues of $31.7B. For argument's sake let's say they finish the year with gross revenues of $64B. With 453 million shares, if we allow for a slight stretch of that "normal" band to the SAME 2.5 Price/Sales ratio it had at the end of 2009 & 2010, that gives us a price target of $353.20 for AMZN, without even registering "extreme." Let's get crazy for just a moment, and look at what an extreme price would look like, if it were based on this metric. Based on those projected YE revs ($64B). At 3.20 P/S AMZN would be trading at $452.09. THAT, my friends, WOULD be overpriced and would likely flip that smile on the box into a frown.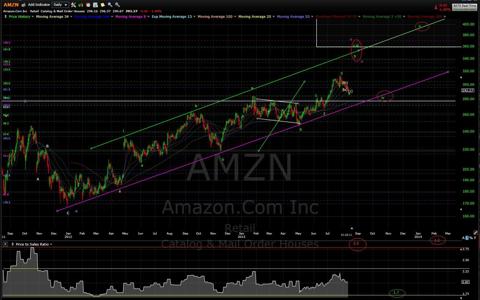 Click to enlarge
Speculators ultimately don't care about fundamentals, as they buy purely because they think the price will go up. There are lots of speculators in the market, and many who might call themselves investors are really closet speculators. If Jay Leno were to ask average people why they buy a stock, I would venture to say that 9 times out of ten you would not hear anything about a dividend. Those speculators are far more driven by the actions of other speculators than they are by the fundamental data. It creates feedback loops, sending prices higher or spiraling down, especially on a well-known high-flying name like Amazon .
Since completing the large drawn-out consolidation at the beginning of May, I have been looking for higher levels. After completing an impulsive move and a corrective pullback in June, I have been looking for much higher in a strong move to the $330-$350 region in a larger pattern, ultimately targeting $380-$440. In the past 2.5 weeks we have been consolidating over the $290 region, setting up the next move higher.
For now I am not ready to get too crazy, but I like the price target of $353.20 getting hit in the next month or so. While that will not be too extreme, it will warrant a consolidation back into or slightly below a normal range. I think it should hold over $280, though. Then imagine investor optimism fixated on a robust holiday season driving up the price toward extreme levels into the early part of 2014. The "AMZN pass" that may follow from that extreme could finally get intercepted. But, until then, I am looking higher and playing the guessing game with Trevor, "What did my wife buy this time?"
Disclosure: I am long AMZN, GOOG, NFLX, AAPL. I wrote this article myself, and it expresses my own opinions. I am not receiving compensation for it (other than from Seeking Alpha). I have no business relationship with any company whose stock is mentioned in this article.
Additional disclosure: I primarily base my trading decisions on chart patterns and technical analysis. Patterns can change quickly, and I am constantly looking for new support levels to lock in gains and minimize potential losses.