Hedge funds remain defensive on the market. Leverage and directionality are significantly below recent highs. Here is a quote from a recent JPMorgan report on alternative investments:
… our in-house estimates of leverage also point towards low leverage and directionality. Leverage and directionality have increased in the past few months. We currently estimate that Equity funds have a gross leverage around 1.75x. Our estimate earlier this year was 1.6x, while leverage was about 2.0x in its peak in 2008.
A quick analysis of the CS/Tremont index beta confirms the JPMorgan statement. The chart below shows the index beta to the S&P500 by year, a good indicator of hedge funds' market directional exposure. Hedge fund beta this year is the lowest since 2003.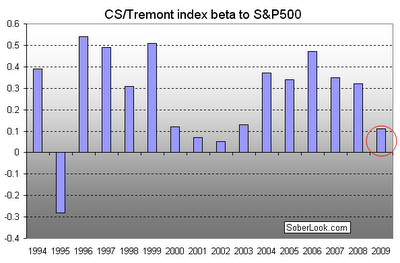 From Bloomberg:
"This was the first time in 20 years that we have played defense," Griffin, president and chief executive officer, said in an interview at Citadel's Chicago headquarters, after recently returning from Europe, his first vacation since the bankruptcy of Lehman Brothers Holdings Inc. a year ago.