Thesis
In today's market, it is hard to find a growth stock that hasn't already been blown up by the media, resulting in ridiculously high multiples and unjustified price advancements. But Open Text Corporation (NASDAQ:OTEX) is an exception. The company operates on strong fundamentals that consistently bring in more revenues, and there are a few drivers of growth for the future. Even better, the undercovered stock is currently trading at quite a cheap price. In this article, I aim to show you that with a solid foundation of fundamentals accompanied by growth drivers and impressive valuation, Open Text's stock could be a great purchase for many investors. I will give you a concise yet effective rundown, and you can follow it up with research of your own.
Company Overview
Open Text provides enterprise information management (NYSEMKT:EIM) solutions and software to companies across the world. Their products assist companies and individuals with a multitude of tasks and areas of work such as licensing for software and other products, e-mail management, content management, archiving, business process improvement, cloud-based file sharing, and more. The company derives its revenues from four main product types: license, cloud-based services, customer support, and other professional services. The company, headquartered in Waterloo, Canada, has 5,000 full time employees and was founded in 1991.
In The Right Place At The Right Time
Open Text is in a market that will grow at a much faster rate than the general economy in coming years. Demand for EIM services and software is always increasing as businesses are constantly growing and multitudinous tasks get in the way of letting them do whatever it is that they do best. When these problems arise, Open Text steps in and helps companies focus on their core business operations more often than they have to divert their attention to minor tasks and issues such as regulations, archiving, and more. With the undeniably high and growing demand for efficiency and effectiveness in all sectors, the predictions below, taken from the company's fourth quarter fiscal 2013 presentation, should come as no surprise to anyone.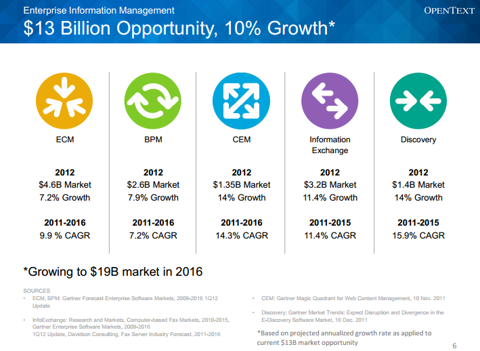 Click to enlarge
With 10% growth in line, how much of this will Open Text be able to capture? I believe it will be a significant amount. Because of the company's current position as a market leader, they will not only capture this growth, but create it. And in modern day economics, it is no coincidence that the creators and innovators are also the ones who profit. The company has made itself a leader by offering superior expertise and products that they have been able to develop through internal growth as well as acquisitions. For example, the company recently acquired ICCM Solutions, a long-time Business Process Management (BPM) partner. With this move, the company furthered its dominance in the EIM market. Through their growth, Open Text evolved from an Enterprise Content Management (ECM) company into a broader market, which is EIM, which forms its foundation on ECM. As they continually grow through internal improvements as well as acquisitions, the company will maintain its position as a leader in the market.
Competition And Protection Against It
This isn't totally Open Text's market, though. They have a number of competitors, such as International Business Machines (NYSE:IBM) and EMC Corporation (EMC). Let's compare these companies:
| | | | |
| --- | --- | --- | --- |
|   | OTEX | IBM | EMC |
| Revenue | $1.36 billion | $102.38 billion | $22.31 billion |
| EBITDA | $408.55 million | $26.23 billion | $5.33 billion |
| Operating Margin | 16.26% | 21.10% | 18.55% |
As you can see, the competition poises one of Open Text's most serious risks. Not only is the competition larger, but they have more impressive margins as well. This doesn't mean that Open Text isn't an innovative leader in their industry, though. IBM and EMC are both giant corporations that are less focused on EIM than Open Text is. Even if they sell more software and services, Open Text is maintaining its position as a leader by providing high quality solutions and products to its customers. Another way that Open Text remains a competitive leader is through their global partnership program, in which the company partners with other business to enhance the value of their products along with the investment in them made by customers. For example, Open Text partners with Microsoft (NASDAQ:MSFT) by allowing the easy integration of their EIM products with many of Microsoft's desktop and server products. This integration allows customers to easily work with EIM products within Microsoft SharePoint and Microsoft Office.
Partnerships such as these should be a key driver of growth and a competitive advantage as the EIM market continues to expand. By associating themselves with companies such as Microsoft, they give themselves greater exposure resulting in higher revenues as well as greater credibility. This partnership program is expanding rapidly, as it made up 41% of revenues in fiscal 2011 and 45% of revenues in fiscal 2012. With the success Open Text has achieved with this program, it is very likely that they will continue to expand their partnerships, resulting in increased earnings and revenues that will drive the stock price higher.
Expansion Leads To Greater Success
Open Text is always trying to grow and expand their company in whatever way possible. In the coming years, cloud services should play a key role in the company's success and growth. This is a young component in Open Text's arsenal, that was just brought into play after the company acquired EasyLink in May of 2012. The company now can devote their resources to improving EasyLink and their internal ability to provide cloud-based services. Seeing that the cloud is currently rising to prominence and shaping up to be the future of data management, this is an extremely positive move for Open Text. In fiscal 2013, the company derived $174 million in revenues from cloud services. This is an impressive 12.7% of total revenues, a significant amount considering that EasyLink was just acquired last year.
Investors can look for Open Text to make advancements in their cloud services. As a result, earnings will increase and once again, we are presented with another catalysts to drive the price higher.
As the company expands their product offerings, they are also expanding their customer base. The customer base is already a serious strength for the company. It is thoroughly diversified, with many companies and industries being involved (as you can see below, in the graphic taken from the investor presentation).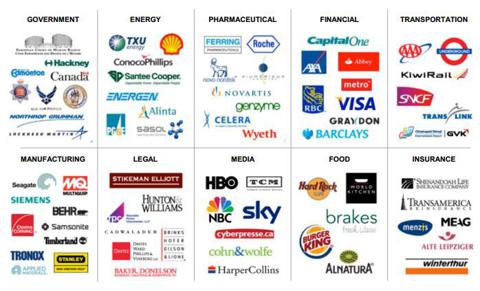 Click to enlarge
This diverse and impressive group of customers will help to drive future growth for two reasons. First of all, these companies are, for the most part, established companies that can be expected to grow with the economy in the coming years. As customers grow, they will need to manage more information, and thus demand for Open Text's products will increase. Secondly, these respected companies provide Open Text with credibility and market acceptance leading to new customers. This acquisitions of new customers has been going nicely in the recent past, and there aren't any indications that things will slow down. A few customers that Open Text has either acquired or received increased investments from in fiscal 2013 include Consol Energy (NYSE:CNX), the US Department of Education, Marvel Entertainment, and more that can be seen in the investor presentation I previously linked to. As a result of the two benefits I have addressed, you can see that Open Text's customer base has a tendency to grow exponentially.
Valuation
Let's compare Open Text's multiples and ratios to a few of its established pairs. Now, bear in mind that IBM and EMC are much more established companies than Open Text. The growth of the companies does not need to be factored into the price in such a big way as it does for a rapidly expanding company like Open Text.
| | | | |
| --- | --- | --- | --- |
|   | OTEX | IBM | EMC |
| PE | 26.81 | 13.33 | 21.26 |
| Price/book | 2.96 | 11.59 | 2.49 |
| Price/sales | 2.91 | 2.01 | 2.52 |
As I expected, Open Text might seem a little expensive when compared to its older peers. But take a look at the graph below, which shows IBM's historical PE ratios.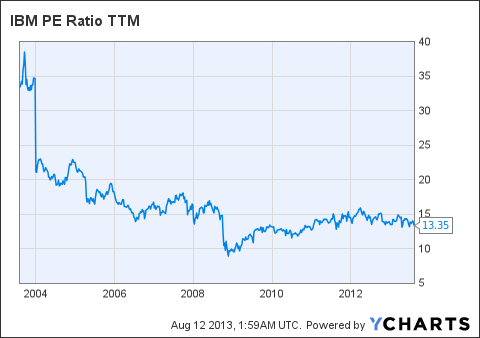 IBM PE Ratio TTM data by YCharts
At one time, as you can see, it was trading for nearly 40 times earnings. And if you think that is extreme, EMC was trading far above 100 times earnings around ten years ago. Despite these high PE ratios, things worked out for both companies' stocks. And we can expect that things will work out for Open Text's as well.
In order to get a better understanding, I also performed a discounted cash flow analysis, using a 9% discount rate (the company's WACC). A sensitivity chart for the results can be seen below.

Click to enlarge
I highlighted two areas. The gray area is what I would consider the realistic yet pessimistic outcome, while the yellow area is the conservatively optimistic area. With the stock currently trading at $67.30, the downside ranges from a loss of 8.5% to a gain of 10%. The responsibly optimistic predictions range from a gain of 24% to a gain of 48%. Now, of course, I must justify the EBITDA multiples and revenue growth rates. I believe that the business could have a high EV/EBITDA multiple because the industry average for computer software is 9.70. With the high growth expected in the EIM market and Open Text's previously addressed advantages that will help them benefit from the growth, this multiple should not be considered too high. Revenue growth rates in my optimistic range are above analyst estimates of 10.60%. I believe that the company will achieve this growth because revenues for the last fiscal year increased almost 13%. With a young cloud-based services segment, a growing customer base, and a rapidly expanding EIM market, it won't be too surprising to see Open Text's revenue grow a bit faster. In fact, Open Text even grew its revenues by 15% in third quarter of fiscal 2013. Open Text surely has a shot at achieving that kind of growth in the coming years.
With such strong catalysts to increase earnings being accompanied by an attractive valuation, it might not be a bad idea to buy a few shares in this rising industry leader.
Disclosure: I have no positions in any stocks mentioned, and no plans to initiate any positions within the next 72 hours. I wrote this article myself, and it expresses my own opinions. I am not receiving compensation for it (other than from Seeking Alpha). I have no business relationship with any company whose stock is mentioned in this article.