Arrow Electronics (NYSE:ARW) is the world's 2nd-largest distributor of electronics and computing products with annual sales of nearly $20 billion. The company was started around 80 years ago and has shown a sharp secular growth after the 1990s with the growth in the IT industry. Despite the global economic uncertainty, the company has managed to grow at a reasonably good pace of ~11% even in the last 3 years while managing to keep stable margins. Arrow Electronics has been able to create new revenue streams by exploiting the demand for security and storage products. The company has got strong competitive advantages with its global scale and relationships with thousands of suppliers and customers. The company's stock price has reflected the improvement in fundamentals, rising by ~30% in the last year and is trading near its 52-week high. The stock is still reasonably valued, even after the sharp stock appreciation and I feel that investors would be well rewarded to buy the stock on pullbacks.
What does Arrow Electronics Do?
Arrow Electronics is a global provider of electronics and computing products and services to customers in 55 countries. The company operates in 2 segments - Global Components and Enterprise Computing (ECS). In the global components business, the company supplies semiconductor and other components to customers in Asia-Pacific, EMEA and North America regions. The company supplies components to a large number of customers in diverse sectors such as Aerospace, Lighting, Logic, Computing, Medical, Renewable Energy etc. In the ECS segment, ARW provides enterprise and computing product and service to resellers and system integrators in EMEA and North America. The company gets about 65% of its total sales from the components business and 35% of its sales from the computing segment.
Arrow Electronics Positives
1) Strong Revenue Growth - Arrow Electronics has managed to grow strongly despite the weak global economy in the last few years. The company has also managed to maintain its margins despite the price pressures due to a slowing economy. The company has grown its annual revenue base by almost 200% in the last decade, from ~$7.5 billion in 2004 to ~$20 billion in 2012.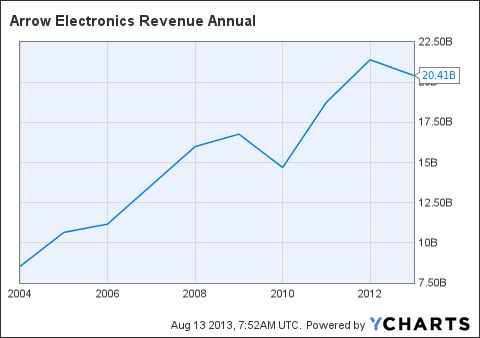 ARW Revenue Annual data by YCharts
2) Large Buybacks - Arrow Electronics has been very aggressive in buying up hundreds of millions of dollars in stock. The company has bought $900 million in stock since 2010 (~18% of the market capitalization) and recently announced another $200 million stock buyback under a new program.
3) Higher Margins compared to Competition - Arrow Electronics has managed to keep higher operating margins than its competitors on a consistent basis. ARW's operating margins have remained in ~4% range, compared to the ~2.5-3% range for its competitors. The company has managed to retain higher profitability through cost efficient operations and by providing higher quality services through a technically qualified work force.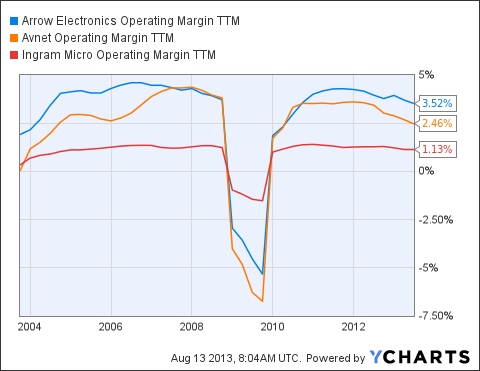 ARW Operating Margin TTM data by YCharts
4) Acquisition Strategy has worked well - Arrow Electronics has been a busy buyer of electronics retailers and distributors. The company acquired reverse logistics service provider Converge in 2010 to increase its reverse logistic processes. The company has also acquired numerous small distributors to expand into new geographies. Arrow Electronics also acquired a parts electronic commerce marketplace Vertical to improve its online capabilities and has grown its ECS segment sharply in Europe by acquiring Altimate.
5) Enterprise Computing Solutions is seeing good growth - The company has grown its ECS segment sharply, taking advantage of the secular growth in storage and security products. The ECS segment grew by 12% year on year in the most recent quarter significantly outpacing the growth in the components segment.
So then if you take a look on how that ECS business has transformed, today, well over half of our sales come from software services, storage and security, something that really didn't exist here 5 years ago. So there's been a very good path towards diversifying this business into higher-value spaces that require more than just shifting the product

Source - Seeking Alpha
6) More than a plain Vanilla Distributor - The distribution business has changed radically in the last few years with improvement in IT and increasing competition. It has become important for a distributor to provide services in addition to warehousing and logistics. Arrow Electronics also provides marketing and financial services to its customers besides providing go-to market solutions and business intelligence about the end market.
Arrow Electronics Risks
a) Global economic downturn - Arrow Electronics is heavily leveraged to the global economic growth with its management saying that its topline grows at 2-3x the pace of the global GDP. The reverse side of this leverage is that the company's sales can quickly decline in case of a downturn. Though the company is seeing healthy order flow from customers, any renewed distress from Europe or a hard landing in China can adversely affect Arrow.
Without a doubt, if we get into a period of normalcy from the world's economy, my expectation is that we would see with firming of pricing at the gross profit level. And also, greater leverage on our expense structure to drive our operating income percentage up, right? Because really, when you think about in basic terms, I'll use as an example, our logistic centers. They're built to handle a certain size business. Now the pace of business is less, but we still have that big honking fixed costs. I mean, there's no 2 ways around it. And you really can't shrink a distribution center. But I do believe that we're going to go back to those levels of activity and actually push past that over the long term. So we'll get that leverage in our cost structure also, so we'll see even a modest improvement in the world's economies will drive a really significant uplift in operating profile.

Source - Seeking Alpha
b) Components Revenue and Margins have been coming down - The company's strength in the ECS segment has masked the weakness in the Components business, which has seen its revenue come down by 2% in the current quarter. The company has been affected by a slowdown amongst medical and renewable energy customers, which has led to a decrease in sales.
In global components, sales declined 2% year-over-year as double-digit growth in Asia was offset by revenue declines in the Americas and Europe, reflecting the broad macroeconomic trends in those regions. Adjusted for the impact of acquisitions and changes in foreign currency, sales in global components were down 3% year-over-year… In global components, adjusted for the impact of acquisitions, the operating margin declined 80 basis points year-over-year

Source - Seeking Alpha
Stock Price Performance has been good both Long Term as well as Short Term
The company has given good returns to investors over both the long and short terms. Arrow Electronics has given a strong 29% return in the last one year and the stock has risen by ~190% in the last 10 years. The only thing that might concern the investors is the fact that the stock took a huge fall during the Lehman crisis, when the stock price fell sharply by ~60% to below $15 from ~$35. The stock is currently trading near its all-time high price of $47.92.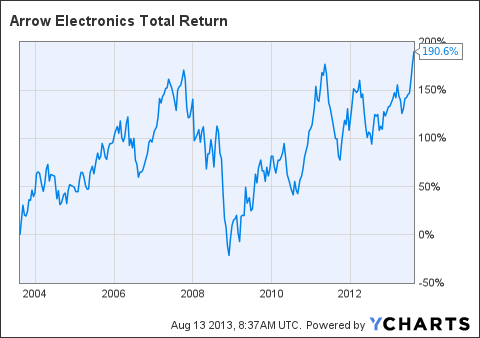 ARW Total Return Price data by YCharts
Stock Valuation is still Cheap
Despite the stock touching new all-time highs, the company is still cheap based on traditional valuation measures. The stock has a P/B of 1.2x and a forward P/E of less than 9. This is not expensive when you consider the company's strong topline growth over the last few years and its competitive advantages. The company does not give dividends but has purchased $400 million of stock in the last one year.
Summary
Arrow Electronics is an efficiently run, well managed company that has grown at an excellent pace. The company has managed to retain industry leading margins by providing value added services to its 100,000 customer base. ARW has leveraged the growth in storage and security products to offset the slowdown in the components business. Its acquisition strategy has also worked out well in improving the company's financial and operational performance. The only big risk with the company is that of a global economic slowdown against which it has little defense. The stock remains cheap, despite the strong stock run and I would advise investors to add the stock during pullbacks.
Disclosure: I have no positions in any stocks mentioned, and no plans to initiate any positions within the next 72 hours. I wrote this article myself, and it expresses my own opinions. I am not receiving compensation for it (other than from Seeking Alpha). I have no business relationship with any company whose stock is mentioned in this article.