On my recent quest to find income opportunities in southern European countries, I have mainly focused on the utilities sector. In the US, the sector (NYSEARCA:IDU) is trading on average above 20x its forward earnings, which for a sector with low growth prospects does not make much sense and is therefore overvalued. For income investors a good alternative is European utilities, which also offer attractive dividend yields and enjoy much lower valuations than its U.S. peers. Snam (OTCPK:SNMRY) is one of those cases offering a dividend yield of 7% and trading at only 13x forward earnings, lower than most American utilities, such as American Electric Power (NYSE:AEP) or Exelon (NYSE:EXC). The company has a market capitalization of about $16 billion, and is traded in the U.S. in the OTC market.
Company Background
Snam is an integrated group, operating in the regulated gas sector in Italy. The company was founded in 1941 and has over 6,000 employees. It pursues a sustainable model of growth, in order to create value through three main strategic drivers: capex execution, operational and financial efficiency, and shareholders return. The company is one of Europe's leading operators in the construction and management of gas infrastructures and one of the major players in terms of invested capital for regulatory purposes (regulated asset base, or RAB). It manages a national transportation network that is more than 32,000 km long, including eight storage facilities, one regasification plant, and an urban distribution network that covers more than 50,000 km in total.
Snam is active in transport, regasification, storage and distribution of natural gas through four operating companies: Snam Rete Gas (transmission and dispatching), Gnl Italia (regasification), Stogit (storage) and Italgas (distribution). The company is pursuing international growth within Europe, where it could develop green projects or acquire assets coming up for sale from other industry players.
In 2012, the company generated more than $5.2 billion in revenues, an increase of 9.5% from the previous year. Its profitability is very high, achieving operating earnings of $2.8 billion, 7.8% higher than in 2011. This is an operating margin above 53%. During the past year there was a change in the company's ownership, with Eni (NYSE:E) reducing its stake considerably and consequently losing control of its management and the acquisition by Cassa Depositi e Prestiti [CDP] of a 30% stake in its capital.
Snam presented last March its 2013-2016 strategic plan, with an overall investment plan of $9.2 billion during the period. The vast majority of investments will be deployed in Italy, aiming to further develope the gas infrastructure system in Italy and promote greater interconnection with the European networks. Despite the significant investment plan, Snam's capital structure should remain solid in the medium to long-term, maintaining an average net-debt-to-total-assets ratio at around 55%. The company also wants to achieve higher operating efficiency through strong cost control. It expects to enhance its EBITDA margin from 77% in 2012 to around 80% in 2016.
Dividends
Snam's dividend track record is very good, given that in the 10 years since the IPO it has always distributed dividends to its shareholders. Contrary to most European companies that pay only one dividend per year, Snam pays two dividends during the year. An interim dividend is usually paid in October, and a final dividend in May. In 2012, the company paid $0.33 per share, an increase of 4.2% from the previous year. Snam has a commitment to an attractive and sustainable shareholder remuneration over the medium to long-term, so despite its high-yield the dividend does not appear to be at risk. Indeed, the company forecasts a dividend per share in 2013 in line with 2012.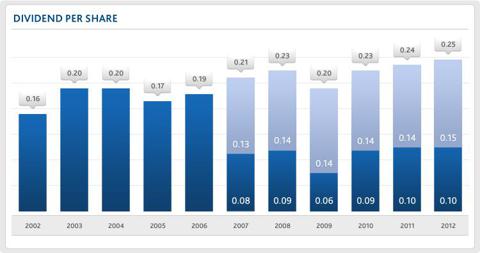 Click to enlarge
The dividend payout ratio has increased over the last couple of years to over 80%, which is still a reasonable payout for a stable and heavily regulated business. On the other hand, the dividend growth may be lower going forward, as the company's long-term payout is on average about 80%. Nevertheless, Snam offers one of the highest yields within the sector and is safer than for most of its peers due to its heavily regulated business.
On the negative side, Snam's indebtedness is relatively high. At the end of 2012, the company's net debt was above $16 billion and increased every year since 2005. Nevertheless, this is a net-debt-to-EBITDA ratio of 4.08x, which is acceptable given the company's high profitability. For comparison, American Electric Power's EBITDA margin is only 32% but its leverage ratio is 3.9x EBITDA.
Conclusion
Snam presents a compelling investment for income investors due to its high-dividend yield and fair valuation. Moreover, its also offers an interesting alternative to U.S. utilities, which have lower yields and much higher valuations, being therefore much more vulnerable to rising interest rates. In Europe, the European Central Bank should take longer than the Fed to increase its benchmark rate, so high-dividend yield companies like Snam offer a better value proposition than its U.S. peers.
Disclosure: I have no positions in any stocks mentioned, and no plans to initiate any positions within the next 72 hours. I wrote this article myself, and it expresses my own opinions. I am not receiving compensation for it (other than from Seeking Alpha). I have no business relationship with any company whose stock is mentioned in this article.