Sify Technologies (NASDAQ:SIFY) is an India-based IT and networking company that has been listed on the U.S. stock market since 1999. The company saw its stock climb to ~$350 during the NASDAQ boom before falling to the single-digit levels. The stock has literally gone nowhere in the last 10 years despite seeing occasional spikes. Sify held a lot of promise as a provider of network data management services for corporate and individual customers. SIFY was the first organized player to get into the business of cybercafés for providing Internet access on hourly rates for customers in the Indian cities. But that business never really took off despite the company opening hundreds of cafes across the country. The availability of cheap data plans on handsets has decimated that business segment of the company. Sify now relies primarily on providing IT services such as website management, Sass and cloud computing solutions, hosting, VPN access, voice and data traffic services etc. to companies. Sify also has a couple of web portals though they do not contribute much to the company's revenues. The stock is trading near its 52-week low of $1.6, but I think that it is still avoidable given its loss-making history and lack of a coherent strategy.
What does SIFY Do?
Sify is mainly a provider of corporate connectivity and communication solutions to the companies in India. The company also provides network management, Saas, cloud computing hosting and security solutions. Sify also gets some revenues from its broadband services, web portal and cybercafé business. SIFY competes with big telecom providers in India such as Idea Cellular, Aortal and Reliance Communication in providing communication solutions to its clients.
SIFY Issues
1) No Focus - SIFY.com has failed to focus on IT segment and entered multiple areas without getting success in any one area. It is difficult to identify Sify as a pure networking, content or software company. The company sells enterprise software solutions, has an Internet landing station, claims to have the 3rd-largest portal and provides broadband solutions. IT companies in India have seen spectacular growth in the last 10 years, as they have leveraged India's low-cost technical manpower to build multi-billion dollar businesses. Sify on the other hand has gone from one low to another low. I think the company's lack of focus and strategy is the biggest problem with Sify.
2) Volatile Financials - The company has been in the red for most of its operating history, generating profits in a couple of years only. The company's operating margins have been extremely low and have also been quite volatile becoming negative quite frequently. The company does not have a debt problem but it does not have too much cash on the balance sheet either.
SIFY Operating Margin TTM data by YCharts
3) Competition is high in Communication and Networking services - The company competes against very large telecom providers in providing data and voice communication services to companies. Sify also has to spend a large amount of money in building infrastructure for providing the network services. The company does not have the scale and reach to effectively leverage the investments infrastructure. The company used to be a big ISP earlier, but now there are hardly any independent ISPs left in India as large telecom and cable companies such as Hathaway have taken over the role.
4) The Indian Economy is going through a big downturn - The Indian economy has seen a sharp slowdown in recent times like rest of the emerging markets. GDP growth this year is expected to fall to a decade low, as high interest rates and inflation combined with a weak currency form a vicious cocktail. India's main rating agency has estimated that a huge number of India's top companies are in a serious danger of defaulting on their debt payments. Many top IT integrators such as Tulip Telecom are on the verge of bankruptcy and have not paid their employees for months.
5) Parentage is not exactly the best - Sify was earlier known as Satyam Infoway before it was sold to the current management. For readers who do not know, Satyam caused one of the biggest scandals in corporate India by fraudulently fudging its balance sheet. The case led to the jailing of its promoters and auditors and caused big losses to its ADR holders. Though this scandal does not directly impact the company, I would still remain wary.
6) Share Dilution at a discount - Promoter groups in India are not known for being friendly to minority stockholders and Sify is no exception. The company raised $86 million from promoter affiliated groups at a large discounted price by selling shares in its unlisted Indian entities. Convoluted financial transactions are frequently used to benefit the promoters at the expense of the minority shareholders.
SIFY Upside Risks
a) India's IT and Networking market has a large potential - India's small and medium enterprises (SMEs) have low levels of IT penetration. The potential for providing data centre, Saas, security and other IT solutions is very large. Cloud computing solution is another growth area where the value proposition is making many companies migrate to private and public clouds. Sify is seeing the fastest growth in these areas.
b) Indian IT integrators are in disarray - Most of Sify's Indian competitors in the IT integration and data centre services are in a really bad shape. One of the major IT integration companies which had won big orders has seen its CEO absconding. The company might benefit from the weak competition in the IT integration area as companies become selective in hiring companies with a relatively strong background only.
Stock Performance has been abysmal over all time periods
SIFY has traded in a range between $1.6 and $3.2 in the past year and is currently trading at $1.81. The company's performance has been quite bad both on a short term and a long term basis. The stock has given a loss of ~12% over the last one year and lost 32% in the last 5 years. The company has been a big value destroyer, having lost 95% of its value since its IPO and over 99.5% of its value from the peak price reached during 2000.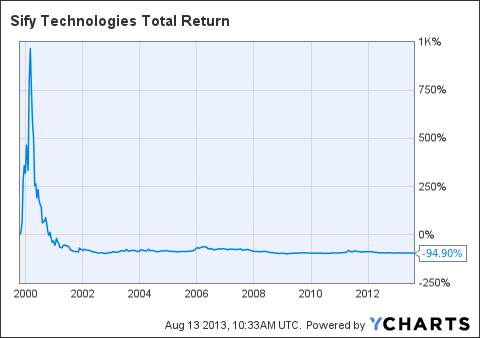 SIFY Total Return Price data by YCharts
Stock Valuation is not cheap despite trading near 52-week lows
SIFY is not cheap despite trading near its 52-week low with a P/B of 3.1x and a P/S of 1.7x. The company has seen very volatile earnings throughout its listed history and it has been free cash flow negative over the last 3 years. Though the company has managed to grow topline by ~10% in the last 3 years, it should be remembered that consumer price inflation is also running at nearly 10% in India since the last few years.
Summary
SIFY has failed to capitalize on the tremendous IT opportunities in India over the last decade. Many companies have made it big in the Indian market despite starting much later than Sify. The company claims to be the first Indian ICT company to be listed on the NASDAQ, but its performance has been amongst the worst. The company has tried to do many things and got lost in the process. SIFY is still operating in too many areas such as providing software and network services besides running a portal. The company's financials have been extremely volatile and the company has made profits in only a couple of years. The company's valuation is not cheap and the sharp stock price decline reflects the company's indifferent performance. The slowdown in the Indian economy is a huge risk for Sify as it gets almost all of its revenues from the domestic market. There are many other small and mid-cap companies in India's IT space that are trading at lower valuation with better prospects. I would advice investors to stay away from Sify and look for better options such as Cognizant Solutions (NASDAQ:CTSH).
Disclosure: I have no positions in any stocks mentioned, and no plans to initiate any positions within the next 72 hours. I wrote this article myself, and it expresses my own opinions. I am not receiving compensation for it (other than from Seeking Alpha). I have no business relationship with any company whose stock is mentioned in this article.