A recent article discussed the need for Exxon Mobil (NYSE:XOM) to undertake some drastic corporate actions to further enhance shareholder value. The author is correctly disappointed with XOM's recent price performance, especially in comparison with Chevron (NYSE:CVX). The article below will discuss the investment case for XOM staying intact.
XOM is the largest, vertically integrated energy producer in the world. XOM currently sports a market cap of over $390 billion making it one of the 10 most valuable companies in the world. XOM generated revenue of over $420 billion last year, which is a truly mind boggling number. The revenue generated allowed XOM to generate a net profit of over $37 billion last year. The strong and very profitable operations allow the major ratings agencies to bestow a triple A credit rating on the company. If you click on the following link to Morningstar you will see the breakdown of XOM outstanding net which is truly miniscule. XOM self funds its extensive exploration budget and for the most part hasn't tapped the capital markets for funds. In my opinion, this is XOM's greatest asset. XOM is free to explore any opportunity to further expand its business without any real restraints on its ability to borrow. XOM is in a very envious position.
The financial muscle was on full display with XOM's recent purchase of XTO Energy. With the purchase, XOM became the largest domestic natural gas producer. The following quote from Rex Tillerson, CEO of XOM, explains the rational for the purchase. ""Natural gas is expected to be the fastest growing of the major energy sources; it's going to grow at a substantially faster rate than oil or coal." The quote has proved especially prescient as natural gas usage has taken off. Due to an oversupply of natural gas, prices have dropped considerably making natural gas producers less profitable. As we can see from the chart, natural gas prices have only just begun to firm up. At the time of the deal, natural gas prices were comfortably trading over $5 MMBtu. Rex again telegraphed this may happen with the following quote, "We'll probably suffer in the near-term as we put it together," Tillerson told analysts. "This is really about value creation over the next many years." Some of the major beneficiaries of the boom in domestic gas supplies are the chemical manufacturers as inexpensive gas prices boosts their bottom line. The following article details some of the major chemical infrastructure expansion going on in Louisiana. With the expansion comes a plethora of new jobs which will further enhance the local economy.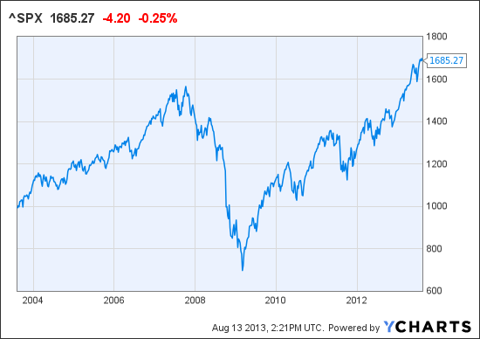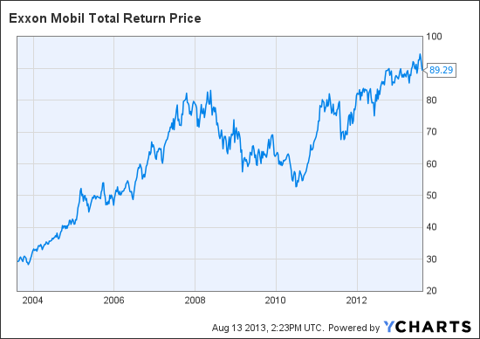 XOM Total Return Price data by YCharts
With the XTO energy acquisition, XOM transformed its production profile significantly. The production portfolio is now approximately evenly split between gas and liquids. The shift in the portfolio composition in my opinion is the main reason behind the company's recent share underperformance. XOM has badly lagged the S&P 500 over the last five years, which has frustrated long-term shareholders. Those who were prescient enough to purchase an initial stake in say 2003 are quite content as XOM as handily outperformed the S&P 500. Each of these above time frames is in the past and the key is where do we go from here.
As Rex mentioned on the conference call explaining the XTO purchase, the value creation will be felt over many years. We can see from the link provided above chemical companies have committed extensive capital to build new plants which will undoubtedly become large consumers of natural gas. The chemical companies are trying to apply political pressure to prevent the exportation of natural gas in liquefied form. In a rare case of long-term thinking the Obama administration has given authorization for 3 LNG export terminals allowing US shale producers to take advantage of the far higher prices seen in other countries such as Japan. As we can see from the chart embedded in this link, the Japanese are paying over 4 xs as much as we do for the equivalent amount of gas. These types of large transformational projects require time and capital to complete. In my opinion a current shareholder will begin to reap the substantial rewards form all these factors beginning in 2015 as these capital projects begin to come online.
In the interim, how is XOM going to reward shareholders for their patience? At first glance the answer would be the dividend rate which, while superior to what is offered by the S&P 500 and Treasury bonds pales in comparison to some of its peers. The most important way in my view is through the much maligned share repurchase program. Using recent history as a guide, XOM shrank shares outstanding from 6.5 billion outstanding in 2003 to 4.5 billion at the end of 2012. A roughly 30% reduction in the float greatly contributed in my view to the company's outperformance in that time frame. With the shares stuck in neutral awaiting for the above mentioned capital projects to come online, buying back as many shares as possible will be shown as a wise and prudent move. With a stable revenue base, a significant sales catalyst coming online and the shares trading at a depressed multiple, a buyback is exactly what is needed to turbo charge total gains. Keep in mind in the recent past XOM has traded at a market multiple. Once growth becomes evident expect the multiple to expand benefiting long-term, patient shareholders.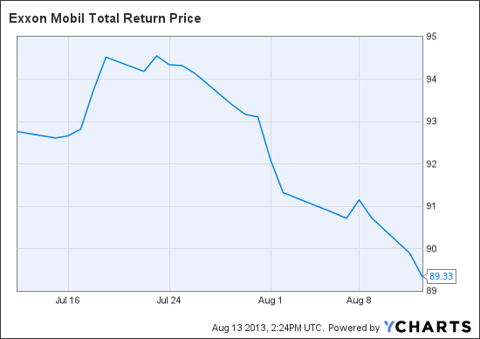 XOM Total Return Price data by YCharts
In summary, XOM offers long-term patient investors an outstanding opportunity to own a piece of the highly lucrative energy field. The recent drop due to a disappointing earnings report offers an excellent entry point in my opinion. As we can see from the chart above, the shares hit a new high entering into the report only to sell-off on the disappointment. Hence, the opportunity presented today. Thank you for reading and I look forward to your comments.
Disclosure: I am long XOM. I wrote this article myself, and it expresses my own opinions. I am not receiving compensation for it (other than from Seeking Alpha). I have no business relationship with any company whose stock is mentioned in this article.
Additional disclosure: Thank you for reading the article. Investors are always reminded that before making any investment, you should do your own proper due diligence on any name directly or indirectly mentioned in this article. Investors should also consider seeking advice from a broker or financial adviser before making any investment decisions. Any material in this article should be considered general information, and not relied on as a formal investment recommendation.