By Bryan McCormick
Crude oil's chart looks weak at the moment, which could be trouble for the S&P 500 because energy is nearly 12 percent of the index weight. In fact, were it not for the industrials and technology, along with the boost in the financials of late, energy might have helped drag the S&P far lower.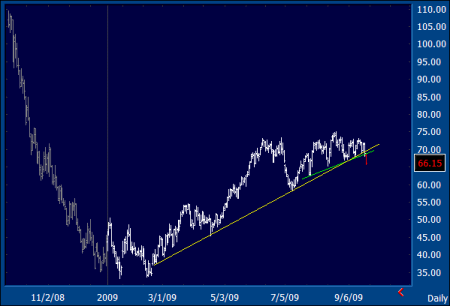 As we learned on the way down last year, sectors need to work together. Narrow breadth in sector advances mean that broader rallies are generally not stable.
If the trend in energy, and crude is the backbone of that sector, remains down, the index could have a great deal of trouble making stronger advances. It means every other sector has to pull harder for that to happen, making it less probable.

On the daily chart of crude, I have drawn in two trend lines for us to look at. The green line is the most recent uptrend. We can see how that was broken today, when price crossed below $68.50.
The yellow line, however, is the one where the real problem lies. The move down today confirms a break of that trend ine, which stretches all the way back to March. For now, the primary uptrend in crude has been broken.

As we well know, the price of crude can be extremely volatile. It is possible that next week could show a draw down in crude, sending price higher again. But with the primary uptrend line broken, and next support not until the $62.50 area, we could see some downside pressure if bullish data does not emerge.
(Chart data provided by Thomson Reuters)