A few months ago we reported on guidance published after long deliberation by the World Gold Council and outlining rules for cost accounting for precious metal miners. According to this guidance precious metals miners should do away with their cash cost reporting that was widely felt to be confusing and misleading for investors. Instead, precious metal miners are now asked to provide two individual cost metrics: "All-In Sustain Costs" and "All-In Costs." While the latter will probably be suitable for annual reports, the former is a great metric for investors to gauge production costs for individual companies on a quarterly basis.
The recent round of quarterly reporting was the first after publication of this guidance and we were curious to see which companies would already provide cost measures according to this new guidance. In our survey we found 13 companies that gave all-in sustaining costs in their reports. All of them also reported costs in their old format for comparison.
In alphabetical order, the following companies were included in our survey: Alamos Gold (NYSE:AGI), AuRico Gold (NYSE:AUQ), Barrick Gold (NYSE:ABX), Brigus Gol (BRD), GoldCorp (NYSE:GG), IAMGOLD (NYSE:IAG), Kinross Gold (NYSE:KGC), McEwen Mining (NYSE:MUX), New Gold (NYSEMKT:NGD), Newmont Mining (NYSE:NEM), Primero (NYSE:PPP), Timmins Gold (NYSEMKT:TGD), Yamana Gold (NYSE:AUY).
All-in sustaining costs include all costs that are incurred in order to sustain gold production at a given established level. These costs not only include direct mining costs, but also account for reclamation and remediation costs and near-mine exploration costs to guarantee reserve maintenance. This cost metric can be viewed as mine-specific, as well as across the board of several mines operated by a company.
To quote the GoldCorp's quarterly MD&A:
"The Company, in conjunction with an initiative undertaken within the gold mining industry, has adopted an all-in sustaining cost non-GAAP performance measure that the Company believes more fully defines the total costs associated with producing gold; however, this performance measure has no standardized meaning. Accordingly, it is intended to provide additional information and should not be considered in isolation or as a substitute for measures of performance prepared in accordance with GAAP."
The table below shows some salient data as reported by the companies listed above.
From left to right the columns list the company name, the ticker and the quarterly production in million ounces. Column "AISC" shows the all-in sustaining costs, column "TCC" shows the older cost metric used by the companies (often termed total cash cost in the respective reports) and column "RSP" gives the realized sales price. The rightmost column titled "sust. Margin" is the difference between the AISC and the RSP column.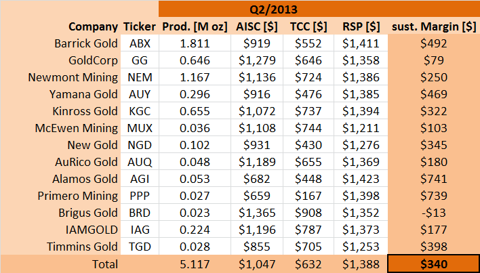 (N.B. Most values in this table are non-GAAP and details in the methodology for computing these values may differ between companies.)
Newmont reported two values for AISC, one including ($1,548) and another one excluding ($1,136) stockpile write-downs. We used the lower value of the two which does not consider stockpile write-downs.
The results sorted by all-in sustaining costs are visualized again in the diagram below. The gold spot price in the quarter fluctuated between a low of $1,180 in June and a high of $1,604 in April. The gray area in the diagram indicates this spot price range for the observed quarter. Also shown in this diagram are the reported cash costs.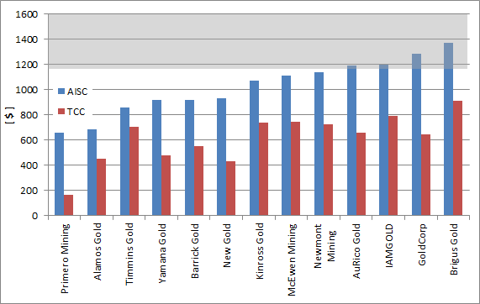 The second diagram visualizes the right-most column titled "sus. Margin" in our table. This margin represents the amount of money per ounce that the company can spend on growth-related projects or dividends.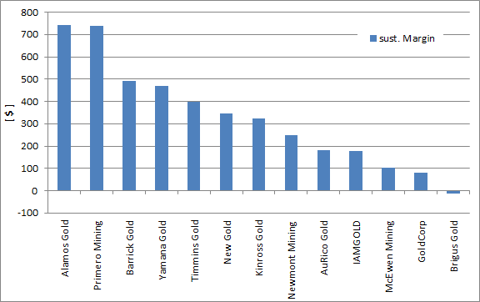 Some observations
Primero reported the lowest all-in sustaining costs, closely followed by Alamos Gold. These two companies enjoy the highest margins and appear best positioned to weather further volatility in the price of gold.
In total, these 13 companies produced almost 5.1M ounces in Q2/2013 at an average all-in sustaining cash cost of $1,047 per ounce of gold. On average a sustaining margin of $340 per ounce was achieved.
There is very little correlation between the reported all-in sustaining costs and reported cash costs. We view this as support of our statement about cash costs in the first paragraph of this article.
Nine out of 13 companies had all-in sustainable costs below the lowest spot price for the observed period. AuRico Gold, IAMGOLD, GoldCorp and Brigus Gold reported all-in sustaining costs that were higher than the spot price for at least part of the quarter.
McEwen Mining and GoldCorp had margins of less than $100 per ounce based on all-in sustaining costs. Brigus Gold actually produced its gold at a loss during the past quarter.
As a rule of thumb one could assume that the smaller the sustaining margin the higher the leverage to the price of gold, and the higher the sustaining margin, the higher the ability to pursue growth projects, pay debt or pay dividends.
Times are difficult for most gold miners and observations based on one quarter are snapshots at best. There is a story to each one of the published reports and some numbers reported on in this article may paint a picture that may appear out of context for those familiar with the companies. We acknowledge this possibility.
Disclosure: I have no positions in any stocks mentioned, and no plans to initiate any positions within the next 72 hours. I wrote this article myself, and it expresses my own opinions. I am not receiving compensation for it (other than from Seeking Alpha). I have no business relationship with any company whose stock is mentioned in this article.