When Stanley Erck, President and Chief Executive Officer of Novavax Inc., summed up the accomplishments of his team in the second quarter of this year on August 8th, he threw an unturned card on the table in addition to his losing pair of deuces.
Novavax (NVAX) will have its first Analyst's Meeting since the rebirth of the company as a vaccine maker in the year 2005 on September 24th of this year. No one knows what that wild card might be. The mystery makes it the single biggest catalyst in the history of this stock and perhaps the biggest biotech run-up event in the waning months of summer. in Erck's own words...
And so finally, and mark your calendars, September 24 Analyst Meeting will be held. We expect to cover some important activities, including clinical development plans for our RSV maternal program, clinical development plans for RSV elderly and the possibilities for a combination respiratory vaccine, we'll talk about the timing of our RSV pediatric program, our seasonal flu program and our pandemic flu program under BARDA. Hopefully, we'll have some additional insights into the timing of the rabies Phase I trial and finally, we'll update you on any new emerging virus product development activities.
All quotations contained in this article, including those that follow, can be found here in the Q2 2013 Earnings Call Transcript.
The president wasted no time and missed not a single opportunity to hammer home the significance of this date. Here he is wrapping up the presentation before Q&A.
Thanks, Buck. Thanks, everyone, for your participation. My last pitch for our September 24 Analyst Call, put it on your calendars, and we'll provide more details about the event over the next few weeks. We hope you'll be able to join us then as well.
Later, during the Q&A session, he referred to it as an "annual event" to be held each year in New York city. Why the sudden need for such a high profile meeting with the chosen few in Wall Street's lair?
Possibility #1: Erck Needed a Diversion From a Lousy Pair of Twos
It's entirely possible that the whole event is nothing more than a formality concocted as a ruse to divert attention away from a troubling financial report that divulged a pair of gnarly statistics. Losses doubled to $12.6M and revenues declined by half to $3.5M.
Perhaps the worst news of all to blur with a clever dose of fanfare was the redo of the pandemic phase 1 trial with the new Matrix-M adjuvant acquired in the all-stock acquisition of Isconova now complete.
Pity there isn't a potent enough vaccine available for depressed shareholders who began the trading day up 5% pre-market and ended the day down 9% post-Erck. Consequently, Novavax stock has been taking on water and is now listing ever so slightly to the down side.
Possibility #2: Erck Has Good News Regarding Material Changes To The Company But Wanted Them To Be Heard
Telling your girlfriend about your terrific vision for a future together ought not to take place on the day you get demoted from your job and are now earning half of last years salary. She'll probably fixate on the loss and won't really hear anything else you say.
So a separate venue on a different day makes sense. I'm sure that falling from his lips these material facts will be more impactful than they are streaming from my keyboard but here they are anyway.
Novavax now has the most powerful adjuvant in the world to marry with the most powerful antigens.
Novavax is now a hybrid developmental and commercial stage biotechnology company selling animal vaccines and vaccine adjuvant for both human and animal formulations.
Novavax is now a European company which will allow it to sell vaccines without incurring onerous import duties and restrictions in that area of the world.
Stanley C Erck is now Isconova Chairman of the Board where he is joined by fellow Novavax Executive James F Young.
Novavax set the speed record for vaccine production in H7N9 from sequence construct to human vaccination in only 91 days.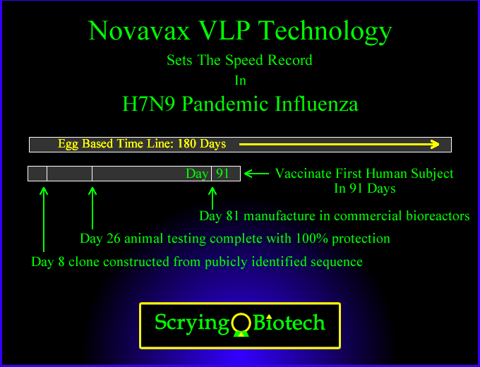 Click to enlarge
Possibility #3: The Biggest News Event In Company History Needs The Biggest Stage To Equal Its Magnitude
When this meeting is called to order on September 24th it will have the biggest audience as well. While there were five analysts present at the Q2 conference call there will be many more on Analyst Day and likely the best that each represented firm has to offer.
Consequently, this is my favorite motivational scenario. And though there may be more than a single storyline that could lift the stock higher, there's only one that could raise it above its 52-week peak in a single trading day.
Fast Track Status For RSV
Whether I'm right or wrong about this there's no disputing that September 24th places Novavax on a transaxial plane within its own history as a company. Whatever is discussed requires a separate stage to distinguish it from the routine of quarterly reports.
It was clear that the five analysts on hand to cover the Q2 presentation were told in advance what they could and could not talk about in lieu of this date. One of the topics notably off the table of discussion was fast track status for Novavax RSV-F vaccine.
Here is William Tanner of Lazard Capital Markets carefully beating his way around the proverbial bush:
I had one on RSV, Stan, and I don't know -- I don't want to ask you to jump the gun for your September Analyst Meeting but...
Good call William! You're the artful dodger. William's question had to do with the sustainability of immunogenicity in infants after the passing of such from the mother to the child through the placenta. This had already been asked and answered on previous conference calls.
There were in fact numerous RSV related questions all of them carefully, if not painfully worded. As a result, one was left to wonder why the most important inquiry was left unmade.
The market potential of Novavax's RSV-F vaccine was discussed in my last article, Is Novavax On The Fast Track To Profits? With nearly 300 thousand hospitalizations of infant and elderly persons costing over $2.5B annually and no prophylaxis currently available, RSV-F is a market winner in three important ways.
It qualifies for fast track status according the definition provided by the FDA.
Fast track is a process designed to facilitate the development, and expedite the review of drugs to treat serious conditions and fill an unmet medical need. The purpose is to get important new drugs to the patient earlier. Fast Track addresses a broad range of serious conditions.

Determining whether a condition is serious is a matter of judgment, but generally is based on whether the drug will have an impact on such factors as survival, day-to-day functioning, or the likelihood that the condition, if left untreated, will progress from a less severe condition to a more serious one.
2. It will have the market all to itself as there are no competing products presently approved or even on the horizon.
3. The best commercial comparison, Pfizer's Prevnar 13 which is marketed to the same infant and elderly populations pulled in $3.7B in 2012 annual revenues.
Though RSV-F profits wouldn't begin accruing until 2016 at the earliest, today's market cap of $354M would be a woeful memory to sideline dwellers. A fair market-cap in anticipation of that eventuality would likely be twice that number or more.
An announcement of this magnitude in New York city on September 24th would almost certainly propel the stock to market day double digit gains. No investor or trader would want to miss out on that kind of action.
Analyst Day Has Made Novavax A Very Interesting Catalyst Play
September 24th now functions in a very similar manner to a trial completion date on the FDA calendar. Novavax has always been a fairly predictable trading vehicle and this date lends a little more predictability to the equation.
For instance, it was to be expected that the stock would retreat 10 or more percentage points after the disappointing earnings call. What's been mildly surprising is the sooner than expected leveling from the decline. Furthermore, while I might expect more erosion under normal circumstances, we don't have normality now.
To the contrary, we have word from the president that more details regarding the Analyst Call will be forthcoming over the next several weeks. Should any of those relate to or hint at RSV fast track, all bets for a gradual rise in the price are off.
A Lesser Possibility Worthy of Muted Celebration
When Edward Tenthoff of Piper Jaffray scored the investigational point of the night by eliciting a confession from Erck that inclusion of the Matrix-M in Novavax' H5N1 candidate would require a redo of phase 1 you could feel the disappointment.
Erck's response, however, included a notable quirk that caught my attention. See if you can pick it up.
And so what we have to do is incorporate it (Matrix-M) into our plans for our vaccine trials. The first one will be with our pandemic flu program and it will require that we do a new equivalent of the Phase I study with Matrix-M to demonstrate that it does what we think it's going to do. Does it hold up anything? It means that the -- it holds it up in the respect that we won't be going directly into a Phase II program on pandemic but because of the marriage of the pandemic and seasonal clinical development plans and the timeline for getting the approval for all of our flu programs, I don't think it will have any impact on the final licensure of our seasonal and pandemic flu program.
The fact is, pandemic and seasonal influenza programs have never been married to the same time line. The latter has always been one step ahead of the former as indicated in the graphic below.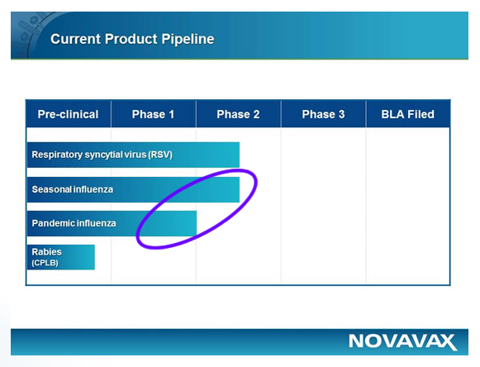 Click to enlarge
Now take a look at Isconova's pipeline of vaccine candidates and note that Matrix-M has already passed phase one in avian and seasonal programs.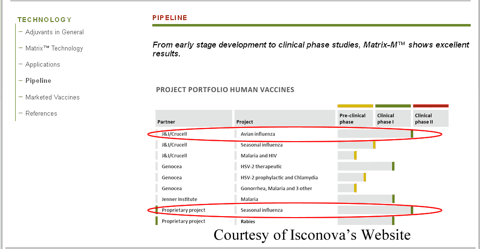 Click to enlargeWith four clinical phase 1 trials already on the books it's entirely possible that the FDA through Barda has given sanction to advancement directly into phase III for both flu programs upon successful completion of a single phase I reboot of the pandemic influenza trial. That would be good news indeed.
In Conclusion
I've had a hand on the pulse of this company for the past eight months or so. In the aftermath of my first article former CFO Fred Driscoll invited me to meet with Stan and tour the Novavax facilities. Though honored, I had to decline.
The point is, I've learned a bit about Stanley Erck through listening to him present on six separate occasions. He's a simple and decent man who has a hard time concealing his enthusiasm. If I've read him wrong which is entirely possible, then his pair of deuces wins this hand on a wild card bluff.
If on the other hand I've read him right, then I'll back that pair of deuces and profit a few thousand more.
Disclosure: I am long NVAX. I wrote this article myself, and it expresses my own opinions. I am not receiving compensation for it (other than from Seeking Alpha). I have no business relationship with any company whose stock is mentioned in this article.
Additional disclosure: The purpose of my article is to provide information the accuracy of which is as good as the public sources it was derived from. If providing my opinions on matters related to any investment has entertained you then I have accomplished my only goal. Do not act on anything I have written. Rather, do your own due diligence and consult an investment professional before making any investment decision. Acting on what any one writer, including me has imparted to you is foolish at best. I have no better access to resources or gift of opinion formulation than you do. Do not act on anything I have written without doing your own research. There are a myriad of things which can happen in lieu of any forward looking statement I have made. Any stock featured in an article I compose is subject to all manner of influences which can change its value in dramatic fashion upwards or downwards. Invest at your own risk and attain the reward your efforts have wrought.