On September 22, we used AFG's equity research and investment tools to Identify Large Cap investment opportunities. Today, we will address Small Cap stocks for those investors who benchmark themselves against the Russell 2000.
Using its proprietary valuation metric, The Applied Finance Group has a measured approach for identifying companies that will under or over perform their chosen benchmarks. AFG's analysis spans across growth and value universes, as well as all sectors, industries, and market caps; in all, nearly 4,500 domestic companies are covered and over 17,000 companies globally.
AFG's Buy/Sell List is the ideal place to start looking for investment opportunities, and it has proven to create a significant spread in performance between companies that come up as either buys or sells. The result is a target group of stocks that can help you outperform as well as identify potential torpedoes to avoid in your portfolios. Focusing on these companies gives investors an opportunity to build a quicker and more efficient process based on AFG's screening criteria.
Below is a list of attractive and unattractive companies in the Russell 2000 from each major sector (as defined by AFG).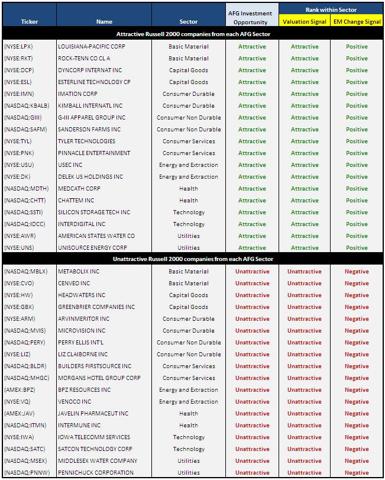 Source: EconomicMargin.com

AFG's Valuation Metric – Measures the percent to target (deviation between a stock's current trading price and its AFG current default target price). To derive the intrinsic value of a firm, AFG uses its proprietary Valuation Model (modified discounted cash flow model).

Economic Margin - A corporate performance measurement that addresses the gaps in GAAP, eliminating distortions caused by accounting policies to measure what a company is truly earning above or below their cost of capital.

Management Quality – Assesses management's ability to make wealth creating decisions.