The release of best-selling Da Vinci Code author Dan Brown's new novel, The Lost Symbol, seemed to herald the emergence of the electronic reading device (e-reader) as the next mass market, must-have gizmo, as the media trumpeted the news that Amazon.com Inc.'s (NASDAQ:AMZN) first-day digital sales of the novel outsold paper copies. However, publishing pundits quickly refuted the assertion, calling into question how Amazon was going to account for pre-orders, which had made the hardcover version one of Amazon's top-selling books for 156 days. While the actual number of e-book sales of The Lost Symbol is still undergoing vigorous debate–the Associated Press reported that it only represents 5 percent of sales–it seems clear that e-readers and e-books are coming into vogue.
With all that said, the question arises as to which company is ultimately going to become the e-reader sales leader? Among those currently in contention are Amazon, with its "Kindle;" Sony (NYSE:SNE), with at least five versions of its "Reader;" Samsung (OTC:SSNLF), with its "Papyrus;" Fujitsu (OTCPK:FJTSY), with its "FLEPia;" Jinke Electronics, with its "HanLin eBook;" Interead, with its "Cool-er;" and IRex Technologies (a spinoff from Royal Philips Electronics (NYSE:PHG)), with its "Digital Reader 1000" and "iLiad."
Waiting in the wings, and likely to enter the fray with a big bang is Apple Inc. (OTC:APPL), with its highly anticipated, yet features-unknown, "iTablet," which is expected to be released early in 2010. Microsoft (NASDAQ:MSFT) is also starting to create buzz with its "Courier," which is currently in "late prototype stage of development." Others that may join the fray include Google (NASDAQ:GOOG), Nokia (NYSE:NOK), Hewlett Packard Co. (NYSE:HPQ), Palm Inc. (PALM), LG Electronics (OTC:LGERF), Panasonic (PC), and probably just about any other company that already produces handheld electronic communications and/or entertainment devices.
Despite the company's refusal to release sales numbers, Amazon's Kindle appears to be the sales leader in the U.S.; iRex reportedly holds the lead in Europe; and Sony is probably leading in the rest of the world absent China, which is under the dominance of Jinke. Amazon is lagging in its efforts to expand into Europe due to problems reaching agreements with suitable Wi-Fi and/or cellular operators. Sony is pushing hard in the U.S. market, promoting its readers through a partnership with Google that allows Sony Readers to download 500,000 titles free. IRex, meanwhile, recently announced plans to enter the U.S. market, having reached agreements with Verizon Communications Inc. (NYSE:VZ) for wireless downloading and with Best Buy Company Inc. (NYSE:BBY) for device sales.
According to analysts and market researchers, about 1 million e-readers were sold in the U.S. in 2008. Predictions for 2009 sales are vary widely, ranging from 2 million to 5.5 million devices, with some on the lower end of the scale asserting that the e-reader will not become a mass market device unless the price drops down to about $100. E-readers currently sell for between $250 to more than $1,000, depending on the brand, model and country of sale.
Emergence of the ultimate market leader will be dependent on numerous factors, such as price, features, style, type of download access (wireless versus Wi-Fi), and the extent of access to digital content (Amazon is currently claiming about 250,000 books, while Sony claims about 1 million, with half of these offered free). Demographics will also play a role, much as it did with Apple's IPod, sales of which were primarily driven by Generations X and Y.
While we are not aware of any marketing studies that have determined the composition of the average e-reader customer, Kindle Culture last summer performed an informal demographic analysis of 1,387 Kindle customers by examining 70 pages of Amazon's Kindle chat forum thread on the "Average Kindle Owner's Age." The results, while not in compliance with survey methodology standards and thus not statistically significant, were surprising in that they suggested that the Kindle may be the first modern technology device to receive early adoption by an older age bracket rather than by those 35 and under.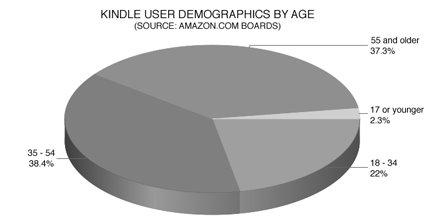 Source: Kindle Culture

In fact, the largest grouping of Kindle owners by decade were those in their 50s at 21.2 percent, followed by those in their 40s, 19.1 percent, and then by those in their 60s, with 18.3 percent. Only 24.3 percent of the customers were ages 34 and under. This suggests that Kindle may be making big strides with Baby Boomers, what of the younger generations?
We believe that Apple will be in an excellent position to capture these younger customers due to its overwhelming success in capturing this market with their IPod and other products. Not only is Apple a Generation Y (and to some extent Gen. X) brand of choice, but many of these younger potential e-readers will be disdainful of Amazon's proprietary, or "closed," format.
Of course, Apple's success with the iTablet will ultimately rely on its price and what sets it apart from the rest of the field. Apple is doing an excellent job keeping details on the product's features secret, but all indications are that, unlike other e-readers, it will be a multi-purpose machine. And this will put it into a more direct and separate competition with Microsoft's Courier, which is also projected to be a multi-purpose e-reader. "Are you a Mac or PC" will likely determine which customer goes for which of these two devices.
Another factor that could generate a sales leader, or make or break the other companies' devices is the U.S. textbook market. Whichever company, or companies, can get an edge into this market is looking at more than 60 million potential customers.
There is, of course, the possibility that the e-reader market gets split, with Apple getting the bulk of the younger generations, and the older generations being split between Amazon, Sony, Microsoft and the others. Whatever the case, the e-reader war is on, and Apple CEO Steve Jobs recently took a shot at Amazon's Kindle: "I'm sure there will always be dedicated devices, and they may have a few advantages in doing just one thing," Jobs said during a Sept. 9 release of Apple's updated iPod. "But I think the general-purpose devices will win the day because I think people just probably aren't willing to pay for a dedicated device. You notice Amazon never says how much they sell; usually if they sell a lot of something, you want to tell everybody."
Disclosure: No Positions, but AAPL is Featured in Our Model Portfolio.