Genpact Limited (NYSE:G) reported its second quarter earnings recently showing increased revenue, growth in operating profit margin and other positive profitability ratios. Improvements in company's performance for the last three quarters is reflected in its market price which increased by 50% in last nine months. In spite of all these improvements, the company seems to operate below industry average when it comes to performance indicators. The CEO of the company expects that more improvements are to follow in the next two quarters.
Genpact Limited operates in the Business Process Operations Management industry competing with Accenture, Infosys and IBM. The company provides research, analytics, risk management, application services for enterprise, procurement, supply chain management and information technology services in many countries across the world. After its commencement of business in 1997, Genpact Limited acquired five companies in India, UK and the USA to support its business growth in last two years.

Figures are in Million US$
Source: Google Finance
As per 2Q13 release, the company experienced growth in revenue of 14.40% compared to 2Q12 and 6.14% compared to 1Q13. The company also experienced growth in net profit by 35.67% compared to. According to their President, Genpact Limited continued its success through strong growth in revenues and operating income in the 2Q12. The table presented below shows the company's performance for the last four quarters.

Though the company is experiencing a slight declining trend in its gross profit margin due to intense competition in the industry, it has managed to maintain uptrend in its operating profit margin through its unique business strategies. As a result, the company managed to have uptrend in the profit figure and generate higher return for its shareholders. The Gross Profit Margin of the company was 37.79% as of 2Q13 compared to 39.48% as of 3Q12. Operating Profit Margin increased to 14.58% in the 2Q13 from 14.24% in the 3Q12. Growth in operating profit margin resulted into growth in Return on Asset and Return on Equity. Mr. Tyagarajan, the President and CEO of Genpact Limited, looks forward to larger transformative deals with a significant uptick, to continue healthy and sustainable growth rate.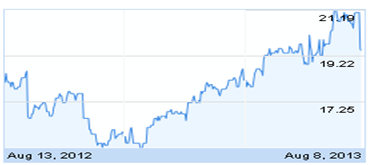 The price chart of the company shows how the market has reacted to the recent improving performance of the company. In the last nine months, share price of Genpact increased by 50% and it is driven by growth rate of the parameters of the company's performance.

Source: Google Finance as on the latest quarterly performance
The industry in which Genpact operates is led by giants like IBM and Infosys. While competing with them, Genpact Limited continued to show sustainable growth rates QoQ, though Genpact Limited is still performing below the industry average. The company recorded Gross Profit Margin of 38%, Operating Profit Margin of 15%, Return on Asset of 2% and Return on Equity 5% while the industry average was 44%, 17%, 4% and 7% as of the latest quarter. This comparison shows there are still places for improvement and the company is working on those improvements. The price earning ratio shows Genpact has the price earning ratio of 17.88 (highest among the four) and IBM has 13.39 (lowest among the four) having industry average of 14.20.
Genpact Limited has reported that it expects the total revenue for 2013 to be $2.15 to 2.20 billion. This means the company is expecting another $1.14 billion as revenue in the second half of year, having $1.04 in the first half with a growth of 9%. In addition to this, operating profit margin is expected to grow in a range of 15.8 to 16.3% from existing 14.58%. This additional growth in operating profit with the expected growth in sales will improve company's profitability ratios and maximize shareholders wealth in near future.
The company has a high price to earnings ratio compared to the industry average and also high efficiency and profitability ratios. As the company is expected to provide higher profitability in near future, the efficiency and profitability ratios will provide better picture with time. It will also reduce the gap between the average performances of the industry with company's performance.
Considering all the factors, I would recommend a "Buy". The industry is in a growth phase and the company seems to move along with the industry growth, the stock should be kept in watch list.
Disclosure: I have no positions in any stocks mentioned, and no plans to initiate any positions within the next 72 hours.
Business relationship disclosure: The article has been written by an Analyst at ResearchCows, ResearchCows is not receiving compensation for it (other than from Seeking Alpha). ResearchCows has no business relationship with any company whose stock is mentioned in this article. Any analysis presented herein is illustrative in nature, limited in scope, based on an incomplete set of information, and has limitations to its accuracy. The author recommends that potential and existing investors conduct thorough investment research of their own, including detailed review of the company's SEC filings, and consult a qualified investment advisor. The information upon which this material is based was obtained from sources believed to be reliable, but has not been independently verified. Therefore, the author cannot guarantee its accuracy. Any opinions or estimates constitute the author's best judgment as of the date of publication, and are subject to change without notice.