Overview
Amazon.com, Inc. (NASDAQ:AMZN) provides online retail shopping services which target four primary customer sets: consumers, sellers, enterprises, and content creators. Amazon has grown at a steady pace since its inception and, in 2011, defied gravity by jumping 55%.
Since that time, 2012 - 2013 (shown below) has witnessed continued growth; albeit at a much more moderate pace. Amazon.com, Inc. has maintained its steady uptrend with the current stock price trading above the 50-day moving average; despite posting a small loss in the June quarter.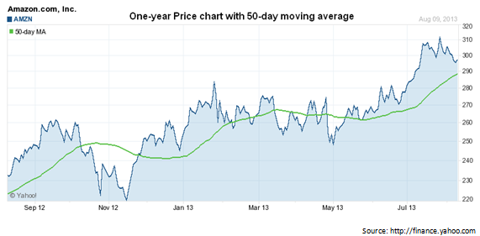 With Amazon shares increasing by nearly 250% over the past five years, many skeptical investors are now curious to know whether there is still growth potential left in the company. Current data would, indeed, indicate that some 'smart money' sources see continued growth potential in Amazon; with Institutional investors heavily invested in the company at a 69.62 % ownership share. Primarily cited for its growth potential and limited future volatility, financial institutions have been flocking to Amazon .
Financial Performance
In its quarterly release on July 25th, Amazon declared net sales increased by 22% for the second quarter, to $15.7 Billion, when compared to the second quarter of 2012. However, Amazon had a net loss of $7 million for the quarter (Q2 2012 saw a net income of $7M); resulting in a net loss of $.02/share.
The primary culprit? Heavy Total Operating Expenses. We can see, below, a comparison with one of its major competitors: eBay Inc. (NASDAQ:EBAY).

Measures to beef up long term profits
Amazon is certainly not sitting idly by in the hopes that these issues will correct themselves. It is currently pushing forward several initiatives which have the potential for dramatically reducing their costs; specifically:
· Building its distribution warehouses closer to customers to save millions of dollars in shipping costs.
· Using its own delivery trucks, cutting UPS and FedEx (NYSE:FDX) out of some parts of its fulfillment network.
These two initiatives alone should, despite steep up-front costs, fetch it hefty returns in the long term. However, this large capital investment, at the time when the company is sensitive to quarterly losses, has worried some investors.
Having said that, the above operating expense ratio is just one indicator impacting the company's performance. Despite this, other financial indicators, for a value stock, look very healthy - particularly a solid price-to-sales ratio of 2.02.
Analyst Recommendations, Insider Transactions, & Acquisitions
10 analysts, as reported by Yahoo Finance, recommend Amazon as a "Strong Buy", while 21 are encouraging a "buy" position, and 12 recommend a hold on Amazon.com, Inc. Notably, despite the losses incurred in Q2, 2013, zero analysts are recommending a "Sell".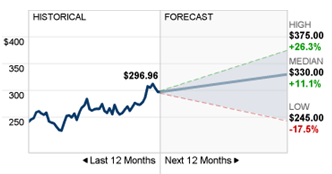 36 analysts, as reported by CNN Money, offer a median, 12-month price forecasts of $330 - over an 11% gain.
Specifically, Morgan Stanley has estimated a fair value for Amazon of $323 per share based on a sum of the parts (SOTP) analysis on the company's various business segments.
Despite this, some unconvinced minds are losing confidence in the direction of Amazon. The Q2 earnings were a setback; which, coupled with the fact that some high-level executives have recently sold a large amount of shares, has raised some eyebrows. However, the real catalyst has been CEO Mr. Jeff Bezos' declaration to buy "the Washington Post" which has been viewed with some skepticism. The concern emerges, surprisingly, less from the fact that the Washington Post is in a struggling industry; rather, the toll on Mr. Bezos' time will likely be significant.
Emerging Competition
Some emerging companies, like Overstock.com, have begun taking a chunk out of Amazon's market share. Since 1999, Amazon has been selling books, eventually moving into everything from rugs to name-brand women's apparel. However, Overstock's recent decision to discount books displayed on Amazon by 10% has cut at the heart of their business. Amazon's long time competitor, Ebay, has also taken some market share as cost conscious customers continue to focus on finding the cheapest alternative. Meanwhile, Craigslist, along with some 'daily deal' sites, have also siphoned off some historic customers.
Conclusion
Despite the recent quarterly result and some increasing competition, in my opinion, Amazon.com, Inc. continues to hold a strong competitive advantage. Carefully thought out strategies, such as the Amazon Prime offering, will help continue to build a sustainable competitive edge. Meanwhile, focusing on their core business by developing a distribution network will address the immediate concern of bringing costs under control. So, while short-term traders will shy away from the stock, long-term investors have an opportunity to snatch up a quality company at a discounted price.
Disclosure: I have no positions in any stocks mentioned, and no plans to initiate any positions within the next 72 hours. I wrote this article myself, and it expresses my own opinions. I am not receiving compensation for it (other than from Seeking Alpha). I have no business relationship with any company whose stock is mentioned in this article.