Before I discuss Nuance Communication's (NASDAQ:NUAN) Q3, I would be remiss not to mention that corporate raider Carl Icahn recently increased his stake in the company to 16%. According to Investopedia, the definition of a Corporate Raider is:
An investor who buys a large number of shares in a corporation whose assets appear to be undervalued. The large share purchase would give the corporate raider significant voting rights, which could then be used to push changes in the company's leadership and management. This would increase share value and thus generate a massive return for the raider.
I can't speak for Mr. Icahn's intentions as to why he is taking such a large position in Nuance. For all I know it may be a passive investment like his stake in Netflix (NASDAQ:NFLX), but one thing I can tell you is that he probably sees opportunity here. News just broke that Icahn is taking a stake in Apple (NASDAQ:AAPL), and Nuance is the engine behind Apple's Siri technology. Perhaps there will be a shotgun wedding for the two companies somewhere down the line. In any event, I would think it would be positive for Nuance in maintaining a large and influential client like Apple.
Nevertheless, Nuance is going through some growing pains from the transition from perpetual licenses to cloud-based delivery. According to the company's prepared statements (.pdf file) for Q3:
We are transitioning to a higher concentration of recurring revenues associated with on-demand, transactional, term-based or subscription pricing models. This benefits the business in the medium and long term by increasing recurring revenues and predictability. However, it has a negative effect on near-term revenue and margins.
Negative effect indeed. Nuance projects Q4 sales of $470 million to $500 million. That's below consensus of $520 million. Blended gross margins for fiscal 2013 will decline by between 450 and 500 basis points. As CFO Tom Beaudoin states in the Q&A session: "I think you should model margin improvement as being modest next year."
If you examine the chart below carefully, you can see where all of the organic revenue growth came to a standstill in 2013.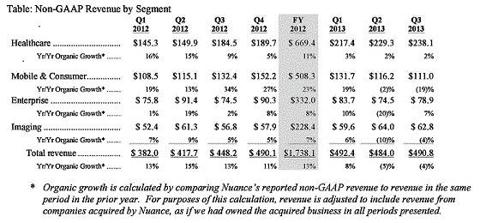 click to enlarge
This is a direct correlation from two phenomena - the shift away from desktops to mobile, and the move to the cloud. The company isn't giving guidance for 2014 yet, but Yahoo Finance shows a consensus sales growth of low single digits, $1.96 billion for this year to $2.09 billion for 2014. It's putting a lot of pressure on shares.
Earnings are another story. Nuance expects Q4 earnings per share to be in the range of $.24-$.32. They predict Fiscal Year 2013 earnings to be in the range of $1.27-$1.35. They had previously forecast earnings of $1.33-$1.45. Some of this decrease could be from litigation expenses. CEO Paul Ricci explains:
Throughout this year, fiscal '13 we've had a larger amount of litigation and patented related expenses than anticipated, and that's been accentuated and particularly true in the second half of this year as specific litigations have moved to more critical phases.
Another reason for the decline in revenue and earnings for Q4 is that some of their mobile customers are delaying contracts. Clients want lower prices, and Nuance is not giving discounts to their superior technology. Mr. Ricci believes in delaying deals for the sake of price discipline. Sales from their mobile segment constitutes roughly 30% of revenues. Revenue from that division dropped 14% in Q3.
The company has an aggressive buyback plan. As of July 31, 2013, they have spent $174.6 million out of their authorized $500 repurchase plan, repurchasing 9.283 million shares. They expect to continue to execute their repurchase plan tactically. Their plans incorporate a full-year, weighted share count of 322.5 million diluted shares.
In a bull market, the equity trades at $19.50, near the low point of their 52 week $18-$26 range. In my opinion, the stock would have traded lower after poor guidance for Q4, but the anticipation of Mr. Icahn's potential fiscal actions have buoyed the stock. Nuance is primarily a domestic company with 72% of their revenue coming from the United States. There's a big opportunity for overseas expansion. However, the company has a history of being unprofitable, although the last few years have been in the black.
I'm long the stock because I use Nuance products, and believe they will remain the leader in voice-recognition technology for the foreseeable future. Although earnings are under pressure, the going rate of $19.50 seems reasonable of you utilize a price/sales metric of 3.38. Price/book is 2.2. Those are low figures for a technology company. Although I didn't buy the stock because of Icahn's stake, he's there nonetheless. I expect him to raise some dust at the next shareholder meeting. After all, he's an "activist shareholder".
Disclosure: I am long NUAN. I wrote this article myself, and it expresses my own opinions. I am not receiving compensation for it. I have no business relationship with any company whose stock is mentioned in this article.