Hewlett-Packard (NYSE: HPQ) is up 88% YTD, but it will not go much higher. In fact, a recent Wall Street Journal post explains that HP will face headwinds; its upward trend will fall. HP's growth will be lost as lingering challenges emerge and steal its market share.
1. Numbers can be deceiving
HP's performance is hard to ignore. So far this year, its share price has grown over four-times over the Dow Jones Composite Index.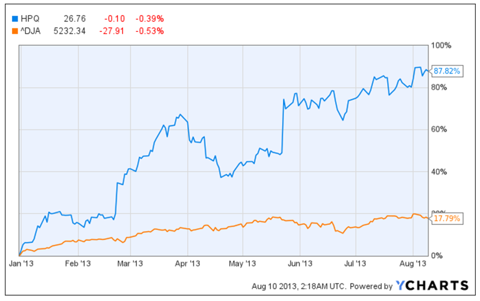 Other financial figures tell a different story, though. First, consider revenue. So far this year, total revenue and revenue per share are down 2.7% and 2.2% respectively. In fiscal 2012, HP reported a 10.5% net loss of $12.65 billion. The growth picture is not much better as revenue growth is down 10.1% on the quarter. HP is trading near 7-times earnings but only projects EPS of 1.7% over the next 5 years. The stock's price is certainly impressive, but given this information, it is not a buy at current levels.
The stock has done well because of its cost cutting measures. For example, since the start of the share's price climb, HP has cut quarterly expenses by almost 30%.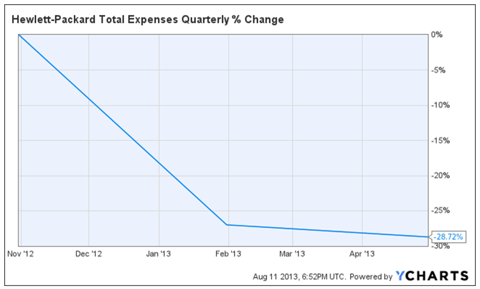 However, its competition is slashing prices to steal market share. So, HP's cost cutting merely protects its bottom line. It is trying to balance the lost market share with shrinking profit margins. But, HP cannot maintain this strategy forever.
2. Failure to innovate is reason for concern
Consumer reports show that personal computers are losing market share to mobile devices such as tablets and smart phones. HP is irrelevant in mobile phones and is stumbling with its tablets. Its PC segment is down 20% YOY, as total unit sales fell 21% - 18% in desktop sales and 24% in notebook sales. Its PC market share sits at 15%. HP's PC sales are struggling with no real indication of turnaround.
Moving forward, HP is looking to its server segment and technology-services to make up for its losses from PC sales. But, even these segments are declining. CEO Meg Whitman is hopeful that HP can begin to grow in fiscal 2014. She plans to eliminate 29,000 jobs through the end of fiscal 2014 to save $3.5 billion and temporarily boost profits. However, analysts project a 1% drop to $111 billion in sales.
3. Rivalries to be reckoned with
HP sees heavy competition in its major product markets. As discussed, PC sales are trending downward, and as a result, HP is looking to its server segment to be a key player for the future. It is focusing on this segment because of the large revenue stream it provides for the company. The problem is that even the server market segment is shrinking.
The worldwide server market saw revenue declines 5 times in the last 6 quarters totaling 7.7% as of Q1 YOY. Unit shipments fell 3.9% YOY as well.
International Business Machines (NYSE: IBM) is a close second behind HP for server factory revenues-IBM at 25.5% and HP at 26.9%. But, in 2012, HP's server segment made $20.5 billion, about 21% of the firm's net revenue. However, IBM's servers only generated $12 billion, or 11% of total revenue. In other words, IBM is not as reliant on its server segment and can adjust to the shrinking market.
In fact, there were discussions that Lenovo (OTC: OTCPK:LNVGY) might acquire IBM's low-end server business, a $5.6 billion annual revenue stream. The conversation broke down over negotiations on a price. If the deal went through, Lenovo would become the 3rd largest server provider in the US. But, Lenovo is not giving up.
Once market volatility settles, Lenovo plans to issue $1 to $2 billion in bonds to have extra cash so it can move forward in an IBM deal. Interestingly, though, Lenovo is not pressed for cash; it is sitting on $1.6 billion. Basically, Lenovo overtook HP earlier this year to become a leader in PC sales, and though HP quickly recovered, HP is not the gorilla in the room that it once was. And, if a deal goes through, HP's future may become bleaker.
HP's bigger rival is Dell (NASDAQ: DELL). If the looming discussions come true, and Michael Dell and Silver Lake take Dell private, then Dell can run deficits to regain market share. In other words, a privatized Dell can cut prices and run at a net loss to steal customers from HP without seeking shareholder approval.
The most recent deal for Michael Dell and Silver Lake is $13.75 per share. Billionaire Carl Icahn, Dell, and Silver Lake's opposition hold an 8.9% holding in Dell, the second largest behind Michael Dell. Icahn is leading shareholders in preventing the buyout by having the company leverage debt to repurchase outstanding shares. It is in HP's interest that Icahn's efforts prevail so a privatized Dell cannot crater earnings further to steal market share from HP.
4. Foreign competition is a growing nuisance
HP benefited from a weakened Japanese yen, which has weakened 20% against the dollar over the past 6 months. This had a positive impact on HP's printing business, where it purchases toner cartridges from Japan's Canon to then resell. With the yen down roughly 15% this year, operating margins worldwide for HP's printing business increased 2.6% from 13.2% one year ago. Even still, total sales were down 1%.
With competing printing companies in Japan, a weaker yen allows cheaper equipment costs. HP will be undercut in printer sales as Japanese rivals run lower margins. HP's Finance Chief Cathie Lesjak admits the rise in competition when asked about foreign currency hedging in the Q2 earnings call. But, Lesjak is optimistic overall as HP still projects a finance boost because of the weakened yen. She states that the benefits of the yen depreciation were not seen in Q2, and the benefits are skewed towards Q4. Regardless, the foreign competition is not working in HP's favor.
Sell high, make a killing
HP may be outperforming the Dow Jones right now, but its share price is overheated. Its revenue is declining 10% annually, and it is losing market share. With rivals like Dell, IBM, Lenovo, and Japanese printing companies, HP's margins will fall as it tries to protect its bottom line. With its share price up 88% on the year, now is a good time to sell.
Disclosure: I have no positions in any stocks mentioned, and no plans to initiate any positions within the next 72 hours. I wrote this article myself, and it expresses my own opinions. I am not receiving compensation for it (other than from Seeking Alpha). I have no business relationship with any company whose stock is mentioned in this article.
Additional disclosure: Article by Andrew Deckert.