Recently, shares of daily deal site Groupon (NASDAQ:GRPN) soared after the company's second quarter results. The company reported in-line earnings and a slight beat on revenues, sending shares massively higher to their best levels since June 2012. Groupon's stock appears back from the dead, but a bunch of numbers still worry me at this point. Today, I'll look at the potential short case for Groupon.
Revenue growth sluggish:
As I pointed out in a recent social media article, Groupon was the laggard in terms of revenue growth. Of the seven names I looked at, Groupon's expected 2013 revenue growth was the only one below 10%. It was also the name expected to show less than 40% growth. 2014 revenue growth numbers weren't much better, and Groupon is definitely the name growing the slowest. Groupon's second quarter revenue growth was just 7%, well below many of the other names in this space.
But it isn't a slow growth company. Groupon is also announcing the smallest revenue beats. Just look at the table below, showing names like Facebook (NASDAQ:FB), LinkedIn (NYSE:LNKD), Yelp (NYSE:YELP), and Zillow (NASDAQ:Z). The table shows each name's most recent revenue number and the beat of estimates.

So Groupon had the smallest revenue growth figure and also the smallest beat. Investors also seemed to shrug off very weak Q3 revenue guidance. The company guided to revenues of $585 million to $635 million. That's a midpoint of $610 million, and estimates were for almost $622 million. Estimates have come down by about $6 million already, currently standing at $616.77 million.
As I'll show later, Groupon's 2014 revenue estimate has come up since my social media article, but its 2013 and 2014 non-GAAP earnings per share numbers have come down. That's in contrast to what we are seeing with the other social media names. Here's some of the changes we've seen to others since:
Facebook has seen its 2013 revenue estimate increased from $7.28 billion to $7.31 billion. 2014 revenue estimate upped from $9.43 billion to $9.50 billion. 2014 non-GAAP earnings per share estimate increased by a penny to $0.95.
LinkedIn 2013 revenue forecast increased from $1.50 billion to $1.51 billion, and 2014 forecast up to $2.14 billion from $2.12 billion. 2013 non-GAAP earnings per share forecast increased from $1.51 to $1.55, and 2014 from $2.11 to $2.19.
Zillow 2013 revenue forecast increased from $183.31 million to $188.97 million, and 2014 forecast from $251.73 million to $261.77 million.
Yelp 2013 revenue forecast increased from $224.31 million to $225.10 million, and 2014 from $327.83 million to $329.43 million. GAAP earnings per share estimates also increased by a penny each for 2013 and 2014 years.
So with analysts increasing all of their estimates on these names, why would I favor Groupon, whose earnings estimates have been cut? It just shows how there may be much better options out there.
Gross margin declines:
While gross margins did rise by 20 basis points sequentially, they were down by 1300 basis points year over year. The huge fall was due to a shift of more direct sales, and that is a problem. In the latest quarter, gross margins on direct sales were just 11.1%. Gross margins on 3rd party and other sales were 86.7%. Overall, gross margins stand at 63.2%, meaning there is a substantial amount of room to the downside if the company generates more direct sales. What happens if gross margins decline to 50% overall, or even lower, over the next couple of years? Groupon will need a lot of sales growth to offset the fall in gross margins, and are you confident that they can do that given what I've already shown above?
Balance sheet update / buyback too late?
Along with the earnings report, Groupon announced a $300 million stock buyback. The buyback news probably had a lot to do with the stock's giant rally. On paper, the buyback makes sense given the company's balance sheet and financial flexibility. The following table shows Groupon's balance sheet at the end of Q2, compared to the end of 2012, and last year's Q2. Dollar values in thousands.

*Liabilities to Assets ratio.
**Closing price of day after that quarter's earnings were announced.
Now a couple of the financial ratios improved a little bit, but the cash balance is basically flat over the past year. What's my overall point here? Well, look at the share price. If Groupon starts buying back shares now, at more than $10 each, you are talking about less than 30 million shares bought back, less than 4.5% of the outstanding share count. Groupon obviously has had the financial flexibility to do this buyback for quite some time, so they appear a bit late to the party. Why didn't they make this announcement when shares were at $5.00, or better yet, around the 52-week low of $2.60? This buyback could have been a lot more powerful then, so I believe the company has failed investors in this respect.
Does the valuation fit? Still losing money...
One important item I pointed out in the social media article was that many of these names are not as profitable as they seem. A lot of these names use both GAAP and non-GAAP numbers for earnings per share, with analysts using non-GAAP for their estimates. Groupon's non-GAAP numbers take out things like stock-based compensation and acquisition related costs.
So when you see that the company posted a three cent profit in Q1 and a two cent profit in Q2, you have to be careful. On a GAAP basis, Groupon actually lost $7.57 million in Q2, and $11.57 million for the first half of 2013. The company had a profit of $16.69 million in the first half of 2012, so net income is going the wrong way. So when you see that they are expected to show a 13 cent profit this year, you really need to know the details behind that.
So that gets me to the valuation argument. In the social media article, I showed how Groupon's valuation on a price to sales and price to earnings basis was the lowest of all the names. But I argued that the low valuation was due to the lowest growth profile of all the names, which you can't argue against. However, given the Q2 results, Q3 guidance, and stock price rally, the valuation has stretched a bit, and to me that does not fit. The table below shows how estimates and valuations have changed since my social media article.

So while analysts have increased their 2014 revenue estimates a little since, they've also taken down their profit forecast as well, and quite significantly for 2013. Look at what that has done to Groupon's valuation, especially for this year. The 2013 P/E has soared by a whopping 55.56%. Is the $300 million buyback worth that much more to you? Don't forget, these numbers are based on non-GAAP earnings per share figures. Groupon has lost money in the first half of 2013, so there may not be a GAAP P/E that actually exists, if analysts were to use GAAP numbers.
Additionally, on a GAAP basis, the buyback makes the earnings per share loss even greater. Why is that? Well, if the company is profitable, reducing the share count is a good idea, because less shares means more individual profit per share. But the reverse is true when you are losing money. Less shares means that each share has a larger loss. At current levels, the buyback probably won't do enough to move the needle, especially for a company whose profits and losses are in the pennies. But if Groupon were to start losing huge sums of money on a GAAP basis, the buyback could make the earnings per share picture look a lot worse.
What about short sellers?
With many of these social media names, one potential risk to the short case (risk to the upside) is the possibility of a short squeeze. In recent years, we've seen a lot of growth names been pushed much higher by short squeezes, including Netflix (NASDAQ:NFLX), Tesla (NASDAQ:TSLA), and Green Mountain Coffee Roasters (NASDAQ:GMCR), just to name a few.
But as I mentioned in the social media article above, Groupon did not have an extremely large short interest number. Less than 11% of the float was short, and that number came down at the latest update. A chart of recent short interest history for Groupon is below.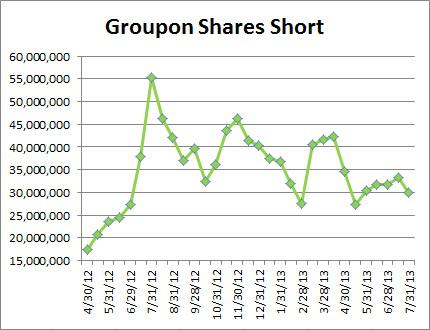 With Groupon trading almost 18 million shares a day, the days to cover ratio is under two, meaning it would take less than two full trading days for all shorts to cover. That's not a lot. Don't forget, we haven't gotten an update on short interest since the earnings report, and that will come in a couple of weeks. Groupon traded more than 91 million shares the day after earnings, so it is possible that a lot of shorts have already covered. This could also mean that there is a lot of room for short interest to increase, especially if investors try to short this name after such a huge rally. That's another reason why shares could be pressured going forward.
Final Thoughts:
Groupon shares have rallied tremendously, but investors might want to think twice before jumping in. Q2 revenue growth was sluggish, and the name's small beat was only due to analysts taking down their forecast after weak guidance at the Q1 report. Q3 guidance was weak, and analysts are already taking down their numbers. The company did announce a $300 million buyback, but it seems a bit late. Groupon's valuation has stretched tremendously in recent weeks, and there may not be too many short positions left to cover. Groupon appears to be a decent short candidate here, but I wouldn't be against waiting for the next pop, maybe a re-test of the recent high. If you are looking for growth, there are many other social media names that offer a lot more of it. Groupon just does not stack up against the rest.
Disclosure: I have no positions in any stocks mentioned, but may initiate a short position in GRPN over the next 72 hours. I wrote this article myself, and it expresses my own opinions. I am not receiving compensation for it (other than from Seeking Alpha). I have no business relationship with any company whose stock is mentioned in this article.
Additional disclosure: Investors are always reminded that before making any investment, you should do your own proper due diligence on any name directly or indirectly mentioned in this article. Investors should also consider seeking advice from a broker or financial adviser before making any investment decisions. Any material in this article should be considered general information, and not relied on as a formal investment recommendation.