A fundamental shift has occurred in tech over the last decade. We used to be focused on processing power, ram and hard-drive size in relation to our devices. Instead of trying to work out which computer manufacturer would do best, it was easier to pick between Intel (NASDAQ:INTC), Advanced Micro (NYSE:AMD) or SanDisk (SNDK). Hence all the "Intel inside" ads.
The shift has obviously been to mobile. No arguments there. The smartphone wars are raging among Nokia NOK), Motorola/Google (NASDAQ:GOOG), Apple (NASDAQ:AAPL), Samsung (OTC:SSNLF) and many others, not forgetting the Microsoft (NASDAQ:MSFT) role. We all understand that switching to mobile has its limitations and as such are willing to put up with less physical storage and use the cloud instead. The one component which has become all important is Display. Previously, if you wanted better display you went and bought a bigger monitor. Screen size and quality became more important with laptops, but with the shift to smartphones, it is almost the entire device. With the advent of Google Glass, it is going to be even more significant.
In this new world, there is one manufacturer who stands head and shoulders above the rest. The new equivalent to Intel, Himax Technologies (NASDAQ:HIMX). I have been long for a very long time, in fact almost 400% up from my starting position at $1.58 and still holding.
Normally I would be taking my profits, but feel that would be like selling Apple in 2006 for $70 a share. So let's look at the reasons why.
Like Intel before them they are in almost everything. Here is a list of some of their customers: SONY (NYSE:SNE), Sharp (OTCPK:SHCAY), HP (NYSE:HPQ), Dell (NASDAQ:DELL), Acer, Samsung, Motorola, Google, Nokia, Logitech (NASDAQ:LOGI), Epson (OTCPK:SEKEY), 3M (NYSE:MMM) and many, many more. Take a look at the company's most recent fact sheet released in May of this year.
As early as 2009 - 2010, they had recognized there would be a slowdown in high-end devices especially in China. By forming new partnership agreements with tier 1, tier 2 and white box manufacturers, Himax was able to grow into the slump. 2009 is important in many ways: Innolux, the world's third largest panel manufacturer, owns 15% of Himax. In 2009, Himax was extremely dependent on Innolux with 68% of revenues coming from that single customer. Take a look at the table below.
Himax Revenue by Customer
| | | |
| --- | --- | --- |
| Year | Innolux % | All Others % |
| 2009 | 68.8 | 31.2 |
| 2010 | 52.7 | 47.3 |
| 2011 | 40.8 | 59.2 |
| 2012 | 34.2 | 65.8 |
| 2013 est. | 22 | 78 |
This is why I was making such a big deal about their list of customers. Over the last four years, Himax has become so pervasive that I could challenge you to make it through 24hrs without coming into contact with a device they are in. Let's take a look at what those percentages mean in dollar terms.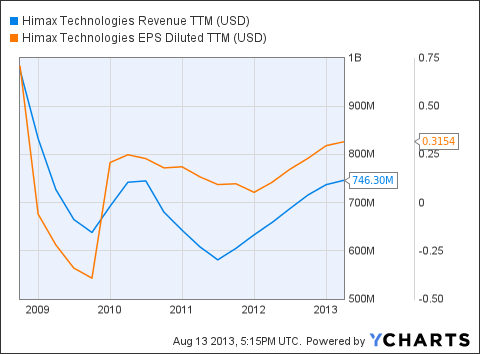 HIMX Revenue TTM data by YCharts
You will notice that EPS recovers much more sharply than revenue. I should also mention that they have initiated four (4) share buyback programs totaling ~$158 million since 2007 and repurchased a total of 46.5 million ADSs aggregately through March 31, 2013. Of the $25 million share buyback program announced in June 2011, Himax has purchased a total of $13.4 million, or approximately 9.5 million ADSs, through March 31, 2013.
As I said earlier, Himax has had a good run of late.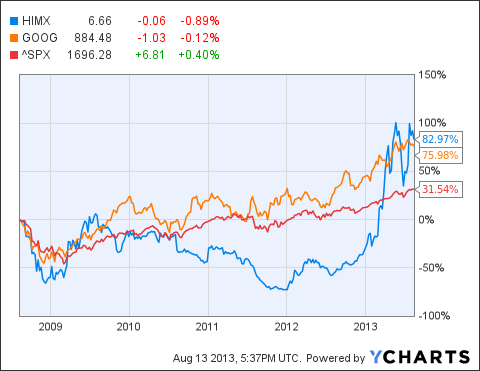 The current P/E of 21.1 is not too expensive, but earnings are expected to grow 0.43 for 2013 and 0.63 for 2014. Maintaining a P/E of 20 should leave shares at about $12 - $13, a double from here.
We can also see from the fact sheet that they have no debt, and consistently return excess earnings to shareholders, YOY increasing the dividend from $0.06 to $0.25 currently about 4% yield. It is important that they are not hoarding cash, it shows how confident management is about their path for the future. There really is no need to pay a dividend to attract investors when growth is more than adequate.
Yes, they have had great growth and have more potential. FY 2011 - 2012 EPS was up 240%. Q1 2013 Gross Margins rose to 25% higher than in 2012 and the highest since 2008. We find out Q2 on Thursday. We know that smartphones had a great quarter from companies that have already reported. Once again, look at the list of Himax customers. I expect a solid beat on Thursday and the growth will continue.
Not content with the success so far, they continued R&D on LCOS and MEMS Microdisplay. That brings us to the company listed as NDA (non disclosure agreement) on the fact sheet and we all now know it's Google. LCOS is the glass in Google Glass. Himax is expanding to meet the production and evolutionary demands of their customers. Once again they are doing that without accumulating debt. In this instance, they got Google to take a 6% share of the company, with an option to increase to 14% over the next year - something SA contributor Mark Gomes covered last month. What we did not learn was how much Google has paid, something else we hope to learn on Thursday.
And finally I like the chart this week. From a technical point of view, I see a cup handle forming as we head into earnings Thursday.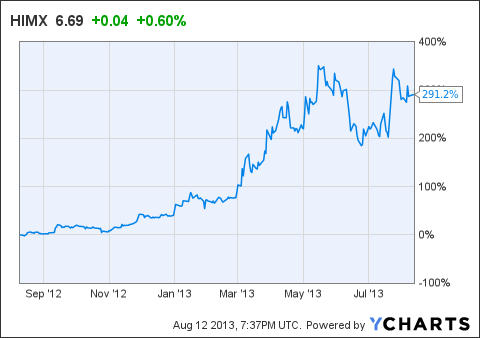 I would have liked to see it run back up towards an all-time high prior to announcing on Thursday, but not sure there is time. To wrap up, with Google and Innolux holding nearly 30% of the company and share buybacks in full swing, expanding margins, increased demand and real revenue growth, I anticipate Himax becoming a well-loved stock.
Negatives
As yet, I have been unable to find any which is my greatest cause for concern. I would really like to hear from anyone who has something negative to say.
Disclosure: I am long HIMX, MSFT. I wrote this article myself, and it expresses my own opinions. I am not receiving compensation for it (other than from Seeking Alpha). I have no business relationship with any company whose stock is mentioned in this article.