Mark Twain once said,
"Put all your eggs in one basket and then watch that basket"
I get asked about Twain's famously amusing words almost daily,
"If one could own just one REIT today, which one should you own?"
Of course my standard answer is always the same:
"I cannot recommend just one REIT, especially if you are a beginner. Regardless of your financial capabilities, I always suggest not putting all of your eggs in just one basket."
Conversely, I always recommend a diversified investment strategy based on the obvious: the bigger your average position size, always achieve an optimal risk-adjusted concentration level. As I explain to most, diversification is a risk management tool, which embodies the maxim "don't put all of your eggs in one basket." It's widely held within the investment world that company-specific risk can be reduced by holding somewhere between 15 - 50 stocks.
However, it's hard to own 15 REIT stocks when you are just getting started. It would be foolish to take 15% of your liquid investments and go out and purchase shares in 15 to 20 REITs today. If you did that, your flexibility would be substantially reduced and you would conceivably neglect concentration (or over-diversify) and mathematically that becomes difficult to outperform a benchmark or achieve a desired level of return.
Alternatively, I often suggest starting with 4 to 5 REIT positions. That way, you can build up to a desirable level of diversification. Also, by diversifying into various sector and sub-sector REIT securities, an investor can minimize industry-specific risk and also mitigate geographic risks relative to exposure in certain trade areas.
It's conclusive that diversification is good when it reduces risk without inhibiting returns and I think of the implications of over-diversification much along the same lines as Warren Buffett when he said:
"Risk can greatly be reduced by concentrating on only a few holdings."
I have never been a huge fan of REIT ETFs and, like Buffett, I believe in a more "modest" approach to diversification. Also, like Buffett, I stay within my "core of competence" (one reason I stay away from mortgage REITs) and because of my "boots on the ground" research and analysis, I believe that I can generate stable and sound results. Buffett and I think along these same lines, as the Oracle from Omaha explained:
"Obviously, every investor will make mistakes. But by confining himself to a relatively few, easy-to-understand cases, a reasonably intelligent, informed and diligent person can judge investment risks with a useful degree of accuracy."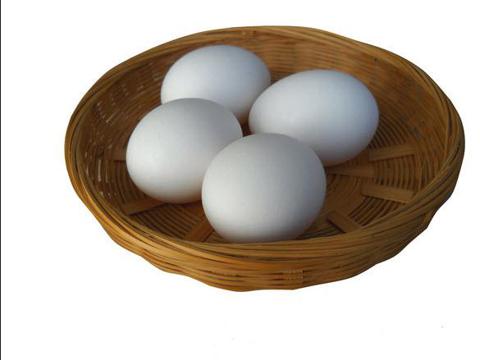 Here Is a Good Starter Kit for REIT 101 Investors
As some of you know, I write a monthly newsletter called The Intelligent REIT Investor. In this newsletter, I provide research and analysis on many U.S. equity REITs. Also, I recently started to include global REITs as I felt compelled to increase my research efforts so that my subscribers could gain access to over 25 countries around the world (that have adopted the REIT structure). More importantly, the REIT basket has grown in size from just around a dozen "eggs in one basket" to over 290 REITs today with an aggregate market cap of over $800 billion.
However, as referenced above, an investor has to start somewhere and he or she can't intelligently open up 15 to 20 REIT positions in one day. Alternatively, thanks in large part to the recent series of REIT pullbacks, I believe now is a good time to start building REIT positions as many companies are becoming valued at more favorable levels.
Now here are 5 "Starter Kit" REITs worth considering. I have listed these 5 REITs (below) and I consider all to be "fairly valued" (you could buy them today) and all have sustainable capital structures that will be able to generate above average free cash flow growth through internal and external activities.
Healthcare Trust of America (NYSE:HTA) has the ability to grow its earnings both internally and externally. The company is focused on continuing to grow its operating performance through improving leasing and operating efficiencies. This has started to pay off, with the company reporting its third consecutive quarter of 3.0%+ same-store growth in 2Q13.
From an external growth perspective, HTA has a proven track record of disciplined and prudent growth, more than doubling in size over the last 4 years. Growth of this kind is usually done through the acquisition of other companies or larger portfolio of assets. However, HTA has eschewed this tact, focusing its efforts on targeted acquisitions between $25 and $75 million in size. This approach has enabled HTA to be the largest acquirer of individual medical office buildings in the last 4 years (non-portfolio or company sales), while still ensuring it has a high quality portfolio that is currently producing strong same-store growth.
This growth is expected to continue for HTA. With this level of recent activity, HTA has the industry knowledge and relationships to continue to source deals. In addition, as a mid-cap REIT ($3.5 billion current enterprise value), HTA has the ability to continue to expand its asset base in a significant way (more than 10% per year), while still maintaining its targeted approach to acquisitions.
A strong balance sheet is critical to HTA's ability to expand going forward - and the outlook here is bright. HTA has been investment grade since 2011, and was recently placed on positive outlook by Moody's. It has very low leverage, with 6/30/13 leverage of 30.3% and 5.1x debt to EBITDA.
It also has significant amounts of liquidity - $120 million of cash and a completely undrawn $650 million revolving credit facility at the end of the quarter. On top of that, HTA has demonstrated strong access to the capital markets in 2013- raising over $100mm of equity through its at the market program (ATM) and $300mm in the public bond markets. This amount of dry powder positions HTA for continued growth in the future.
HTA shares are traded at $10.85 with a market capitalization of around $2.508 billion. The company's 1-year total return was 23.84% and the current dividend yield is 5.3%.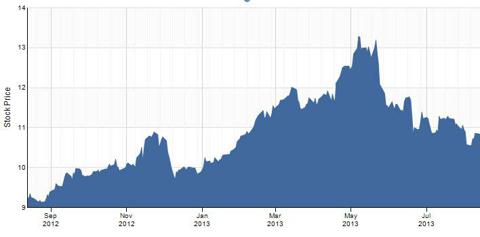 Click to enlarge
(Click to enlarge)
Last week I interviewed STAG Industrial's (NYSE:STAG) CEO, Ben Butcher, on The Street (see interview HERE). During the interview Butcher explained his company's extraordinary growth prospects - a target of 25% per year for the foreseeable future. STAG's growth is fueled in large part by external capital and that translates into an attractive payout of 90% of Adjusted Funds from Operations (or AFFO).
STAG currently has an undrawn revolver ($200 million capacity), partially undrawn 7-year facility ($50 million capacity) and an investment grade rating from Fitch (that will allow it to access longer-term debt through both private placement of bonds and public issuance of debt). Translation: Lots of capacity!
STAG has accessed the equity markets 6 times in the last 28 months - 4 common stock offerings and 2 preferred. STAG is also currently raising additional equity through its ATM program. The market has been quite receptive to its equity offerings to date.
STAG shares are trading at $20.35 with a market capitalization of around $862 million. The company's 1-year total return was 48.25% and the current dividend yield is 5.90%.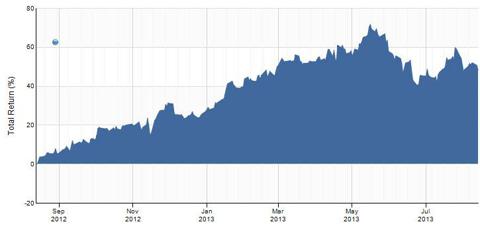 Click to enlarge
(Click to enlarge)
Retail Opportunity Investment Trust (NASDAQ:ROIC) is another REIT that I would include in the REIT "starter kit." Over 90 percent of ROIC's portfolio is unencumbered and that allows the company to maintain a strong and flexible balance sheet, while also reaching closer to the goal of achieving an investment grade rating.
ROIC's conservative low-leverage balance sheet (with no near-term debt maturities) has allowed the company to prudently fund new investments. Since Q2-11, ROIC has grown its square footage by around 41%, or from 2.9 million square feet to around 5.4 million square feet. ROIC also has one of the healthiest balance sheets in the shopping center sector with Net Debt to EBITDA of 6.1x and Fixed Charge Coverage of 4.1x.
ROIC shares are trading at $13.78 with a market capitalization of $990 million. The company's 1-year total return was 15.09% and the current dividend yield is 4.35%. As illustrated below, ROIC has demonstrated a track record for paying out increased dividends: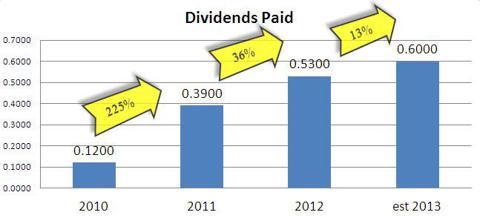 Click to enlarge
(Click to enlarge)
Earlier this week I wrote a detailed (4,000 word) article on American Realty Capital Properties (ARCP). As I explained in that article:
I like ARCP and clearly the "super-sized" growth will contribute to strong returns ahead. In fact, I intend to increase my allocation in my SALSA portfolio as I believe that ARCP will be one of the top performers in 2013. As I mentioned above, ARCT5 will soon be fully-invested and in all likelihood, ARCP will be the buyer and that should make Schorsch the "crowned king" of Big MacDaddy REIT-dom.

Also, when ARCP internalizes its management platform, there will be fewer conflicts of interest (with ARCP and other non-traded REITs affiliated with Schorsch) and that will give me more confidence that shareholder interests are fully-aligned.
ARCP shares are trading at $13.42 with a market capitalization of around $2.481 billion. As I alluded in the previous article, ARCP has announced acquisitions that should allow the Triple Net REIT to triple in size (over the next few months). ARCP has a very attractive dividend yield of 6.78%.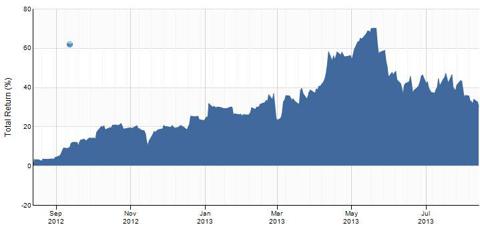 Click to enlarge
(Click to enlarge)
Finally, the fifth REIT that I recommend for the "starter kit" portfolio is Realty Income (NYSE:O). Perhaps, in my opinion, one of the most reliable REITs today and clearly, due to the dependability, Realty Income has become a favored REIT for many individual investor portfolios. Realty Income has a diverse portfolio of over 3,600 properties with 194 leading regional and national commercial enterprises. In a previous Seeking Alpha article, Realty Income's CEO, Tom Lewis, described his company's diversification strategy:
We are huge proponents of diversification as it spreads risk, thus serving as potential protection against the adverse conditions and events that are a regular part of the economy. It is particularly important for income oriented investors to obtain their income from diversified sources.
Realty Income shares are trading at $42.07 with a market capitalization of around $8.253 billion. The dividend yield is attractive at 5.18%; however, the most attractive thing about Realty Income as evidenced by the illustration below: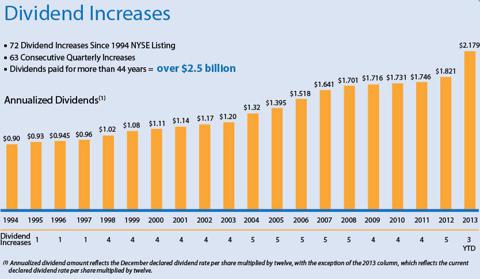 Click to enlarge
(Click to enlarge)
The Average Basket of REITs
These 5 REITs' average 1-year total return was 25.2%, compared with the S&P 500 of 23.39%.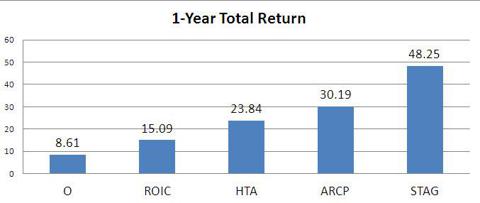 Click to enlarge
(Click to enlarge)
These 5 REITs' average dividend yield is 5.5%.

Click to enlarge
(Click to enlarge)
Sir John Templeton, a by-product of the Grahamian-era, continually taught that "wise investors must recognize that success is a process of continually seeking answers to new questions." Accordingly, Sir John was broadly recognized to be an extraordinary supporter of diversification as he often explained:
The only investors who shouldn't diversify are those who are right 100% of the time.
Disclosure: I am long O. I wrote this article myself, and it expresses my own opinions. I am not receiving compensation for it (other than from Seeking Alpha). I have no business relationship with any company whose stock is mentioned in this article.
Disclaimer: This article is intended to provide information to interested parties. As I have no knowledge of individual investor circumstances, goals, and/or portfolio concentration or diversification, readers are expected to complete their own due diligence before purchasing any stocks mentioned or recommended.