Why is it that we don't trust the TV weather man to accurately predict the weather tomorrow or next week, yet we are willing to swallow hook, line and sinker that we "know" that, 50 years from now, the earth's coastal cities are all going to be under water? Because someone who plays a climatologist on TV told us so?
I am not a climatologist – just a rational man who respects the empirical process. Before I accept opinion as fact, no matter how many eminent scientists like Penelope Cruz, Tim Robbins, and Harry Hamlin present it, I need to see the facts. Then I can make an informed investment decision and be able to intelligently guide my portfolio.
Fact 1: The earth is getting warmer. Or at least it has been. Climatologists disagree on whether it is still warming or whether (as the data now suggest) that it has been warming but may have reached a zenith and is now declining. Let's say it is still warming. As the ice core and sedimentary rock samples going back, respectively, some 400 thousand and 400 million years clearly show, "Inconvenient" as this Truth may be, there is little evidence this trend of warming and cooling is unique to this century, or the previous one, or the Industrial Age.
Fact 2: From 400 million years ago to the present: Paleoclimatologists study indicators from not hundreds, or thousands, of years ago, but from millions or hundreds of millions of years ago. In the graph below (click to enlarge), they studied sedimentary rock to determine CO2 levels for the past 500 million years. This may be inexact, but it's considerably more rigorous than listening to someone with a vested interest in biomass companies screeching about what-ifs in sound bites on the evening news. These paleoclimatologists have concluded that this is one of the coolest periods in the last 500 million years.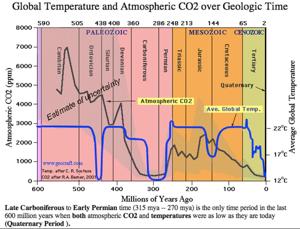 Fact 3: From 400,000 years ago to the present: Below are the results from climatologists and paleoclimatologists who have studied ice core samples for trapped gases that correlate with atmospheric CO2. These clearly show the cyclic changes caused by who knows what – the Pacific vent, cloud formation, tilt of the earth's axis toward the sun, periodic solar radiation, etc. – but certainly long before cavemen were ever on the scene (click to enlarge).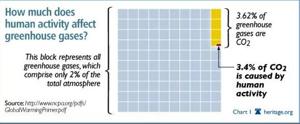 Fact 4, :Today. Man's puny contribution to earth's atmospheric greenhouse gases (and CO2) is "a drop in the bucket." Dropping it 25% is unlikely to measurably affect the global climate (click to enlarge).



Just as with investing, I doubt anyone can predict the future of the world's climate in a particular time frame.
Like investing, however, the past may offer clues to future performance.
Like investing, climate, like the market, seems to offer proof of cyclical, not linear, patterns. Temperatures move up a couple degrees from the mean, they move down a couple degrees from the mean. And they seem to do so based upon forces so much more powerful than mankind – one could note they are planetary and universal in nature.
With that in mind, we could invest in land that is 20 feet above current sea levels, as some have recommended. Or we could invest in cap and trade, as some have recommended. Or we could short fossil fuel companies like coal, oil and natural gas, as others have recommended.
Or we could apply a dollop of common sense and calm to the current shrillness. We could review the facts of the last 400 million years (via sedimentary rock), the last 400,000 years (via ice core samples), and our own short history on this earth showing variations in climate that span a couple of decades. And we could, based upon that empirical evidence, toss in a pinch of geopolitical insight that food, energy and health care are basic Maslovian needs that the part of the world that doesn't get to dilly-dally in junk science cannot overlook.
So even if "global warming" were man-caused – and the empirical evidence does not support that opinion – will anyone outside Western Europe, Canada, Japan and the US actually do anything about it? My answer is no, absolutely not. It is nowhere near the top of their list. If the US, Canada, Japan and Western Europe spend upwards of $500 trillion over the next century (UN estimate for following the Gore prescription is $553 trillion) we may affect nothing and the rest of the world will use our folly to their advantage and our disadvantage.
Food, energy and health care will override all other considerations in that part of the world still growing dramatically. So that's where I am investing.
To feed the world, grains, crops, livestock, fertilizer, and efficient irrigation all top my list. Deere (NYSE:DE), Israel Chemicals (OTCPK:ISCHY), Yara Intl (OTCPK:YARIY), Nestle (OTCPK:NSRGY) and Lindsay Mfg (NYSE:LNN) are among my favorites.
For energy, I choose natural gas first, nuclear next, and then solar, wind, biomass, oil and coal – every single one of them. In the developing world, coal and natural gas are most abundant and cheapest and will therefore be the first choice of most users. While these have been well-covered in previous articles I will mention just a few representative issues: Exxon Mobil (NYSE:XOM), BP, Conoco Phillips (NYSE:COP), Royal Dutch Shell (NYSE:RDS.B), Williams Partners (NYSE:WPZ), Magellan Holdings (MGG), Boardwalk (NYSE:BWP), OneOK (NYSE:OKS), Chesapeake (NYSE:CHK), EnCana (NYSE:ECA), Imperial Oil (NYSEMKT:IMO), Natural Resource Partners (NYSE:NRP), Penn Virginia (NYSE:PVR), and Cameco (CCJ.)
In health care, the revolution in the West has come from ethical drugs, non-invasive technology, prevention and early interventions. That's the way to invest. I like the biggies here: Roche (OTCQX:RHHBY), Johnson & Johnson (NYSE:JNJ), Merck (NYSE:MRK) and Pfizer (NYSE:PFE) come to mind.
Avoiding overpopulation, illiteracy, disease, and hunger never go out of fashion. Global cooling did. I imagine global warming will, as well.
Full Disclosure: Long DE, ISCHF, YARIY, XOM, BP, RDS.B, WPZ, MGG, BWP, OKS, CHK, ECA, IMO, NRP, PVR, JNJ and PFE.
The Fine Print: As Registered Investment Advisors, we see it as our responsibility to advise the following: We do not know your personal financial situation, so the information contained in this communiqué represents the opinions of the staff of Stanford Wealth Management, and should not be construed as personalized investment advice.
Also, past performance is no guarantee of future results, rather an obvious statement if you review the records of many alleged gurus, but important nonetheless – especially so you are not over-impressed by the fact that our Investors Edge ® Growth and Value Portfolio has beaten the S&P 500 for 10 years running. What if this is the year we under-perform it?
It should not be assumed that investing in any securities we are investing in will always be profitable. We take our research seriously, we do our best to get it right, and we "eat our own cooking," but we could be wrong, hence our full disclosure as to whether we own or are buying the investments we write about.