It's been a couple of weeks now since I reported on Apple (NASDAQ:AAPL), which was a wrap-up of the company's fiscal third quarter results. While I was slightly disappointed with some of the results, overall I thought that the report gave investors more hope going forward. Investors have obviously agreed, as shares have risen roughly 17.6% since the report. Right now, we are in a holding pattern, waiting for the next major announcement out of Apple. Carl Icahn entered the picture on Tuesday, and that could cause some choppiness for the stock. Add in the fact that estimates call for three straight quarters of less than 1% revenue growth, and Apple seems rather boring these days. But don't worry, boring can be beautiful, and that's Apple at the moment. Today, I'll break down some of the latest news, look at some of the numbers, and give my thoughts on what investors should do with Apple currently.
Brief recap of the quarter:
In case you missed it, Apple beat on the top and bottom line, although earnings per share were significantly helped by the buyback, which I'll get to later on. Apple's unit sales figures were very mixed, with the company doing extremely well in terms of iPhones, okay in Macs, but iPads and iPods missed expectations. Average selling prices were weak across the board, thanks to a combination of older iPhones being sold, as well as the fact no major new products have been launched for almost a year now. Thanks to the upside surprise in iPhone sales, margins were better than expected. Apple's cash pile increased by another $2 billion, and the company took out $17 billion in debt during the quarter. They bought back roughly $16 billion in stock, $12 billion under an accelerated program, and another $4 billion during the quarter. On the news, shares rose by $21.52 the following day, or 5.14%.
The latest news and rumors:
We all know that new products are coming, and most expect a new iPhone to be first. It appears that the iPhone 5S will be launched at a September 10th event. That's fairly comparable to what we saw last year, when the 5 was introduced on the 12th and went on sale the 21st. Rumors state that the phone will have a 4 inch display, a faster CPU, a slightly larger battery, a better camera, and a fingerprint sensor embedded in the home button. However, Digitimes is stating that fingerprint sensor production issues could limit initial shipments of the 5S to just 3-4 million units versus a previous expectation for 10 million.
There are also expectations for the 5th generation iPad to launch during calendar Q4, which is what we saw last year. There have been conflicting reports over the launch of a retina iPad mini. Some believe that the model could be launched in calendar Q4, while others believe production will start in calendar Q4 and sales will begin in the first calendar quarter of 2014. On a sales basis, it would even out revenues a bit more if it was launched in 2014. Last year, Apple launched a lot of products at once, which made one huge revenue quarter and then a few sharp drop-offs. That made seasonality a bit greater and I think that the uneven revenue cycle, more than usual, contributed to the decline in the stock price.
How fiscal Q4 stacks up against last year's period:
We are basically halfway through Apple's fiscal Q4 period, even though it will be another two months or so until they actually report. Here's what Apple is up against for fiscal Q4:
Revenues of $35.97 billion, EPS of $8.67.
Gross margins of 40.04%, Operating margins of 30.43%, Net Profit margins of 22.86%.
4.92 million Macs sold.
5.34 million iPods sold.
26.91 million iPhones sold.
14.04 million iPads sold.
Apple guided to Q4 revenues in a range of $34 billion to $37 billion, and that guidance makes sense to me. The midpoint would show a slight decline from last year's period. The key will be the iPhone 5S and possible production issues. Apple had about 10 selling days of the 5 last year, so they are up against that comparison. If Apple can only get 3-4 million new units sold, that pushes a chunk of revenues into fiscal Q1 (calendar Q4). I also think you'll see Macs come down, because 4.92 million is a tough comp in this PC environment. The iPad number will also be tough, as Apple sold 14.62 million in fiscal Q3. I expect more of a dropoff until new units are released, and nobody sees that happening this quarter. Don't forget, all of the 14.04 million iPads sold in last year's Q4 were regular, higher-priced models. A chunk of this year's unit sales, which could be down year over year to begin with, will be the lower-priced minis. So the total dollar of iPad sales could see a fairly sizable decline.
Apple's Q4 estimates are still coming down, which is to be expected given that analysts were expecting a bit much in Q4 when Apple reported Q3. Here's a brief history of estimate changes. The yellow line represents the day when Apple reported Q3.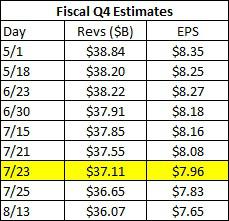 I wouldn't be surprised if we saw a few more revenue cuts going forward, maybe to get the average estimate a little closer to Apple's midpoint. Obviously, the iPhone production issue could have a huge impact on which way estimates will go. An extra million iPhones sold could have a $600 million impact on revenues. However, I also will point this fact out. With Apple shares rallying a bit, Apple might be slightly reluctant to buy back a ton of shares currently. If Apple slows the buyback down, just even a hair, it could impact earnings per share by a few pennies, and analysts will need to factor that in. For right now though, analysts are calling for just 0.3% revenue growth in the current quarter, and 0.4% growth in the next one.
Carl Icahn enters the picture:
Apple shares spiked on Tuesday after it was announced that Carl Icahn had taken a large position in the tech giant. Icahn spoke to CEO Tim Cook during the day, and Icahn suggested that Apple have an even larger buyback right now. Shares popped to $494.66 at the day's high, closing a few dollars lower, and volume certainly increased.
While I think it is a positive sign for now that Icahn has a stake in Apple, I'm not sure that a larger buyback will come just yet. Apple does have a large cash pile, but most of it is outside the US. Apple took out $17 billion in debt to buy back shares, and I think if Icahn wants a larger buyback, it will mean even more debt. Will Apple be comfortable with that? I don't know at this point. Right now though, I am fine with Apple's buyback, and it is the largest one in corporate history to begin with. I'm sure this Icahn story will be a big deal going forward, but only time will tell what happens with the buyback.
Volume starting to turn finally:
One reason I'm saying that Apple is boring right now is because trading volume is down quite significantly. Now we've heard about volumes being down over time in the market, but there are some other items to consider here. Let me show the numbers first, then make my point. The table below shows the average daily volume for Apple, per month, going back to the start of 2010. I've also thrown in a column showing how 2013 has fared year over year to the comparable 2012 month.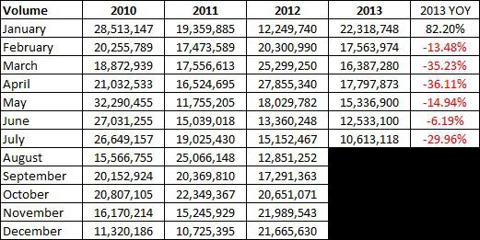 Now you might understand some of the volume declines in 2011 and 2012. With the stock price soaring, a more expensive stock wouldn't normally trade as many shares, given an equal amount of dollar volume. With shares going from $200 to $700, it would be somewhat logical if volume dropped.
But going from 2012 to 2013, volume has dropped substantially after January, and the share price has gone down, quite a bit when looking at the year over year differences. Apple's July volume was down nearly 30% over the year ago period. That's quite a substantial fall, and it is only the third worst month so far this year!
However, it does seem like the trend is reversing. Even before the Icahn news came out, Apple's volume was going to show a year over year increase, in the 1% to 3% increase range, for the first nine trading days of August. Just being up would be significant. However, the Icahn news really changed things with Apple's volume spiking late on Tuesday. Thanks to the spike, through the first nine trading days of August 2013, Apple's average daily volume was up about 23.5% over the comparable year ago period. Apple's shares are back in demand again, and the volume numbers are showing that as well.
Short interest has come down:
In one of my recent articles, I discussed how Apple's short interest showed a significant decline in the final few weeks of July. More than 5 million shares short, almost 20% of all short positions, were covered during the update period. That put short interest at its lowest point since the spike in April, which you can see in the chart below.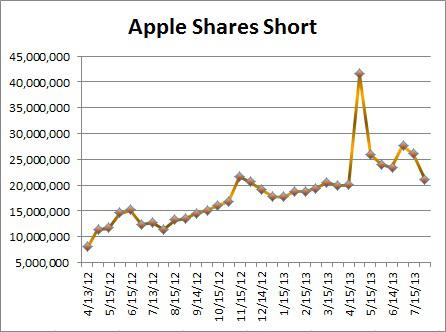 Apple's days to cover ratio also came down, despite another sizable decrease in volume. With Apple's share price rising after earnings, shorts started to cover in a substantial way. The stock has continued higher in early August, so it is possible that more shorts have covered. It is possible that the next update in short interest will not show this Icahn news just yet, so we may have to wait another month to see if that news had any impact on short interest data.
The dividend and buyback:
Right now, Apple is a great investment thanks to the sizable buyback and strong dividend. At $12.20 a year, Apple investors are being paid to wait for new products to come. Even after the huge rally in Apple shares, the dividend is yielding nearly 2.50% on an annual basis. Of course, waiting in recent weeks has definitely been good.
The buyback is also going to help earnings per share in a tremendous manner. Even if margins still don't show some improvement, the buyback's impact is starting to be felt. It was in fiscal Q3, and will be even more powerful over the next few quarters. Just look at the chart below, showing Apple's year over year change in earnings per share.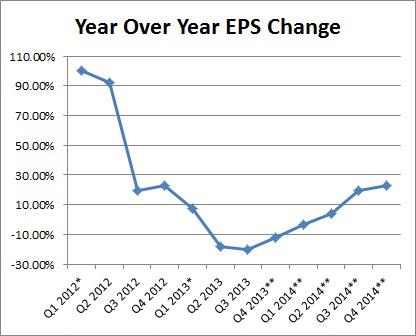 *Adjusted for extra week in Q1 2012 period.
**Based on current estimates.
Fiscal Q3 was expected to show the worst year over year change, so Q4 is expected to show the first sequential improvement. In the next couple of quarters, we might even see Apple's earnings rise in terms of the year over year numbers. Going out late into fiscal 2014, the expected improvement is rather significant.
What to do with Apple now:
It's funny how a few hours can change everything. When I started writing this article, Apple shares were about $20 lower. The Icahn news certainly changed everything. In the low $470s, this was the exact quote I was going to put in my article:
With Apple shares trading where they are now, investors have seen a nice rise in recent weeks. While I still think this is a good opportunity to accumulate shares, I'm not sure it is necessarily a great one. I would like to suggest waiting for a small pullback, and of course, buying on down days would be a lot more prudent. Apple shares recently rallied to about $472 and were quickly down to under $454. That was a great pullback to take advantage of.

I would suggest that current Apple shareholders hold their shares, collecting their dividends and waiting for new products. If these investors want to accumulate on pullbacks, it is also a wise idea. For investors looking to enter the name and create a new position, I would like them to wait for a pullback, so I wouldn't buy any more than half of my position here.
The Icahn news has sent shares much higher, and so I don't know if you'll get that pullback to the $450s again. Now, you might have to target the $470s as your entry area. While I am slightly more positive on Apple after the Icahn news, if you haven't gotten in already, it might be a little too late for the time being. The move has been made, so wait for the next pullback. Apple shares are now more than $100 off their 52-week low.
Final Thoughts:
Apple seems to be in a boring stage right now with almost no revenue growth, sharply lower trading volumes, and many critics stating that the company cannot innovate. But right now, boring is beautiful, as Apple shares have hit levels not seen since late January. Carl Icahn's announcement that he has a stake in Apple has fueled the latest rally.
Right now, Apple may seem boring, but exciting things are coming. We are just about a month away from the next series of product launches, and that optimism is reflected in the stock's recent movements. Apple investors should continue what they are doing now, receiving a sizable dividend, watching the company spend billions on share buybacks, and accumulating on pullbacks. Unfortunately, those pullbacks are now coming at higher and higher prices, but it happens.
Disclosure: I have no positions in any stocks mentioned, and no plans to initiate any positions within the next 72 hours. I wrote this article myself, and it expresses my own opinions. I am not receiving compensation for it (other than from Seeking Alpha). I have no business relationship with any company whose stock is mentioned in this article.
Additional disclosure: Investors are always reminded that before making any investment, you should do your own proper due diligence on any name directly or indirectly mentioned in this article. Investors should also consider seeking advice from a broker or financial adviser before making any investment decisions. Any material in this article should be considered general information, and not relied on as a formal investment recommendation.